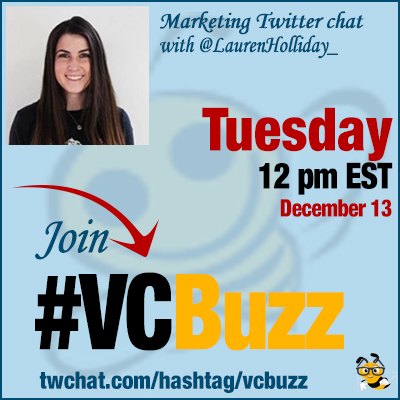 The Internet has changed the job search process tremendously. As an example, you can use Twitter to hunt for a job (I have a course about that: Check it out). Let's talk about finding a job online with the real pro!
***Add #VCBuzz chats to your calendar here.
***Please sign in here to follow the chat -> twchat.com/hashtag/vcbuzz
About Lauren
@LaurenHolliday_ is managing editor of @toptal, founder of @freelanship and owner of hackthejobhunt.com
Connect to Lauren on Linkedin
Questions we discussed
Q1 How did you become an online writer and entrepreneur? What's your career path?
I stumbled into becoming a writer. I hated business classes in college, and I did really well in my English classes.  My dad told me: Follow your heart, and the money will follow. Fortunately, he was right.
As for an entrepreneur, I would say I've always been an entrepreneur, but I just didn't realize it until recently. It's true: You can't connect the dots looking forward. Can only connect looking backward. Just trust it'll work out.
I began by writing for my student newspaper. Was the relationship columnist for a bit. It was fun but unpaid. I did marketing internships, which directed me toward becoming a journalist with a marketing mindset.
@LaurenHolliday_ Did you spend much money in building this career path? #vcbuzz

— Angu Ransom(RANSBIZ) (@azehrams) December 13, 2016
@azehrams Nope. I just read A LOT online, did freelance work and emailed A LOT of mentors/influencers, who could teach me. #vcbuzz

— Lauren Holliday (@LaurenHolliday_) December 13, 2016
Q2 When someone decides to pursue an online career, where should they start?
@vcbuzz A2) Join communities to network. Join Slack groups, https://t.co/mKqmaQJhKt, https://t.co/CRTGwIQZFp, WeWork, etc.
#vcbuzz

— Lauren Holliday (@LaurenHolliday_) December 13, 2016
A2 Choose the types of positions you want, write appropriate resumes, and start searching. #vcbuzz

— Mary Green (@MaryGreenCNY) December 13, 2016
Q3 On your website, you say you no longer need a college degree to build a career. Would you recommend young people skipping college and starting right after school?
It really depends on the person and what they want to do with their life.
If I did it all over again, I would do things much differently. I would waitress and save up money while freelancing. Once I gained experience and cash, I'd do something like @remoteyear or live in something like welive.com
I would basically do everything I outline in this story but earlier.
Q4 We'd love to hear some inspiring stories of people successfully building online careers! Please share who you are looking up to or your students' success stories!
I'm super proud of @ashleyremstad right now. She's been slammed with work recently on @freelanship
@meowritt is doing really well. She just landed a full-time online marketing job before graduating.
A4) @sheeveroo had a recent success story as well with a new client. =) #vcbuzz pic.twitter.com/DfyeSDlr8w

— Lauren Holliday (@LaurenHolliday_) December 13, 2016
Q5 What are your favorite writing productivity tools?
@vcbuzz A5) Ear plugs. Just read about how silence is vital to getting deep work done. I believe it! https://t.co/OMvpbZB6hf #vcbuzz

— Lauren Holliday (@LaurenHolliday_) December 13, 2016
A5 @Cyfe, @MyBlogU, Google Spreadsheets / Excel #vcbuzz

— Ann Smarty (@seosmarty) December 13, 2016
@LaurenHolliday_ I feel the same way about Goggle sheets, I love it. I do my presentations on my phone with a @Flipboard magazine #vcbuzz

— Janette Speyer (@websuccess) December 13, 2016
Our previous career chats: