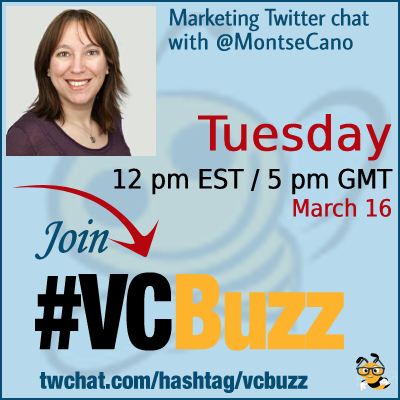 Content marketing is the foundation of many marketing strategies out there, including SEO and social media.
But what if your prospects talk more languages, other than English?
Can content marketing target multiple languages, or is it something only big brands can handle?

Let's discuss
***Add #VCBuzz chats to your calendar here.
***Please sign in here to follow the chat -> twchat.com/hashtag/vcbuzz
About @MontseCano
@MontseCano is a bilingual (Spanish/English) international marketer with over 15 years' experience in growing the digital footprint and contributing to the digital transformation (platforms, data, education) of a range of companies.
Connect to Montserrat Cano on Linkedin!
Any business seeking to compete on an international level will be blessed to gain the services of a skilled Bilingual UK/ international marketing growth, e-commerce, lead generation expert like @MontseCano. #vcbuzz

— Jeannie Hill (@essentialskill) March 16, 2021
Questions we discussed
Q1 How did you become a digital marketer? Please share your career story!
My career story is a weird one. I fell into digital project management, which included SEO, by chance when I was looking for something other than teaching.
It's practice, really, and interest. I can also speak French, but not as fluently as English #vcbuzz

— Montse Cano (@MontseCano) March 16, 2021
It is tough! I spent most of my life learning English – still has a lot to learn. Impressed by people who know more than 2!!! #vcbuzz

— Ann Smarty (@seosmarty) March 16, 2021
Q2 Is international content marketing possible for small businesses or just huge brands? How can one save when targeting content for multiple countries and continents?
Content is part of the basics of any marketing strategy. A big budget isn't totally necessary to create something that resonates and helps the business to grow.
A2. It is certainly easier for small and medium-sized enterprise-level companies than most small businesses in our experience. The need exists to build a strategy that focuses on delivering value at each local level and this requires sufficient budget and staff. #vcbuzz

— Jeannie Hill (@essentialskill) March 16, 2021
Businesses need to know what they want to achieve and who to target. Once that's done, reviewing budgets is a must
A2. International content marketing is possible for businesses of all sizes. However, you want to decide on the scope of such a project right from the start and integrate it into a localization strategy that includes more than content. #vcbuzz

— Teodora Ema Pirciu (@emapirciu) March 16, 2021
A2 Now that any business can connect to great experts and freelancers, nothing is impossible! It takes time to find reliable people though! #vcbuzz

— Ann Smarty (@seosmarty) March 16, 2021
In fact, the less budget, the more creative teams can be. It needs to be promoted too. A series of blog posts and a creative video can achieve more than very expensive series of headshot videos that no one watches.
If you're a small business, you need to build trust and areness more than any big-budget firm. Content is one way to do it, and one of the best ways to promote your business without selling
Q3 Do you suggest hosting your international content on different domains or a single site? What are pros and cons?
As a good SEO, I'd say it depends on who you're trying to target. Language, location, location and language? They all have their pros and cons
A3. Many types of web hosting exist; we advise that international content doesn't go on the cheap. Try one domain that pulls from local towers. We like Cloudflare in that it runs apps on potentially thousands of mini server farms globally. You need a sufficient server. #vcbuzz

— Jeannie Hill (@essentialskill) March 16, 2021
Yes, it is. You have to go local when doing international marketing, and hosting is one of those things. Then you can think about creating subdomains, folders, using hreflang, etc
A3. There are a lot of pros/cons. I'd suggest watching the number of PHP workers specified that the server can handle. A well-optimized site does better. For large international sites, it's worth looking into add-ons like Elasticsearch or Redis if some additional caching. #vcbuzz

— Jeannie Hill (@essentialskill) March 16, 2021
I am mostly stuck for multi-English locations. How do you target US and UK separately (e.g. when you deliver in both but have different terms, taxes, prices)? #vcbuzz

— Jessy Troy (@jessytroy) March 16, 2021
That'd be ideal if your company is big enough. For small companies I'd say reduce your target first then grow. #vcbuzz

— Montse Cano (@MontseCano) March 16, 2021
If they serve multiple languages, chances are that they do need some local marketing. I'd say hreflang, subfolders can be useful
Then build links from those local markets. Local IP, local lins, local content, rank on local search engines #vcbuzz

— Montse Cano (@MontseCano) March 16, 2021
Q4 Are there international content marketing examples or case studies we can learn from?
Monetate started small back in 2011. They invested in content creation internally and their traffic grew, as they were addressing potential customers' pain points
A4. @aleyda Solis has great international content marketing strategy guides and case studies that she references in her presentations. we learn a lot from her, too. #vcbuzz

— Jeannie Hill (@essentialskill) March 16, 2021
A4 It is worth noting that many US businesses support several languages – and it is a good idea! Think about lawyers, doctors, etc. who are bilingual and can serve US citizens who are more comfortable speaking other languages. #vcbuzz

— Anna Fox (@manifestcon) March 16, 2021
In those cases ccTLD plus language targeting might be a good idea
Q5 What are your favorite content marketing tools?
GSC, GA! Aside from those, I use tools like Hotjar understand behaviour on a single page and Similar Web. SemRush is good for competitor analysis. Other tools or platforms, Pexels or Pixabay for pictures.
Answer The Public is a great tool to discover what users are searching and create content.
A5 I like how @Ahrefs allows you to see regional rankings of any domain – VERY handy #vcbuzz

— Ann Smarty (@seosmarty) March 16, 2021
@Ahrefs is one of my favourite tools, really handy for that very reason I find
A5. It depends on the content type we need to build at the moment. Informational content is unique from a product page's content. For example, HowTo can be used in one scenario whereas FAQs answer consumer's questions B/F purchasing. We start w, GSC, GA 360, Treads. #vcbuzz

— Jeannie Hill (@essentialskill) March 16, 2021
Our previous content marketing chats: