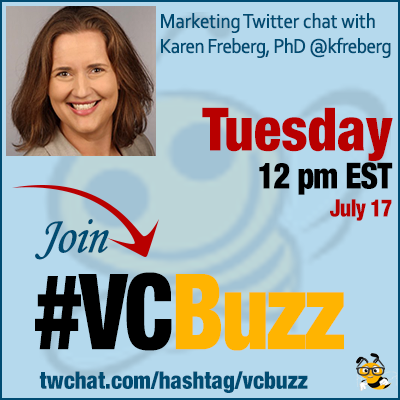 Influencer marketing is not new and we've discussed the topic a lot but somehow the idea of one person building influence (from anywhere in the world!) and becoming the voice (that can be heard all over the world) appeals to me.
In fact, I think that ability to be heard is the most powerful achievement of the Internet, I think.
But how to become an influencer? It all starts with building connections and that's what we are going to discuss today.
***Add #VCBuzz chats to your calendar here.
***Please sign in here to follow the chat -> twchat.com/hashtag/vcbuzz
About @kfreberg
Karen Freberg, PhD @kfreberg is an Associate Professor at the University of Louisville and an On-line Instructor for the Integrated Marketing Communications program at West Virginia University.
Along with teaching, Karen is also a research consultant in social media and crisis communication.
Karen Freberg, PhD @kfreberg has coordinated and advised various companies on the areas of social media pedagogy and certification programs, such as @Hootsuite (Advanced Social Media Certification and #HootAmb), @Meltwater (certification program), @Adobe (EDUMax Thought Leader), and @Hubspot (Education program and podcast).
Questions we discussed
Q1 How did you become a digital marketer? Please tell your career story!
Most recently w/ @HubSpotAcademy and their new #HubSpotSocialCert!! The certification covers influencers and influencer marketing!
I started my online journey in 1995 w/ my very first website. I used my website to market myself as a student athlete in HS + college. Now, I'm active blogging, researching/teaching, and consulting online!
Social media has opened many different opportunities for me as a professor. Speaking engagements, guest talks, Twitter chats (like this one!), and client work. It's been a powerful community!
Now, we are seeing classes in this area! It's a lot of fun!
A1: I worked at a newspaper out of college for seven years, and had a front-row seat for the tsunami that was the "web-first" revolution. As the youngun in the newsroom, I was the de facto internet guy. Eventually, I decided to pursue digital/social full time. #vcbuzz https://t.co/wokPzPr21S

— Chris Strub (@ChrisStrub) July 17, 2018
This is awesome, Chris! I think it's great to see the vast amount of opportunities social and digital brings to everyone!
@joshmccormack I always envy digital marketers with tech background! Would have opened many more opportunities for me! I have tons of tool ideas! #vcbuzz

— Ann Smarty (@seosmarty) July 17, 2018
Q2 When just entering digital marketing world, how can one effectively build connections with niche influencers to learn from them and build important partnerships?
Reaching out to professionals is the first step. Research what they're interested in, and see what you have in common is key. Focus on creating a relationship first and don't go for the hard sell.
I'd look at what @ChrisStrub has done to work w/ influencers and how he's used Twitter to do this. Definitely someone who takes relationships to the next level!
A2: Influence is not about follower count. It's about being a trusted resource on a specific topic in a community. Find the community, listen and contribute. Get to know and be known. #vcbuzz

— Josh McCormack (@joshmccormack) July 17, 2018
A2: First step: Listen. By observing and learning, we'll identify people we want to engage with. Connecting on Twitter is the easiest, with LinkedIn being next. As long as we're not selling, we'll be fine. Prioritise on building friendships. #VCBuzz

— Narmadhaa (@s_narmadhaa) July 17, 2018
A2 Learn, read, engage… Use every opportunity to build connections + Look at peers (new hungry people in the niche), not just influencers! #vcbuzz

— Ann Smarty (@seosmarty) July 17, 2018
A2B: Humbled. But know that the process takes patience. Honestly, I've tried to study @iSocialFanz for years. Last September, he introduced me at #SMDDayton … now, we've shared several stages around the country. It's a lengthy but proven process. #vcbuzz https://t.co/nIf8Hw6gOE

— Chris Strub (@ChrisStrub) July 17, 2018
Influencer marketing is a big thing. I look at how some industries such as #blockchain and #AI where people will follow the strong voices. People will invest in or adopt a technology based on the influencer's feedback. Great and also dangerous #vcbuzz

— Roxana Nasoi (@roxanasoi) July 17, 2018
Yes!!! @iSocialFanz does this very well! Great points here, Chris! #vcbuzz https://t.co/JLBeJsSkcs

— Karen Freberg, PhD • #SMprof, Consultant + Author (@kfreberg) July 17, 2018
Q3 How to become an influencer? What sort of goals, time frames and ROI should one expect? How can one assess their own influence?
To be influential, you want to make sure to provide value to your community. Be consistent w/ your content and evaluate your metrics on a consistent basis. It may take time, but set goals for where you want to be and work towards them.
We have to be aware of what to do, but also what not to do to be an influencer, like:
Not buying followers
Not going for the hard sell
Not engaging your community
Follow and then unfollow technique
It's easier today to spot fake influencers. Authenticity is key.
A3 ROI is the toughest here because with influence there come so many more factors that come into play, like brand awareness, connections, etc. But you need to be prepared to work hard and a lot! #vcbuzz

— Ann Smarty (@seosmarty) July 17, 2018
Agreed!! Plus, the tools that measure influencers and influence can be measuring it in different ways.
A3 I have seen too many brands trying to grow influencers without realizing how much time it takes and how hard it is to retain that talent too! #vcbuzz

— Ann Smarty (@seosmarty) July 17, 2018
Brands often want to hire influencers as employees, but then not give them the time it takes to maintain their influence – which is significant. #vcbuzz

— Gail Gardner (@GrowMap) July 17, 2018
It's actually a great q: How do we even define influence? #vcbuzz

— Jessy Troy (@jessytroy) July 17, 2018
Funny thing, we tend to measure influence by reach instead of by effectiveness. #vcbuzz

— Don Sturgill (@DonSturgill) July 17, 2018
Influence is being a trusted voice on a specific topic within a relevant community. Your trust is measured in how others with knowledge vouch for you. #vcbuzz

— Josh McCormack (@joshmccormack) July 17, 2018
Influence = affecting another person's opinion of something. #vcbuzz

— Don Sturgill (@DonSturgill) July 17, 2018
Influence is having the power to guide, inspire and engage others to change or choose a behavior they wouldn't have chosen or changed otherwise. #vcbuzz

— Kristin Huntley (@seekristintweet) July 17, 2018
@traackr has a good definition and resource for this! #vcbuzz https://t.co/Y3oUKr4i6v

— Karen Freberg, PhD • #SMprof, Consultant + Author (@kfreberg) July 17, 2018
Q4 Many businesses shy away from growing in-house influencers because that's the asset that's very hard to keep. What's your view on this? Should a business hire influencer or grow them? Or both? Are there examples of businesses successfully using their own internal influence online?
I'd say both! We have seen the growth of employee advocacy and we need more of this. There has to be a balance between those you mentor and those you form a partnership with.
You want to make sure you do your research on external influencers as well as educate internal ones. Training and collaboration will be key here for a successful IM venture!
A4 I think a good example of successful hiring influencers is @SEMrush! They hired half of our industry lately! ? #vcbuzz

— Ann Smarty (@seosmarty) July 17, 2018
A4: Let's think about this for a minute.

If home-grown influencers, so to speak, are "hard to keep," wouldn't it make sense to pay them more?

"Hard to keep" means "undervalued in the market."

I think the invisible hand needs to shift a bit here. Influence is valuable! #vcbuzz https://t.co/WJguCSRSvh

— Chris Strub (@ChrisStrub) July 17, 2018
Employee advocacy = win! It's sad to see how many brands trying to prevent their employees from speaking on their behalf on social media. Look at Google to see how to do that right! Train, identify talent, then let them be your brand ambassadors! #vcbuzz

— Ann Smarty (@seosmarty) July 17, 2018
Agreed! The new @HubSpotAcademy social media certification goes over what brands can do to create an employee advocacy campaign and program!
A4b. I'm at @PlanetFitness watching a row of 12 TV's. There's "hired influencers" on every screen. And they're some of the highest paid people in their companies. It's a careful balance, but there is VALUE in influence … #vcbuzz https://t.co/xKon2uJWE2

— Chris Strub (@ChrisStrub) July 17, 2018
@ChrisStrub Great point. Businesses often complain about difficulties in attracting and keeping talent. They somehow feel it's not 'fair' to pay market rates. @tedbauer2003 #vcbuzz

— Josh McCormack (@joshmccormack) July 17, 2018
A4. The company culture should be the determining factor for this, in an introverted culture outside influencers would be ideal. For more extroverted cultures building up an in-house influencer for a brand may actually increase employee loyalty. #vcbuzz

— pair Networks (@pairnetworks) July 17, 2018
Q5 What are your favorite digital marketing tools?
I'm a big fan of @Onalytica @klear_com @traackr for IM. My other top tools here would be @hootsuite @Zoomph @Talkwalker Also, you can learn all about IM in @HubSpotAcademy's new #HubSpotSocialCert
A5 I use Viral Content Bee most consistently. https://t.co/Deo5Hdo2TP #vcbuzz

— Gail Gardner (@GrowMap) July 17, 2018
A5 Two tools to try for employee advocacy: @BeSmarp and @drumupio – get equipped with training tools, collaboration tools and leaderboards! #vcbuzz

— Ann Smarty (@seosmarty) July 17, 2018
@seosmarty Related to favorite digital marketing tools, I'm researching and comparing marketing automation systems. Who is using marketing automation? What are you using? #vcbuzz

— Josh McCormack (@joshmccormack) July 17, 2018
A5 And @MavSocial for pushing images and videos to make social shares more compelling https://t.co/taClWeJP2C #vcbuzz

— Gail Gardner (@GrowMap) July 17, 2018
A5 Another popular marketing automation tool is @HubSpot I know Julie @NewHorizons123 is currently working with @VazoolaMedia Influencer marketing to do lead qualifying and generation. #vcbuzz

— Gail Gardner (@GrowMap) July 17, 2018
Our previous influencer marketing chats: