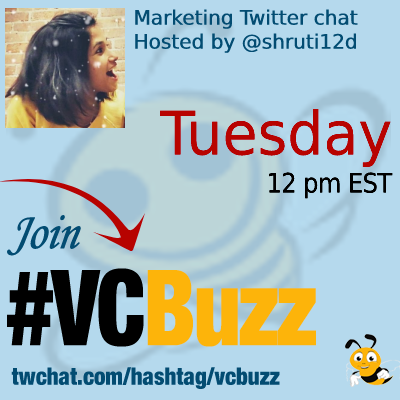 Customers' journeys are becoming more complicated and unpredictable.
With so many devices, platforms and distractions, a consumer can start a buying journey in Google and continue it next day from a different device on Facebook.
How to analyze and shorten those buying journeys to avoid losing those customers to competitors?
Let's discuss!
***Add #VCBuzz chats to your calendar here.
***Please sign in here to follow the chat -> twchat.com/hashtag/vcbuzz
About Shruti Deshpande @shruti12d
Shruti Deshpande @shruti12d is a B2B marketer with a passion for personified storytelling.
She is a writer and content creator with a decade+ of marketing experience.
Shruti loves exploring customer journeys aiming to better them at each step.
Questions we discussed
Q1 How did you become a digital marketer? Please share your career story!
I am an ex-sales professional, and I was fascinated by the process of engaging and educating the audience before a sales is made. What better than nurturing them with quality marketing! That's how I got into marketing.
Absolutely and it's always about the value you add! #vcbuzz

— Shruti Deshpande 🇮🇳🇬🇧 (@shruti12d) June 14, 2022
Q2 What is a customer journey and why are you so passionate about the topic?
From the point a person first searches on a keyword and finds your business to the decision to buy something and become a customer, they're on a journey. This is a customer journey.
#VCBuzz A2.

A customer journey is exactly as it sounds,
the journey a customer takes on their way to becoming a customer (or a repeat one etc.)

The whole concept of journey (or funnel stages etc.) is important to business, as it should influence Everything!

>>>

— Lyndon NA (Darth Autocrat) (@darth_na) June 14, 2022
There are so many ways to go through the journey, and it is unique for every prospect. There is always a way to make this journey better than the last!
#VCBuzz A2.3

This can make a Huge difference to things like content ideation, information architecture, internal links, target terms, publishing priority etc.

Else it's more like shooting in the dark, guessing, or making decisions on partial data.

— Lyndon NA (Darth Autocrat) (@darth_na) June 14, 2022
#vcbuzz Understanding the customer journey is so crucial for content marketing as well. It should be at the center of the content strategy.

— Poulomi Basu (@poulomi_basu) June 14, 2022
A2. A customer journey is their experiences with you & your brand (starts before they're an actual customer). It's important because customers are the life blood of any business. #vcbuzz

— Dana Lemaster Author (@LemasterAuthor) June 14, 2022
Q3 What are the challenges to understanding your customers' journeys? Is there any difference between B2B and B2C?
Not all customers will take the same journey, many emerge from different sources and progress depending on intent.
A3 I think it is important to LISTEN… maybe the challenge is to ensure one is ACTIVELY listening (the first step to understanding)… #vcbuzz

— Deborah (@socialwebcafe) June 14, 2022
Mapping journeys helps understand various stages a prospect goes through before becoming a customer, and hence where they can be influenced if they are moving away from a prospective sale.
A3 A large challenge to knowing a customers journey/pain points is thinking we already understand instead of researching via actual customers/potential customers.
#vcbuzz

— Amy.M.Anderson (@snippetsbyAmy) June 14, 2022
According to Hubspot 96% website visitors are not ready to buy, hence it is important to analyse every step they go through before making/breaking a sale. It is important to provide the right information at the right time to improve your chances of conversion.
#VCBuzz A3.2.

The differences in market types (B2B vs B2C etc.) tend to require a little more thought/understanding on business structures.
SM-B2B tends to differ to E-B2B, due to organisational roles/responsibilities.

>>>

— Lyndon NA (Darth Autocrat) (@darth_na) June 14, 2022
Customer journeys are getting long winded and spread across many channels. The big difference between B2B vs B2C journeys is in B2B there are often too many people involved in decision making, it may or may not be the same for B2C. B2B journeys are longer.
#VCBuzz A3.4

It's also important to grasp that some journeys aren't just "different paths", but also "different times".
This is a common case with B2B – the whole process takes longer.
(The same tends to occur with higher-value/risk B2C markets).

— Lyndon NA (Darth Autocrat) (@darth_na) June 14, 2022
And since these journey's are longer, its gets harder to keep the prospects engaged and nurtured through out the journey!
A3. Identifying the barriers and planning to overcome it and finding opportunity to convert.#vcbuzz

— Amal Ghosh (@AmalGhosh3) June 14, 2022
A3: B2B journeys take longer and involve multiple decision makers. You need to understand how decisions are made at the company and secure a seat at the table with key buyers in order to work with the brand. Remember gate keepers! They can be crucial to your efforts. #vcbuzz https://t.co/SGWkB5jg4E

— Jaime Shine 💬 Marketer | Writer (@jaimeshine) June 14, 2022
A3. One of the main differences with B2B is that you're often dealing with multiple journeys (aka decision-makers). Each has a slightly different agenda, so you need to think about content to meet them along their different paths. #vcbuzz

— Anthony Gaenzle (@AnthonyGaenzle) June 14, 2022
Yes/No/Maybe.

In most cases – the journeys are indeed unique,
but there are often similarities we can leverage,
that allow us to group prospects etc.,
and target them based on those commonalities (ideally prioritising the largest most probable to convert group first :D)#VCBuzz

— Lyndon NA (Darth Autocrat) (@darth_na) June 14, 2022
There is a difference between setting info that most customers want/need and templatizing the complete customer journey.

Even B2B want to be treated as unique customers.#vcbuzz

— Amy.M.Anderson (@snippetsbyAmy) June 14, 2022
Q4 How to shorten your customers' journeys?
By understanding intent and building assets that meet the intent to buy, pushing the lead further into the buying funnel.
It is important to keep customers connected and keep them coming back. If done right, customer journey builds a lasting relationship between your customers and your product.
Make good use of contextual CTAs, use web forms to encourage site users to leave their email addresses.
Keeping the journey short, means customers are engaged, educated and understand the product/services true value. This enables faster conversion.
#VCBuzz A4.2

By reducing friction, making relevant/important details readily available, displaying trust signals etc.,
you can reduce the effort (and hopefully time) that prospects spend researching/thinking.

Improve the CX/UX, remove frustration points,
and it's even better!

— Lyndon NA (Darth Autocrat) (@darth_na) June 14, 2022
It is one of the easiest things a business can do, make it easier to allow your prospects/customers find what they are looking for- and yet we get it wrong impacting the customer journey adversely!
#VCBuzz A4.4

Unfortunately, we've had 20 years of the majority focusing on "conversion pages" (SEO, SMM and Ads).

The upside is, over the past 5 years … more and more people are "getting it" – and producing more content, better experiences etc.

— Lyndon NA (Darth Autocrat) (@darth_na) June 14, 2022
Q5 What are your favorite digital marketing tools to analyze and optimize your customers' journeys?
UXpressia and Microsoft Visio are some customer journey mapping tools while Miro, trello are some collaboration software that help plan, and execute across multiple stakeholders.
A5 @hotjar shows me how long people are spending on my web pages. Using Hot Jar you can figure out what content is working and what content is not. Trial and error and refining your message will take you far. The longer you stay in it the better your message should be. #vcbuzz

— Joey Trend (@joeytrend) June 14, 2022
#VCBuzz A5

I use content audits – heavily!
Combining data from GSC and GA/matomo etc. can give you massive insights into what gets traction/usage (or what doesn't!).

GA/web trackers or log-files can show you pathing (page-movements), and where visitors go (and likely why)

>>>

— Lyndon NA (Darth Autocrat) (@darth_na) June 14, 2022
A5 @Bing's Clarity is a great FREE tool to record sessions and build heatmaps – give it a try! #vcbuzz

— Ann Smarty (@seosmarty) June 14, 2022
#VCBuzz A5.3

By having a value on each page that indicates it's type/purpose (or by grouping by URL etc.),
you can see what gets searches/traffic/contributes to conversions etc.

And internal search data can be a Huge boon too!

And Staff (sales/support/complaints!)

— Lyndon NA (Darth Autocrat) (@darth_na) June 14, 2022
Our previous conversion optimization chats: