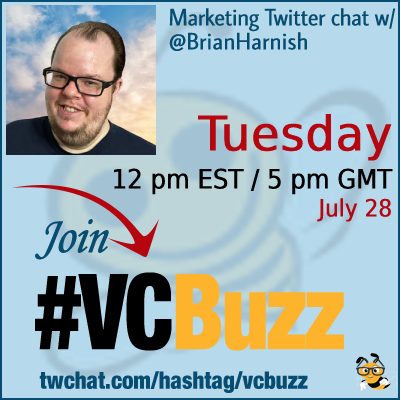 SEO includes a lot of tasks but the first one is usually an SEO audit.
Whether you have acquired a new site or have had yours for a while, a good SEO audit may help you achieve higher visibility goals and improve your rankings.
But how to run an effective SEO audit without turning to an expert? Let's try to figure that out!
***Add #VCBuzz chats to your calendar here.
***Please sign in here to follow the chat -> twchat.com/hashtag/vcbuzz
About @BrianHarnish
@BrianHarnish is a senior SEO Analyst at @BruceClayInc
Brian has been doing SEO since before it was called SEO, back in the days of 1998. In 2007, he made his leap into SEO professionally.
He has performed SEO for law firms, real estate agents, technology, and healthcare sectors. His work also includes large brands like United Healthcare and Microsoft.
Check out Brian's personal site Site Objective
Questions we discussed
Q1 How did you become a digital marketer? Please share your career story!
I had started learning HTML in the early days of 1998 as part of a high school project. Everything built from there and I got my first client in 2000/2001-ish…which just so happened to be Cleavant Derricks. From there I continued developing websites from scratch. Eventually I started in SEO at Advanced Access in 2007 after having worked with the company for a few years. I loved it (and still do) so much that I ended up making it my career and have done nothing else since!
My experience has included agency work, in-house SEO work, and freelance. I eventually found a wonderful career and home @BruceClayInc where I continue my career today.
I set up a site in 1999. I was a programmer. We had no traffic.

Then I heard this thing called SEO existed. And then we had traffic.

Later the same happened with CRO.

The site still dominates its niche #vcbuzz

— Phil Drinkwater (@phil_drinkwater) July 28, 2020
A1 Started my career as in software engineer, but later was not happy with my work and hence started with digital marketing.
Did my Digital Marketing course from @LearnAtTDB and that helped me a lot to learn and grow.
Working now at @PixelatedEgg as a SEO executive #vcbuzz

— Bhargav (@bhargavsh91) July 28, 2020
Q2 What is SEO audit and why do we need one?
An SEO audit is – generally – an audit that identifies weaknesses in a website's SEO and where they can be improved. Audits run the gamut from content audits to link profile audits and in-depth technical audits. I specialize in deep dive technical SEO audits here at Bruce Clay. The end goal is improving the client's overall ROI (return on investment) through agreed-upon metrics from the beginning of the project.
A2 there's no absolute agreed definition of an Seo audit, but it should always include tech Seo. Some go further and benchmark traffic etc..

You need one so that you know what needs fixing #vcbuzz

— Phil Drinkwater (@phil_drinkwater) July 28, 2020
Also, it's important to note that even though SEO audits have an eventual goal, there is still no guarantee when it comes to when and how traffic hits your site. It's up to Google. If someone claims they can guarantee this, run away.
Also, audits vary between company to company. There is no agreed-upon standard produced by a standards body within SEO. But, when it comes to SEO audits from @BruceClayInc we leave no stone unturned in the deep dive part.
That's why it's important to vet any company that you sign with for an SEO audit – ensure their expertise, longevity in the industry, and what they can really do. Find clients of theirs in the past who have experienced positive results.
SEO audit is done to check the presence of our site.
– It helps to check the technical issues and also helps to analyse traffic on page and off page. #vcbuzz

— Bhargav (@bhargavsh91) July 28, 2020
Q3 How to create an SEO audit without using expensive tools?
Creating an SEO audit without expensive tools? That's a great question!! At its simplest, you can create an SEO audit with data from Google Search Console and Google Analytics. If you perform a manual construction of the site in an Excel sheet by beginning with analyzing the top pages of the site manually, you can create an SEO audit in this way. It will just take a lot more time and you will need to spend time ensuring data accuracy, and the accuracy of your conclusions.
Q3 nearly everything can be done without tools. It's just much slower. My full audit is 150+ elements long and could be done with free tools.

Although screaming frog is cheap and will save A LOT of time.

If you're a programmer, you can write your own too. #vcbuzz

— Phil Drinkwater (@phil_drinkwater) July 28, 2020
With experience this time can diminish. Should you do it in this fashion? Well, as you may or may not be aware, "it depends". 🙂 Deep dive SEO audits can be done this way but if you're in an agency, you're likely working against the clock and need to produce deliverables.
A3: we can use #Googleanalytics #Googlesearchconsole
– we can also use Tools like #SEMrush #Ubersuggest #woorank #vcbuzz

— Bhargav (@bhargavsh91) July 28, 2020
You cannot produce deliverables in a timely fashion when you're working in production by doing it in this way. But, if you're a soloist who is just analyzing a smaller site, you can get away with doing it like this. But, at some point, it will make sense to invest in a basic crawler like Screaming Frog, at the bare minimum. Using the combination of SF, GSC, and GA, you can put together a report that addresses the basic needs of the site – from keywords to technical to content and assessing overall site health.
@Phil_Drinkwater – Yep. Tools make the process faster and nearly everything can be done without tools. Do you really want to analyze more than 5,000 pages worth of noindex + canonicals without a crawler though? 🙂 #vcbuzz

— BrianHarnish (@BrianHarnish) July 28, 2020
Excellent!

— Sue-Ann Bubacz (@SueAnnBubacz) July 28, 2020
Some tools, however, can lead to false positives (or negatives). This is where experience comes into play. If a tool says you have 100 errors, but these pages are all noindexed, then they are not being counted in your overall ranking. This is where you need to pay attention and ensure that you are not delivering any false positives (or negatives) within your SEO audit. And this is where using more expensive tools can get dicey if you don't know what to look for.
A3. Google Search Console is an absolute must, and it's free 🙂
There are also tools like @screamingfrog that are affordable. #vcbuzz

— Kristina Azarenko (@azarchick) July 28, 2020
Q4 Which tools (free and paid) would make SEO auditing easier and/or more insightful?
First, let's discuss the free tools. I love GSC and GA. They are critical for developing a basic analysis and identifying what Google sees as important on your site. Plus, the new version of GSC is powerful when you learn more about what it can really do.
Don't forget the most obvious free tool!! The Google SERPs themselves. SERP analysis and reviewing where your site currently ranks is critical for identifying main competitors and what you can improve on your site from that initial analysis.
A4 there's loads of little tools to check stuff, like gtmetrix for speed, but the three I use to get a quick view are semrush, ahrefs and screaming frog.

It's important to realise though that auditing is in the *interpretation* of results. Tools can't do that. Humans can #vcbuzz

— Phil Drinkwater (@phil_drinkwater) July 28, 2020
After you have exhausted the free tools and what they can reveal, I suggest paid tools. At the bare minimum is Screaming Frog. It is by far my favorite tool for crawling a site and analyzing the basic issues. Deep crawl is a second crawler that I like as well.
A4. GSC, GA, @screamingfrog, @ahrefs, @semrush.
I also use Keywords Everywhere, @sistrix #vcbuzz

— Kristina Azarenko (@azarchick) July 28, 2020
Also, one tool that I can't do without for link profile audits is @linkdetox. I can't tell you how many link profile audits I have done with that specific tool. It's on the more expensive side but it is worth it.
A4: First one in the list would surely be @semrush followed with @woorank, @ubersuggest @neilpatel @googleanalytics and @googlewmc #vcbuzz

— Bhargav (@bhargavsh91) July 28, 2020
Don't forget…@BruceClayInc's Multi-Page Analyzer in our SEO toolset is also awesome for doing a competitor analysis.
Q5 What's next: What type(s) of action should follow an SEO audit?
After an SEO audit, you must prioritize the actions that will deliver the most results. Likely, the audit will give you a laundry list of issues on the site. Some will move the needle, others are more cumulative that will result in the movement of the needle down the line.
In a perfect world, we would all love to see every single suggestion from our audits implemented, but it is seldom a perfect world. In lieu of that, prioritizing what will move the needle for the business should take priority.
In addition, the issues most critical for fixing site health should be prioritized as well. While some of these may not move the needle, it doesn't mean they are important. For example, 404s that are not part of the new site should be redirected yes, but this is likely a low priority item.
A5b I audited a site recently and found the web designer had been hiding links to other sites within my clients site.

The clients site had lost nearly all traffic since then.

Guess what my recommendation to fix first was? #vcbuzz

— Phil Drinkwater (@phil_drinkwater) July 28, 2020
However, something else like updating the site's 4xx and 5xx errors after a site migration IS. It depends on what the high priority items are, the low priority items are, and the medium priority items are. Priority should be placed on what will be of most benefit to the site moving forward. Of course, if a site is a disaster following an audit, getting the site to a state of being "fairly OK" would be a priority over other marketing activities.
A5. Implementation. That's why an SEO audit should prioritize the recommendations so that the company knows where to start.#vcbuzz

— Kristina Azarenko (@azarchick) July 28, 2020
This is a very "it depends" answer. But, following a prioritization model is a good idea and will allow you to identify what's of the most critical important priority that must be fixed right now.
Other tips: Make sure that any site audit you do also answers the customer's concerns when they sign on. Their concerns are the most important. And, anything else you can contribute to address those concerns should be addressed as well.
Our previous content marketing chats: