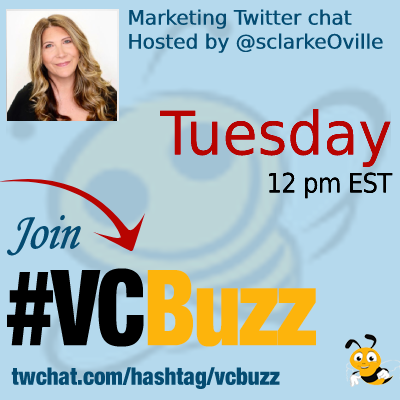 Ecommerce marketing is a broad term encompassing all the tactics of driving top-of-funnel traffic to convert into sales and customers.
Because there can be literally hundreds of tactics included and developed, creating an initial and actionable plan is a huge challenge.
How to create an eCommerce marketing plan that will be organized well enough to inspire action?
Let's discuss!
***Add #VCBuzz chats to your calendar here.
***Please sign in here to follow the chat -> twchat.com/hashtag/vcbuzz
About @sclarkeOville
Sarah Clarke @sclarkeOville is no stranger to #vcbuzz chats. She hosted one on social media for charities awhile ago.
Sarah has been working in digital marketing since 2003. She is a media strategist, blogger, and founder of @DufferinMedia.
Sarah is passionate about social media, branding, and marketing.
Questions we discussed
Q1 Please share your recent career advances! A lot has changed since we talked. What are your priorities these days?
I still spend time working with @DufferinMedia in a sales & marketing capacity, but I do also work on my own as a Media Strategist and Business Consultant. Most recently I have launched the Elevate Business Network @ElevateBizNet.
Q2 Where to start when creating an eCommerce marketing plan?
Start by defining your goals – short term & long term, and your ideal client. These two keys will help you extract out the other pieces of your marketing plan. You need to understand who your customer is, what their problem is, and how you solve it.
Also important are making sure your brand is clearly defined – logo, colours, tagline, tone, values, mission statement. What's your story, why are you different? These parts come before you can build out your marketing plan
A2 If you have the budget for it, nothing works faster for generating #ecommerce sales than #PPC ads done well. #vcbuzz https://t.co/6hImlNOdiZ

— Gail Gardner (@GrowMap) December 6, 2022
Absolutely…..budget is key with PPC but it can be fast & effective. I usually suggest it after the initial digital marketing foundations are in place so that traffic from PPC is backed up by a strong website & natural social media presence.
Q3 Which tactics must be included in any eCommerce marketing plan?
Your ecommerce marketing plan should include tactics for building & growing your audience, awareness of your brand, engagement, and finally clicks & sales. Your tactics must include website, seo, social media, email marketing and possibly media/influencer & PR.
Q4 How to make a marketing plan actionable?
Creating a marketing plan is one thing. Taking the action to implement that plan is another. Each marketing task must be given a time line and scheduled, delegated or outsourced.
A5 To make any plan actionable, you need to prioritize and track your actions so you stay on track. #vcbuzz https://t.co/lyDQeIY6Ma

— Gail Gardner (@GrowMap) December 6, 2022
A4: Determine your goals and how you will measure them. What are your key performance indicators (KPIs)? Assign responsibilities, so your team (internal or external) takes ownership of each task. Create a timeline, and check on progress regularly! #vcbuzz #marketingtips https://t.co/Rvg8afJDx7

— Jaime Shine 💬 Marketer | Writer (@jaimeshine) December 6, 2022
YES! Measuring is really important too in order to see how successful your marketing plan is going. This way you can adjust accordingly.
Q5 What are your favorite eCommerce marketing tools?
A5). Here are some of my favourite ecommerce marketing tools
💛Pinterest & 💛Tailwind
💛AI for product descriptions & SEO (i.e. https://t.co/sG3R08ZvY4)
💛Yoast & Google Site Kit for Woocommerce
💛Ubersuggest for other ecommerce sites SEO#VCBuzz

— Sarah Clarke (@sclarkeOville) December 6, 2022
Our previous ecommerce marketing chats: