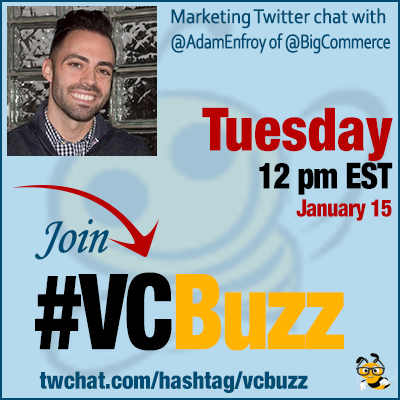 These days just about anyone can open up an online store and sell just about anything. This is a great opportunity to make some income and turn a hobby into a successful business.
But how to market your ecommerce business? Let's discuss!
***Add #VCBuzz chats to your calendar here.
***Please sign in here to follow the chat -> twchat.com/hashtag/vcbuzz
About @AdamEnfroy
@AdamEnfroy is an affiliate manager at @BigCommerce
Adam is also blogging about affiliate marketing. Adam teaches how to leverage your career and launch a side business while working full time.
Questions we discussed
Q1 How did you become a digital marketer? Please share your career story!
Hi everyone! I'm Adam from @BigCommerce. I first got into digital marketing by teaching myself Google AdWords and Analytics. I started helping friends who owned local businesses and leveraged that into a job as an SEO Specialist at an agency in Michigan.
After that, I became a Digital Marketing Manager at the same agency, leveraged job that and became an Ecommerce Marketing Manager for a national retailer, then the SaaS space and moved to Austin, TX to work for BigCommerce as their Affiliate Manager.
Q2 When someone wants to set up a new eCommerce site, where should they start? What are the first steps?
The 1st step to launching an ecommerce site is choosing a platform. There are many to choose from so you need to understand their features. Ask yourself… how many products do you have? What kind of shipping, promotions, tech integrations are needed?..
Dive into the platforms and test our their free trials. Remember, anyone can launch a nice-looking store – it's harder to get traffic. So do your research on SEO and marketing tools. Don't get discouraged if you're not generating sales out of the gate.
You can also use a tool like @InventorySource to find products and suppliers. Get your product CSV ready so inventory updates automatically. For an ecommerce platform, I recommend @BigCommerce as it is the most scalable, CRO-optimized, and SEO-friendly
Q3 How to effectively optimize, monetize and market a new eCommerce site?
Before marketing your ecommerce site, you need to start with #CRO and #design in mind. Optimize your product pages with quality images, well-written product descriptions, an easy checkout with shipping details, and ensure your pages look great on mobile.
a3 With an eCommerce platform most of the CMS have some optimization in place – to immediately push traffic I would set up a PPC & Merchant Center Campaigns to get things moving! #VCBuzz

— Debi Norton (@BRAVOMedia1) January 15, 2019
Next, your marketing needs to hit to a baseline. Start with #emailmarketing, #SEO and #content. Pitch guest posts on sites in your niche – Domain Authority is King! After that, start to leverage remarketing on Facebook – DPA ads & cart abandoner ad groups.
Start monetizing with autoresponder emails – Provide a 10% discount for joining your list, set up an automated welcome email series and cart abandoner emails. This will build your audience and create touchless incremental revenue for your #ecommerce site.
To create bigger #ecommerce revenue, follow a promo schedule that matches retail. Know that 30-40% off is expected on Black Friday/Cyber Monday. Finally, to build brand awareness and get a high return on ad spend, join a high paying affiliate program.
Q4 How much time commitment does ecommerce marketing take? What can be scaled and automated? How to  make it less stressful and more productive (especially if it's a side "hobby" business)?
Starting and running an #ecommerce business takes time. There's launching your site, creating content, shipping, returns, and customer satisfaction. However, once you're launched, you can save time by automating your processes with tools…
"Ecommerce" is a broad brush. Are we applying the term to selling anything at all online … or only to multi-product stores like Amazon? #vcbuzz

— Don Sturgill (@DonSturgill) January 15, 2019
@DonSturgill most #ecommerceplatforms are now omni-channel. Many merchants start on Amazon, then build their own ecommerce website after bc returns are higher. For example, with a @BigCommerce site, you can sell on Amazon, eBay, Facebook, Pinterest, and Instagram. #vcbuzz

— Adam Enfroy (@AdamEnfroy) January 15, 2019
Logistics companies like @ShipBob will help outsource shipping, chat bots like @Landbot_io can help with customer satisfaction, and hiring freelancers to write content, help with your #digitalmarketing and PR will save you more time.
Off-site reviews I'd say. harder to manage and more searched by potential customers who use them to make buying decisions. Both make it a higher priority RT @24hrtranslation: How important are onsite vs offsite reviews? Which should be the priority? #vcbuzz

— Ann Smarty (@seosmarty) January 15, 2019
Off-site reviews are most important for #ecommerce. @Google is #1. @Facebook is #2 to build your brand. Then independent review sites can get your PPC ads seller ratings extensions.
a4 eCommerce Marketing takes as much time, energy & optimization as you want to put into it. Yes, it can be automated, but IMO, if it is small enough, doing optimization manually may lead to a better result. If you know what you're doing.#VCBuzz

— Debi Norton (@BRAVOMedia1) January 15, 2019
Q5 What are your favorite ecommerce marketing tools?
Some of my favorite #ecommercemarketing tools include #CRO and #abtesting software like @hotjar, @Optimizely and @crazyegg. @ahrefs and @semrush are amazing SEO tools for any website. And @referralcandy to start an easy referral program.
a5 My favorite ecommece marketing tool – would be the use of the Google Merchant Center. #vcbuzz

— Debi Norton (@BRAVOMedia1) January 15, 2019
A5 (2/2) @crazyegg is my favorite tool for #CRO and #heatmapping. Here is a recent article I wrote for them on designing your site with #ecommerce conversion rate optimization in mind: https://t.co/haNXzgIX26 #vcbuzz ???

— Adam Enfroy (@AdamEnfroy) January 15, 2019
Top 84 Usability Tools. Love this list from @thegood: https://t.co/u6RyjehmRG #vcbuzz

— Don Sturgill (@DonSturgill) January 15, 2019
Our previous ecommerce marketing chats: