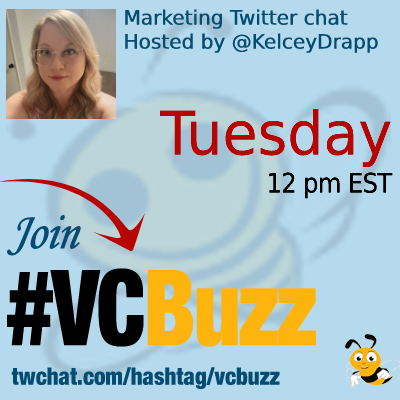 Search Engine Optimization is always challenging but in some niches it may just be impossible.
It takes time, budgets, creativity and technical skills.
How to create an SEO strategy in a highly competitive niche? Let's discuss!
***Add #VCBuzz chats to your calendar here.
***Please sign in here to follow the chat -> twchat.com/hashtag/vcbuzz
About @KelceyDrapp
@KelceyDrapp has been in the digital space for over a decade.
Kelcey enjoys digging deep into SEO research to discover the 'why,' and helping clients realize their potential for success online.
In addition to her work in local SEO, Kelcey also likes to volunteer her digital marketing skills for non-profits in need.
Questions we discussed
Q1 How did you become a digital marketer? Please share your career story!
I first got into digital marketing in college. I had a digital strategy internship at @AgencyEntourage, then followed that with a year-long SEO internship at @RankHammer. As a marketing major at Baylor University, seeing the tech side was fascinating to me.
After I graduated with my business marketing degree, my first 'real' job was in higher education at @jindal_utdallas as an SEO and Content Specialist. At the same time, I was also on the board of @dfwsem, where I served as the communications chair for 2 years.
After a while at UTD, I was recruited by Local SEO celeb & fellow DFWSEM alum @GregGifford to work in the new SEO department at @DealerOn as an SEO Team Lead. DealerOn predominantly specializes in website & ancillary services (such as SEO & SEM) for car dealers.
I've been at @DealerOn for 7 years and I absolutely love it. I've risen through the ranks to an SEO Manager; and very recently, I was promoted to GM Program Manager. In my new role I'll be the primary liaison between DO and General Motors. It's a big role!
Q2 What are some of the most challenging niches when it comes to SEO? How much time could it take to generate at least any organic clicks if you have a site in any of these?
Attorneys, doctors offices, & automotive are among some of the most unique niches when it comes to SEO. These are industries in which a deep knowledge of Local SEO (vs general SEO or international SEO) is essential. My most extensive expertise is in Automotive SEO.
Like other niches, automotive SEO is so specific because of the clientele. It's not impossible, but it's unlikely that you'll sell a car to someone in another state. Usually, your customers are people in your local area. Catering to THEIR search needs is essential.
A2. That it changes so quickly and you have to change your tactics asap. #vcbuzz It has taken me 6 months for most.

— Lisa Sicard 👩‍💻🙂💭 (@Lisapatb) August 30, 2022
In any of these competitive niches, there are a lot of factors that contribute to a business' ability to rank in organic search beyond SEO alone. New businesses are going to have a harder time outranking established businesses with older domains, more reviews, etc.
A2. Every niche is challenging. One must have the expertise in the respective niche if wants to produce high quality content that fulfills the search intent.
Giving a timeframe without analysing the niche and the industry sounds weird.#vcbuzz

— Amal Ghosh (@AmalGhosh3) August 30, 2022
I think it's important to be realistic about your competition. A brand new (or recently rebranded) business is going to have a harder time performing better in organic search than an established brand that has been in business for decades. That's just a fact.
A2: The most challenging niches for an SEO in 2022:
👉Healthcare
👉Finance
👉iGaming
👉Weight loss
The YMYL niche can include many niche types but overall faces more scrutiny and competition. #vcbuzz

— Jeannie Hill (@essentialskill) August 30, 2022
No matter how long you've been in business, there is a key thing I tell ALL clients: SEO is a long game. You may not see results in the short term (it can take 3, 6, 9+ months), but the effects of SEO will last a long time. If you want faster results, do PPC, too.
#VCBuzz A2.

Any niche that is established as spammy (so basically any high-value/high risk topic).
Things like:
* Stocks/Forex
* Medicine
* Suppliments

It can be weeks/months – depending on whether you have an existing network you can leverage (or money to buy attention).

— Lyndon NA (Darth Autocrat) (@darth_na) August 30, 2022
Though SEO takes time, it doesn't mean you won't see ANY organic results in the meantime. There are a few ways you can expedite the results, including: regularly updating your website content (blog is a great option) and having a complete @GoogleMyBiz listing.
It depends! I recommend posting new blogs a couple of times a month at minimum. They can be on industry specific information, or have local flavor to attract new visitors. Evergreen content can be updated annually. #vcbuzz

— Kelcey Drapp (@kelceydrapp) August 30, 2022
Q3 What is the most effective way to build organic search visibility in a competitive niche?
Building organic search visibility in a competitive niche is a lot about focusing on LOCAL ranking signals, and not just general SEO ranking signals.
In local SEO, you need to pay attention to where both your business AND customers are. You're optimizing for your location, NOT just your keywords. You need to include your city and state in your heading and title tags. You need to create locally focused content.
One of the biggest winning points in local marketing is reviews: Google, socia media, and website. Word of mouth marketing plays a very key role for businesses operating only locally. #vcbuzz

— Poulomi Basu (@poulomi_basu) August 30, 2022
1. Do good business for your clients that is WORTH sharing.

2. Just ask! You'd be surprised at how many people don't ask their customers for feedback (as long as you're not review gating!).#vcbuzz

— Kelcey Drapp (@kelceydrapp) August 30, 2022
You also need to pay attention to what your competition is/isn't doing. Can you go after the same types of links as your competitors? Add that to your linkbuilding strategy. Do they have bad reviews or wrong NAP in their Google listing? Make sure yours are right.
A3. As well as all it's been said, being persistent is one of the best ways #vcbuzz

— Montse Cano (@MontseCano) August 30, 2022
This may seem like a 'duh', but the most crucial part of building organic search visibility in a niche is to be a good, honest business. All the SEO in the world will not fix a bad reputation. If you're doing 'right' by your customers, the SEO part comes easier.
A3. The ability to analyze the SERP, producing high quality contents consistently, strong intern linking structure, earning backlinks from high authority relevant sites.#vcbuzz

— Amal Ghosh (@AmalGhosh3) August 30, 2022
A3. How to effectively build organic visibility in competitive niches:
⚡️Generate people-first, unique content
⚡️Solve your audience's problems
⚡️Be agile and move quickly to user needs
⚡️Adopt a holistic approach to providing valuable answers wherever your audience is#vcbuzz

— Jeannie Hill (@essentialskill) August 30, 2022
#VCBuzz A3.

1) Make sure you have no tech issues
2) Leverage a network (feed social etc. to gen. links)
3) Target less competed terms
4) Build up content stacks (long > medium > head terms)
5) Create content for different audiences
6) Internally link carefully

— Lyndon NA (Darth Autocrat) (@darth_na) August 30, 2022
Q4 How to set the client's / boss's expectations right?
I firmly believe honesty is the best policy. I am up front about lead times, and I make no guarantees. If I make a mistake, I own it immediately and offer a solution. This perspective has always helped me have better relationships with both clients and cohorts.
A4. This requires excellent communication and a strong relational bridge. Many of our client expectations started out way off. I give them credit that it's hard to know what to expect if you are busy running a business. Overtime, trust is built and appreciate our lead. #vcbuzz

— Jeannie Hill (@essentialskill) August 30, 2022
I tell my clients not to expect concrete results in the first few months. We estimate that on average, it takes about 6 months to see lasting effects of our efforts. Sometimes it's as few as 3 months, sometimes its 9-12. There are many factors that affect this.
A few factors that affect how fast SEO 'works': how established the brand is, the URL's crawl rate (could be anywhere from hours to weeks), crawl budget (which can be impacted with canonical tags & robots.txt directives), how the site was already performing, etc.
#VCBuzz A4.

Make sure they understand it's basically a reputation game.
It's not just having the content, it's how it's received/reacted to as well.
It takes time to earn G's trust, get more crawls, more often, show that you cover concepts/subjects etc.,
as well as the "math".

— Lyndon NA (Darth Autocrat) (@darth_na) August 30, 2022
A big thing is I always assure my clients that even if SEO is taking longer than they expected, there is nothing we are going to do to their online presence that will hurt them. My team and I take a lot of pride in what we do and would never do anything deceitful.
Q5 What are your favorite SEO tools?
I am a huge fan of @screamingfrog for full site crawls. It breaks down all the tags, status codes, and forwarding without me having to look at anything in the source code.
#VCBuzz A5.

PHP and MySQL/MariaDB
Google Docs/Sheets
Chrome

— Lyndon NA (Darth Autocrat) (@darth_na) August 30, 2022
I also love @semrush and @ahrefs for audits and historical data. We use the paid versions of both, and I think they are worth their weight in gold. They both offer similar services, but I tend to prefer different aspects of each tool for certain things.
brb looking this up RIGHT NOW #vcbuzz https://t.co/PsppjPTjF1

— Kelcey Drapp (@kelceydrapp) August 30, 2022
This may seem silly, but everyone should use the @Grammarly chrome extension. It's a life saver for checking errors while writing page and tag copy. It makes my eye twitch when I'm on a website that I can tell has been optimized and there are spelling errors.
Our previous SEO strategy chats: