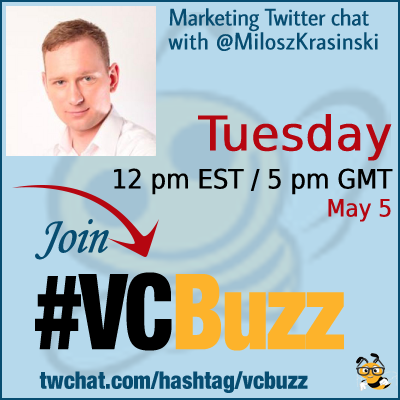 Organic search is becoming more and more competitive, yet there are still opportunities to generate steady traffic from Google search.
Whether you are managing a startup or an established business, you can build organic search visibility through a well-planned long-tail strategy.
Let's discuss how it works.
***Add #VCBuzz chats to your calendar here.
***Please sign in here to follow the chat -> twchat.com/hashtag/vcbuzz
About @MiloszKrasinski
Milosz Krasinski has over 10 years of diversified experience in the digital landscape.
Milosz offers consulting, support, and services with experience & exposure to various projects in different market segments (i.e. agency, local businesses, social media, SEO, etc.)
Subscribe to Milosz's blog to follow his indepth writing on digital marketing.
Questions we discussed
Q1 How did you become a digital marketer? Please share your career story!
It all started from the record label where I got my full time proper job as a sound engineer. The boss has asked me : I need to use your brain. Here is something called Google Analytics. Can you install this on my website?
You are an engineer so it should be easy for you right? He was right…and the journey has begun.
Didn't take me long to find my first client set up my own agency and charging clients for websites, hosting etc. then SEO came along and a huge PPC / CRO one project worth half million pounds.
But recently my entire focus is around link building, Digital PR, Link building signals and content.
Curious why you have ended up with that focus? RT @MiloszKrasinski: @vcbuzz AC1 But recently my entire focus is around link building, Digital PR, Link building signals and content #vcbuzz

— Anna Fox (@manifestcon) May 5, 2020
I was told I am good at that. I took that for granted.
How did you find your very first client? #vcbuzz

— Jessy Troy (@jessytroy) May 5, 2020
I was asked: what do you do these days? at Facebook over 10 years ago. I said I am building websites (no prior experience to that) #vcbuzz A friend said: My mum needs a website. Can you come to her office tomorrow?
Q2 Generally speaking, what is the long tail effect? Please give some examples.
The hard way: The long tail is a statistical pattern of distribution that occurs when a larger share of occurrences occur farther away from the centre or head of distribution. Sounds confusing?
The easy way: Long tail keywords are search phrases with longer word counts. Their length makes them more specific than searches with fewer words.
"Best seo technical tools" (4 words) is an example of a long tail keyword, whereas "seo tools" is a short tail keyword. Local searches have laso long tail keywords. For example "accountants near me Oxford" or "accountant oxford UK cowley road."
A2 Long tail keywords can be easier to rank for and if you target many of them, they can bring more traffic to your site #vcbuzz https://t.co/xFnZFz3MAa

— Gail Gardner (@GrowMap) May 5, 2020
Don't forget about long tail keywords with zero volume searches these are also long tails one and sometimes applicable.
Voice search is a driver along with the increase of local searches and urgent searches (now, today, tomorrow). #vcbuzz

— Jaime Shine 🖋️ (@jaimeshine) May 5, 2020
"The Long Tail – It Works If You Work It." – Bobby Owsinski
Q3 When applied to SEO, how can long-tail effect help businesses generate organic search traffic? What are the benefits and risks?
The benefits and risks? When we refer to the concept of a long tail risk, it is a form of liability that carries a long settlement period – and the context for this can vary.
In SEO there's also the risk of doing it wrong. You can't just create a separate page or blog post for each keyword, or you'll end up with piles of thin content!
We need to pay attention to this. While that did work in the early internet days, today you don't want thin content so you can to target more longtail keyword phrases with each piece of comprehensive content. #vcbuzz #SEO https://t.co/q2H86sj6we

— Gail Gardner (@GrowMap) May 5, 2020
@MiloszKrasinski i have a question brother, Does long tail keyword is a success for long term or short term goals? because the traffic is limited? #vcbuzz

— Salman Saleem (@salmanlashkari) May 5, 2020
It may be success for you if you figure out what keywords generating the conversations rather than just traffic.
Or even better – what longtail keywords are generating SALES for you rather than just visitors! #VCBuzz #SEO https://t.co/S0697wzZfa

— Gail Gardner (@GrowMap) May 5, 2020
Q4 How to create a long-tail SEO strategy (step by step)? Where to start and how to evaluate those search queries to target?
First step, you'll want to find long-tail keywords that target each stage of the purchase funnel.
This is very important. When I did #ppc consultants would brag about turning off broad match phrases because they didn't think they converted (last click attribution).

DO NOT miss targeting the top of the funnel (TOF) or your business could be left out of consideration!#VCBuzz https://t.co/KtFSf2Tt97

— Gail Gardner (@GrowMap) May 5, 2020
The purchase funnel it's your gold as it describes the various stages of purchase intent experienced by different users:
Awareness
Consideration
Preference
Purchase
When speaking about the first stage users ask questions if they want to learn about the products/ services or possible solutions. It may be the case they are not aware of it – so when searching or googling they may find it.
On the other hand, in the "Purchase" phase, people know exactly what they want and they're ready to buy.
Examples:
Living in big cities? Study in London – Awareness stage. Places to live in London or study in London pros and cons? – Consideration stage
Moving services London (company A) Moving services London (company B) Moving services London (company C) Price comparison etc – Consideration stage
Yes — and this is where not being on their short list by targeting the top of the funnel with your efforts, too, can cost you the sale.

They may search for a specific brand at this point – and miss you entirely. #VCBuzz #SEO https://t.co/6waHZo8k38

— Gail Gardner (@GrowMap) May 5, 2020
Purchase: Moving services London (company C) Price and availability was the actual factor that has converted the user. In SaaS model this will work a bit different the actual metric would LT keyword and LTV.
Another step: If you launch new products/ services/ locations, how will you build and optimize content that targets each stage of the conversion funnel? Will it be only SEO traffic?
Produce the content – Use free tools. Google search for "People also ask" and "Related Searches."
Don't miss "People also ask" and "Related searches" as other phrases to target when doing #content and #SEO.

Ann @SEOSmarty offered many tips on capturing Featured Snippets from using those https://t.co/27Vvzo9fIJ #VCbuzz https://t.co/kqFZustOoR

— Gail Gardner (@GrowMap) May 5, 2020
Check Google Console. Don't be disappointed if you end up with a lot of keywords with less than 50 searches per month or 10 or zero volume searches. Those small numbers will add up. Many searches aren't really seen by tools like Semrush, Ahref.
THIS! I once listed a #local business on tons of tiny directories. Even though each only send 1 visitor A YEAR – one sale for them was $1000s – so well worth it.

I agree with @MiloszKrasinski that even what seems to be a ZERO search can bring traffic. Target those! #VCBuzz https://t.co/ArMrTLNjnO

— Gail Gardner (@GrowMap) May 5, 2020
Q5 What are your favorite SEO tools?
For long tail keywords specifically major tools such as Semrush but also latest Surfer SEO that is able to retrieve NLP keywords. It's huge bomb for long tails.
Use social media tools like Brand24. They will show you sentiment around your main keyword and you will see all the variations around it when looking at what people say using social media.
Our previous SEO and usability chats: