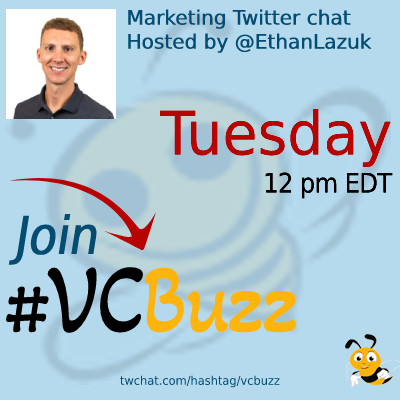 Search engine optimization is one of those industries that has lots of tools, and every month there's a new tool to test.
Which tools are you using?
Are you looking for more to play with?
Let's discuss!
About @EthanLazuk
@EthanLazuk is an SEO professional based in Florida. He has been working as a digital marketer since 2015 and a full-time agency-side SEO since 2019.
Connect to Ethan on Linkedin!
Questions we discussed
Q1 How did you become a digital marketer? Please share your career story!
I was a grant writer for a non-profit organization and became a digital marketer somewhat by luck when I joined a digital agency's content team. More and more I gravitated to SEO and soon it became my core focus.
Part of what I love most about SEO is that it's a constant learning journey. I'm looking forward to sharing some of the tools I use and picking up tips from other digital marketers on what they're using as well! #vcbuzz
Yes the changing digital landscape keeps its exciting and there is always something new to learn#vcbuzz

— Smita Poojary (@Smita_DigiMarke) July 11, 2023
Q2 Google Analytics has historically been our #1 tool to use. Now that it is switching to GA4, do you have any tips on how to transition smoothly?
My first thought is to get the GA4 property set up or migrated from UA as best you can from the start. Whether that's using the Setup Assistant, following tutorials, or reaching out for assistance, you want accurate data.
I prefer ChatGPT for most tasks. Especially now with Link Reader and other plugins.
A2
Yes would totally agree to this
-Get specialised help from agencies or partners
– Watch tutorials and guides
-Ask for help to set it up accurately from the start
-Keep checking it to make sure it's setup correctly #vcbuzz

— Smita Poojary (@Smita_DigiMarke) July 11, 2023
Once you've got the GA4 data streams connected and are tracking the events/conversions you need, try building Explore reports. With custom reports, you can analyze your key data. Many great tutorials out there!
A2 I have mixed feelings about Google, so how about testing a new tool, e.g., @AnalyticsForWP? I wonder if Google will be able to fix the GDPR stuff in the future? #vcbuzz

— Martin Lindeskog🗽🌐💎🫖🍵🧉🙃 (@LyceumPeripatos) July 11, 2023
We may need to look beyond GA as well and aggregate other data sources, like GSC, CMS analytics, or other analytics tools. Looker Studio offers ways to visualize data, as can ChatGPT Code Interpreter.
A2 I hope everyone realizes they have to leave @GoogleAnaltics and migrate to #GA4 NOW

"Universal Analytics will no longer process new data in standard properties beginning July 1, 2023.Your data will still be in Universal Analytics until Dec 31, 2023." #vcbuzz

— Gail Gardner (@GrowMap) July 11, 2023
Here's another I had handy for page exits. Can also be customized to your needs! #vcbuzz https://t.co/c08wj5pYAp. .

— Ethan Lazuk 🌴 (@EthanLazuk) July 11, 2023
A2b Also, you really need to do THIS:

"In GA4, data defaults to only saving two months of data.

Change the default to 14 months. If you fail to change the default that data will be lost. Free GA4 only retains data for 14 months."

Details in https://t.co/JgrOXZrUqx #vcbuzz

— Gail Gardner (@GrowMap) July 11, 2023
A4 I agree with @EthanLazuk that the smoothest transition has been to migrate over to GA4 – trying to preserve historic data.

But for all intensive purposes – GA4 is so overly complicated. One needs to search to hard find the info needed. It's unfortunate, at best.#vcbuzz

— Debi Norton (@BRAVOMedia1) July 11, 2023
I think it mainly comes down to they report differently. This article has some good insights! https://t.co/R2iDe9E2xT #vcbuzz

— Ethan Lazuk 🌴 (@EthanLazuk) July 11, 2023
Q3 Which new (AI) tools were you excited to discover recently?
I've been increasingly using AI chatbots like ChatGPT and Bard and playing around on Google SGE or the new Bing since I first got access. But what I continue to discover are new integrations of AI in everyday places.
Being able to use ChatGPT in Google Sheets or AI text generation in CMSs like Shopify or WordPress or tools like Semrush and Ahrefs opens up ways to work efficiently and explore new possibilities, responsibly.
An AI tool I was excited to discover recently is ChatGPT Code Interpreter. (If you're a Plus user, it should be available!) Upload data, like a GSC export, use a good prompt, and it can analyze, visualize, and organize data in cool ways.
It is! The sheets add-on was especially helpful for me lately. #vcbuzz https://t.co/kT88LCAgNI

— Ethan Lazuk 🌴 (@EthanLazuk) July 11, 2023
Q4 Which tools have changed the way you do SEO?
It's hard not to say ChatGPT first. From content research and editing to structured data or code validation, building regex for GSC, or analyzing data sets and more, I find myself using ChatGPT with greater frequency.
While not a tool, per se, I'll also say using Google SGE has impacted how I think about SEO. While we don't know what the final iteration will look like, SGE leads to interesting discussions for future SEO strategies.
— Ann Smarty (@seosmarty) July 11, 2023
I'll also give a shoutout to tools like AlsoAsked and Keyword Insights that allow us to analyze PAA data, keyword clusters, or SERPs and expand our thinking about content opportunities and user intent/needs.
– Cora
– Frase
– ChatGPT (and the integrations with Sheets and Docs)
– ScrapeSpider (like Screaming Frog, but with CyberSec components as well)#vcbuzz

— Brian Kato (@katobkato) July 11, 2023
Relatedly, using the free Google Cloud Natural Language API demo can be a fun way to think about entities in content. (Surfer SEO or similar tools can likewise be helpful for this.)
I'd also say Microsoft Clarity was a game changer for me. Seeing user behavior across websites gave me new appreciation for design, CRO, and other disciplines that overlap with SEO.
Q5 Which SEO tools are you using on a daily basis?
I log into GSC daily to check for websites' performance, trends, and issues. While not used daily, I also find Bing Webmaster Tools to have many helpful features, like its SEO Reports.
A5: GA4, GSC, Semrush, and a secret weapon for quickly checking a page: Blue Button extension for Chrome. #vcbuzz

— Don Dingee (@don_dingee) July 11, 2023
I also generally use a tool like Ahrefs or Semrush for competitor research or other insights, as well as Screaming Frog, often with GSC or other API data. There are also several Chrome extensions I couldn't live without. (Ayima makes good ones!)
A5 SEO Tools
– screaming frog
– schema. org
– GSC
– G-Trends
– Bing WMT
– GBP
– chatgpt
– Google dev tools#vcbuzz

— Debi Norton (@BRAVOMedia1) July 11, 2023
The last tool I use daily is … Twitter. 🙂 I try to log in throughout the day to see what other SEOs are writing about and sharing. I learn so much from others that fuels my own exploration and growth as an SEO.
A5 I use @Audience_Key and @surfer_seo almost every day I'm writing for clients. #vcbuzz https://t.co/JXnVkWECyh

— Gail Gardner (@GrowMap) July 11, 2023
Our previous chats on SEO tools: