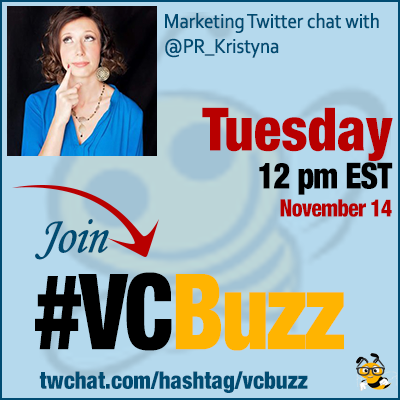 Whenever we publish an article, we hope our readers will engage: We are looking forward to comments, shares and signups. Sadly we see less and less people engaging with us on both our blogs and social media.
The web is getting too cluttered for people to stop and talk! How to get people talk to us? Let's discuss this on our chat!
***Add #VCBuzz chats to your calendar here.
***Please sign in here to follow the chat -> twchat.com/hashtag/vcbuzz
About Kristyna
@PR_Kristyna is a social media savvy entrepreneur with years of experience in engaging communities around your brand.
Learn more about @PR_Kristyna over at prkristyna.com.
Questions we are going to discuss
Q1 How did you become a digital marketer? Please tell your career story!
I started in nonprofit marketing while in college before social media was a thing. Working in nonprofits forced me to learn to ENGAGE a community and create a tribe around a certain cause.
Once social media came onto the scene I used my skills of connecting people to a mission- to connecting people on social media!
Q2 What is an engagement? Could you define the term and explain why it is important to get people engage with you and your content?
I define engagement as a CONNECTING your audience to your brand through humanizing it. Giving them a reason to become loyal.
Marketing without engaging your audience is basically a press release. Social media shouldn't sound like a press release.
Remember, the first word in social media is SOCIAL.
Hmmm… I see "engagement" as a conversation between you and your audience. A noun. It's interesting looking at it as a verb. #vcbuzz

— Don Sturgill (@DonSturgill) November 7, 2017
Q3 What are some of the most efficient engagement marketing tactics that work for any niche?
The most effective engagement tactic is BE A HUMAN. Too many marketers schedule their content and wash their hands of it.
Scheduling is better than nothing, but you CAN'T schedule real engagement with your audience
Respond to comments, reply to messages, share THEIR content too! Engage with your community like a human
A3B. Also make your website a content hub with podcast, blog posts, live streaming for your audience too #vcbuzz

— Cheval John (@chevd80) November 7, 2017
LISTEN to your audience – don't create cookie cutter responses
Most marketers who are stuck in broadcast mode don't realize social media is a whole different type of media. Completely not the same as an article.
Q4 How to engage people if you are very new to the industry? In other words, where to start?
New people / companies often think social media is a free marketing tool that doesn't need any preparation. Change your thinking
Create content calendars, research analytics and algorithms, understand that engagement is a DAILY task with your audience
Figure out where your audience engages. Don't assume they're on the platform that is easy for YOU. Cater to THEM
Do a deep dive into the demographics of your audience. What ages are they? How do they communicate? What times of day…
Caring and hand holding should always be a priority with your audience. They are your VIPs! Create a content plan based around THEIR habits and engagement. Don't post just because you think you should, or have a minute.
A4 Create content based on TRENDS (integrate trends into your editorial calendar) -> https://t.co/dvty4X4JM2 #vcbuzz

— Ann Smarty (@seosmarty) November 7, 2017
Q5 What are your favorite engagement marketing tools and why?
My favorite engagement marketing tool is ORGANIC engagment as a human. Get behind the screen and have a conversation.
To refine content and engagement, use tracking tools. I like @unionmetrics for Insta and Twitter.
In addition, utilize tools like @Canva to create engaging images
I love @BlueJeansNet because it is a great platform for live streaming to facebook
And don't forget about the tools that each platform already offers! Use the insights tabs, turn on your alerts. And finally, don't forget about VIDEO! Utilize live video capabilities and ENGAGE your audience authentically
Our previous engagement marketing chats:
Save
Save
Save
Save
Save
Save
Save
Save
Save
Save
Save
Save
Save
Save
Save
Save
Save
Save
Save
Save
Save
Save
Save