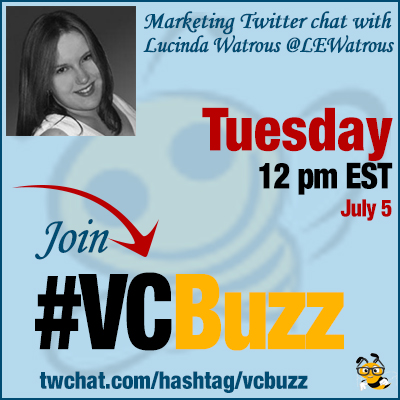 Visual marketing has been on the rise for several years now: There are lots of new tools and opportunities you may be unaware of!
Hopefully this week's chat will inspire you with new visual marketing ideas!
***Add #VCBuzz chats to your calendar here.
***Please sign in here to follow the chat -> twchat.com/hashtag/vcbuzz
About @LEWatrous
Lucinda Watrous is content creator and web designer contributing to SEM Rush and Search Engine Journal.
Connect to Lucinda on Linkedin!
Questions we discussed
Q1 Having a web design background, what are you most excited about when it comes to visual marketing? Any trends you love watching?
I love the constant change. In the past, you had to get the design right for the screen & now responsive design handles it.
I've loved watching video evolve from something that you just couldn't stream, into such a powerful branded marketing tool.
Q2 Please list some examples of visual marketing done right? Who can we learn from?
I wrote a piece for SEJ on non-ecommerce brands using Pinterest. These brands do it right.
The grammar nerd in me has to give a nod to the Grammarly cards you see floating around on FB & Pinterest. I couldn't get the Grammarly card to upload. Check them out on Pinterest here.
Starbucks. Love them. Their Instagram is amazing.
A2 Coca Cola has been historically good at visual marketing -> https://t.co/ddnMSjrc8I #vcbuzz

— Ann Smarty (@seosmarty) July 5, 2016
Q3 How to find / create great visuals for your articles for free or on the cheap? Any favorite resources and guides?
I live & die by Canva. It's quick, easy, and cheap to create graphics for nearly anything. And, you can upload your own photos, or choose from their collection of stock.
I use a lot of free photo repositories like Pixabay & UnSplash, but also have a membership with Adobe Stock.
Flickr is good too, if you're careful to watch licensing and attribution.
How long does it takes to create one visual post? #vcbuzz

— Jason Chow (@JasonCPF) July 5, 2016
I spend a few minutes in Canva for each visual. Most of my work only requires one or two. More time goes into finding the right images than making them.
A3 I get free images from @MavSocial https://t.co/KDW64fWfZB and use them to create unique images in Canva https://t.co/fRxsFqek64 #vcbuzz

— Gail Gardner (@GrowMap) July 5, 2016
I'll check them out. I don't know what I would do without Canva.
@LEWatrous MavSocial's free images come from Pixabay, but they have tools to edit them in there and I use @Canva, too #vcbuzz

— Gail Gardner (@GrowMap) July 5, 2016
Good to know.
Q4 What's your favorite social media network for promoting visuals?
It's going to sound cliché, but Pinterest. Visual marketing is the core of that network, & I can get lost for hours.
I'm also venturing into Snapchat. I love how #OITNB created a visual story promoting the premiere.
I also like Instagram, but I'm not as active there. It's a powerful marketing tool for many niches.
.@LEWatrous It seems like to succeed on Instagram you have to be constantly super active there… ? #vcbuzz

— Sana Knightly (@SanaKnightly) July 5, 2016
Yeah. And I'm just too busy to be constantly on any one network over the other. I spend most of my time on Twitter and Facebook. Try not to rely too heavily on scheduling tools for more authenticity.
@LEWatrous what's the tool are you using to collaborate or manage all the social networks? #vcbuzz

— Jason Chow (@JasonCPF) July 5, 2016
I use Buffer. It manages all the big ones for me. I do Snapchat and Instagram manually still. Tailwind is really robust for Pinterest management and analytics, too.
Q5 What are your favorite visual marketing trends?
I'm a little camera shy, but I love watching my friends do live streams, scopes, and blabs. Love feeling like I'm there.
Cam shy too – so found a guy wo loves the cam to work with #vcbuzz

— Phil Turner (@The5Currencies) July 5, 2016
That's a good idea. Maybe I should do that.
Interactive videos is one I plan to keep a close eye on. Those "Choose your Story" books were always my favorite as a kid.
A5: The Google Doodle. Yesterday's was awesome. I love their references and built in games you see in some. #vcbuzz pic.twitter.com/nMi38lFZjB

— Lucinda Watrous (@LEWatrous) July 5, 2016
The idea of making an interactive video makes my head hurt, but I will enjoy as a viewer for sure!
@LEWatrous I make how-to walk-through videos using Screencast-o-matic and sometimes do audio in videos, but never on-screen video #vcbuzz

— Gail Gardner (@GrowMap) July 5, 2016
I screencast training stuff for clients with ScreenFlow
@LEWatrous Do you want to share your story with us? I don't remember what site it is on, but I remember reading it somewhere. #vcbuzz

— Gail Gardner (@GrowMap) July 5, 2016
@GrowMap You mean how I got started? I wrote about it here: https://t.co/1qMh1MFdnY for anyone who's interested. #vcbuzz

— Lucinda Watrous (@LEWatrous) July 5, 2016
Our previous visual marketing chats: