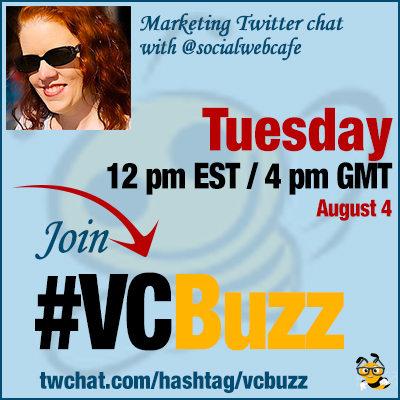 Content is not only about text. In fact, if you are only focusing on text content, you are probably not seeing any results from your content marketing efforts.
Today's marketing lesson is on creating video and podcast content assets to promote your brand!
Please meet Deborah Anderson @socialwebcafe!
***Please sign in here to follow the chat -> twchat.com/hashtag/vcbuzz
***Important: Join this event on Google Plus to be notified of upcoming chats (It's easier with daytime savings and different time zones!)
About Deborah
Deborah Anderson has been writing for most of her life, having reached success with her "Webmaster Tips Weekly" in the pre-Web 2.0 days, as well as writing web design curriculum and teaching Adobe Photoshop to talented fine artists.
Deborah's recent endeavor is to apply her love of writing and humanity to encouraging people to reach their potential online, one step at a time. Her blog, SocialWebCafe.com is a reflection of who she is and her view on social media: "because the web should be fun!"
Questions we discussed
Q1 How did you fall in love with social media? What's your favorite social media platform and why?
Actually, there is a story behind that.. I was a CTO (Chief Technology Officer) in the financial industry… Because of that role and the fact that the company did not understand social media (older, mature, financial advisors..)
Working with our high-paid PR firm (who was suggesting that we utilize social media for promotion). Because of the SEC (Securities and Exchange Commission) restrictions, the company opted not to use social media (except LI)
But… I was absolutely hooked! I started signing up everywhere for my "Deborah E" jazz singer promotion! As a result, I hit the Reverbnation #1 charts for Los Angeles (a hard market!) as a Jazz singer! Held it for a year! That was basically all because of social media marketing! Even though I was an SEO before entering corporate America, it was all because of effective social media marketing.. no turning back ?
A1: Twitter – I didnt understand it at first but its been a game changer for me #vcbuzz

— Zena Thomas, PHR (@hersavvycareer) August 4, 2015
My favorite network? That is tough. If I could choose youtube, that would be my favorite.. I also love Facebook, Twitter, and G+
People use Twitter in different ways but they all have a similar story of how they started ? cc @hersavvycareer #vcbuzz

— Ann Smarty (@seosmarty) August 4, 2015
Q2 What's the easiest, yet effective way for brands to start producing videos?
I personally use Apple's Final Cut Pro and absolutely swear by it. However, it is for pros and it isn't the easiest.
The next best thing and a lot easier is Camtasia by Techsmith. I literally have every video creation tool known to man (ok, almost).
I also use products by reallusion.com for animations.I have 3-4 video tools for whiteboard videos, too. I like Sparkol but the one-time payment option was better than monthly fees.
Ok, back on the "easiest." Truly, the easiest is using …. youtube. The reason I recommend youtube, even though I don't use it, is because it is accessible and we are familiar with it. With youtube, you can still edit and remove parts and add parts, like your intro and outro. YouTube has really improved over time, giving you all the basic functionality that you need. there is less uploading/downloading. This makes it a lot easier for those who have limited bandwidth. They don't have to be left out of video production (with youtube)
Stay tuned because I am going to make a how-to just for you all. I'll add it to that Udemy course for you (Please check back for the free sign up link next Tuesday – waiting due to Udemy maintenance issue).
How about Facebook videos, Deb… are they effective as well? #vcbuzz

— Don Sturgill (@DonSturgill) August 4, 2015
For me, I use my Final Cut Pro to clip out parts and then upload them to Facebook.
Facebook contest are very good @donsturgill. #vcbuzz

— TomLarsen/TheInsDoc (@tomlarsen) August 4, 2015
What I like to do, for Facebook, is use videos from BigStock. And, the good news is that you can use YouTube to edit those, too. It is recommended that you 1) create an intro video;2) create an outro video You will likely want to create different ones for YouTube, Facebook, twitter. So, for Facebook, you will want a real quick intro, like maybe your company name and logo
#facebook highlights: remember that videos directly uploaded on FB convert better than Youtube shared videos. #vcbuzz

— Roxana Nasoi (@roxanasoi) August 4, 2015
The same for the outro.. include your domain typed out so people can see it. Make it like a quick transition… You can actually do it in YouTube and use the functionality in YouTube and download your video. Then, upload to Facebook. Ok – I feel another how-to video coming, just for you all, at the Udemy course ?
What do you think of Premiere Pro, @socialwebcafe ? #vcbuzz

— Wendy Kiana Kelly (@WendyKKelly) August 4, 2015
I have heard really good things about the software. The little bit I've seen it, it doesn't compare to Final Cut Pro. What I learned from the pros… However, there is no shame in using Premiere ? I have friends who use it.
Q3 How can companies start their own podcast show. Please list steps!
Before steps, let's talk about what you need. Many people recommend blogtalkradio I agree that it is easy, but I don't recommend them. No offense, great product, but I have two reasons for NOT recommending blogtalkradio
Disclaimer: what I am about to share is based on information from awhile ago, so if they changed this morning.. I wouldn't know
You don't own your podcast content with blogtalkradio It (was) in the fine print.. in the forums. Last time I checked, the fine print says that the only way you own your content is the $249/mo plan. If you are ok with paying $249 then sure, use blogtalkradio because it is so easy. However, with a little patience (and asking for help) you can do it much cheaper! and still own your content.
It is true that the blogtalkradio podcasts are placed on iTunes, but I have had trouble finding my favorites… unless provided with a direct link. Also, it is under the blogtalkradio umbrella.
I recommend TWO components to get the same thing. It isn't free, but it is cheap..
podcast hosting @Libsyn for $5
iTunes hosting for yourself
+1 for Soundcloud RT @seosmarty: @socialwebcafe I am hosting ours at Soundcloud and source to iTunes via RSS. yay or nay? #vcbuzz

— Roxana Nasoi (@roxanasoi) August 4, 2015
Blubrry is also good, but when I did a comparison, I chose libsyn. I'm trying to figure out why libsyn won out.. I think I owe you all a comparison article! The key thing is that you need "podcast hosting." If you try to host on your web site it won't work & it isn't technically not a podcast. An audio file is not necessarily a podcast, but a podcast is an audio file.
@socialwebcafe But it's hosting too.. so why not host there? #vcbuzz

— Ann Smarty (@seosmarty) August 4, 2015
It uses too much bandwidth and it is just a audio file and not accessible as a podcast
Also, your hosting provider will not like the bandwidth usage if u use them instead of podcast hosting.  Technically, having files at soundcloud is just audio files. However, I use soundcloud as an additional way to share. By hosting on libsyn (or blubrry) the sound file is hosted there, but playing on your site …minimal bandwidth issue.
Another thing I recommend is setting up a soundcloud account. It is great for displaying. You can setup ONE account with libsyn (for only $5) and have multiple shows. That is your podcast, that people can access in iTunes.
Then, use SoundCloud and break out your shows into separate interfaces for the different shows Win-Win.
@socialwebcafe This is all incredibly useful Deborah – INCREDIBLY – Thank YOU #vcbuzz

— Phil Turner (@The5Currencies) August 4, 2015
Q4 How to productively combine video and podcasting efforts? Please list your favorite tools!
Here is a nice slideshare that helps to explain the difference between audio files and podcasts. I have seen some better, but this gets you going.
I HIGHLY recommend setting up with iTunes first, before podcasting. Again, article coming on that… And, it is free ? The easiest is to use YouTube. Then, extract audio for podcast.. 2 for 1 deal!
I have a bunch more steps, but I also use professional sound equipment for audio. We have a studio so our steps are complicated. Fortunately, you don't have to be as complicated ?
For example, you can upload a video to libsyn. You could technically use the YouTube interface to modify your video so that it is ready for the podcast.. then upload
Youtube has free analytics RT @nicholasradoi: how do you track the position of your video on youtube? #vcbuzz

— Ann Smarty (@seosmarty) August 4, 2015
I use a tool that I got that is a WordPress plugin. It tracks position, but you have to login and check each day to watch the movement (and log to Excel). However, I just purchased a tool that is supposed to track it without hassle, like what you are asking..
Well, you can optimize podcasts, for the page listening, but yeah video SEO is fun!
It isn't that difficult to get the video on top of YouTube and Google (depending on keyword)
Q5 You do so much but even more things remain to be done! In our era of always new things to try, how do you decide "OK, I am doing this". For example, the recent broadcasting trend, Periscope, are you there yet? How do you decide which new cool things are worth your time?
I pretty much try everything ? Hence, the gagillion tools. lol (and forgetting which one is which)
Many things are worthy of time… but only one thing gets it right now. #vcbuzz

— Don Sturgill (@DonSturgill) August 4, 2015
Announcement: @ileane and I will be launching @epodcast on 8/27 with our first podcast. And, we are using blab for that podcast ? We (ileane and I) will continue to provide resources via @epodcast in our partnership, to help you!
Here is @Ileane talking about @Periscope so that will be a part of our @epodcast training for you all.
@socialwebcafe @Ileane You ladies are always trying new things! Awesome! #vcbuzz

— Ann Smarty (@seosmarty) August 4, 2015
I think @ileane has a free how-to @periscope .. if not, we will make one ?
After our @epodcast launch on 8/27, we will also have a blab how-to vid for those who want to podcast with blab.
@seosmarty Thank you, Ann. TY all of you ? My pleasure. Now to go work on that promised content for you all ? #vcbuzz

— Deborah (@socialwebcafe) August 4, 2015
Our previous video and podcast marketing chats: