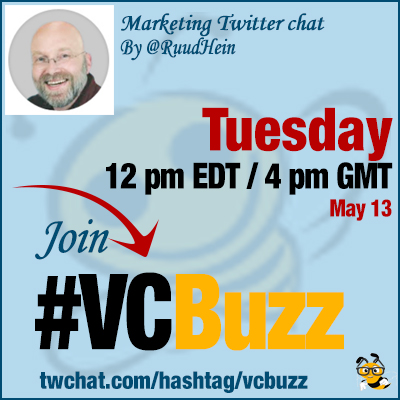 This week we have one of my oldest friends to welcome at #VCBuzz, welcome @RuudHein!
**To join the Twitter chat please sign in here -> Twchat.com/hashtag/vcbuzz
About Ruud
@RuudHein is editor for Search Engine People blog. With over a decade of web building experience, including building web properties such as a Newsweek-acclaimed positive news site, Ruud Hein grew into the role of SEO consultant naturally.
As editor-in-chief he oversees the publication of Canada's largest and most prominent SEO blog.
You can also check Ruud's blog here and circle him at Google Plus.
Questions we discussed
Q1 [Something we usually ask everyone] How did you get into SEO?
I setup a family site in 1998 when I had moved to Canada & my wife was pregnant. The site was to share with family and with parents. Soon I wanted traffic, but how? I learned about keywords. That worked like magic. What else could I do? I ended up @Cre8asiteforums. Learned tons, became moderator; not long after I was contracted by @senginepeople
@RuudHein So you started as a personal site owner and ended up in the higher ranks? COOL! ? #vcbuzz

— Luana Spinetti (@luanatf) May 13, 2014
I've been there 10+ years now. Love the work and the company morale is solid. Incidentally: @jquipp & I have never met.
Q2 Your social media streams always stand out with some rare original videos, pictures and news. Where do you get your inspiration?
I post what I like. These days I share the very things that interest *me*. Before I filtered for work links only… Everything I (want to) read goes through @Pocket. Google+, @Feedly, and my brother are my main sources. I then file things in Evernote & star what I want to share. I use @FriendsPlusMe to post to other networks.
PS: solid recommendation for @FriendsPlusMe. It's *THE* social media tool of the year for me!
PPS: I also post less to social media. I post manually so I need to have time myself + want to add value, not noise
Q3 Please describe your @senginepeople blog management routine. How much time does it take? What does it involve?
We work with 8-12 weeks publication cycles. I've task for each week in @nozbe. I move through Notify, Confirm, Reminder, Post In. Reminding/follow-up is *the* most important task… Editing, linking, prettifying, & scheduling are next. I do that in batches. I handpick writers & invite them to post. If it works, I ask them to become regular contributors. Ongoing process: upcoming marketers & writers get good authority building this way and are established in 1-2 years.
@RuudHein do you ever have bad feeling when those writers have no more time contribute once they become busy / established? #vcbuzz

— Ann Smarty (@seosmarty) May 13, 2014
@seosmarty satisfying too: you often get to help people start their own career #vcbuzz

— Ruud Hein (@RuudHein) May 13, 2014
Q4 There's no perfect way to tell the blog contributor his/her blog post is no good… What's your way?
For unrequested submissions: a standard "thanks but not for us" email template. GOOD writers will get back & ask why. Some of those become great posts & solid writers… <– and new careers (see Q3). The test is: is it actionable? What's the "so what?" An opinion piece can be good yet still not for @senginepeople
@RuudHein what if the writer is an authority? #vcbuzz

— Ann Smarty (@seosmarty) May 13, 2014
@seosmarty if authority & bad post? Same answer: not for us. "Doesn't match our audience" #vcbuzz

— Ruud Hein (@RuudHein) May 13, 2014
Sometimes post doesn't match audience, sometimes it's bad; response is the same. Again, GOOD writers will want to know "why? What can I change?" Most ppl never write back
Our reader's time/attention is very valuable. We HAVE to make their work easier, better, informed. If not, we failed.
Q5 Any favorite blog management tools and plugins you'd like to share?
Windows Live Writer, without a doubt. Desktop blogging tool by Microsoft: their best software… The visual Editorial Calendar helps tremendously. I also use Edit Flow but only the part to set custom post statuses (our custom workflow).
@luanatf hard to convert ppl but once they try, you get stuck. Unless you rely 100% on custom fields #vcbuzz

— Ruud Hein (@RuudHein) May 13, 2014
And Nozbe, as said. Or use Google Calendar + a spreadsheet.
Thanks for sharing YOU@Moz experience, @KeriMorgret (pst: She is one of the BEST editors I know: She and Ruud ;))! #vcbuzz

— Ann Smarty (@seosmarty) May 13, 2014
Q6 If a contributor lets you down, how do you fill the gap in the editorial calendar? Any last-minute tips?
Contributors never let us down. It happens their life/work takes precedence: that is natural and the correct order posting at @senginepeople can be an extension of work but should never be *work*. I do my best to be 2 weeks ahead of schedule. If a post falls through it's not today; it's for 2-4 weeks later. Usually someone else submits in that time. Hardest periods are vacations + Christmas.
A6 ..Last-minute? Write it yourself ? Better: have it ready… (I don't but still…)… #vcbuzz

— Ruud Hein (@RuudHein) May 13, 2014
PS: MUCH thanks to our contributors + alumni. At times I call on them to help fill schedule gaps; they're super kind.
Q7 As the one spending lots of time online, what's your work-family balancing strategy?
Thanks to @jquipp's tremendous support and @senginepeople's amazing company spirit I get to work from home. I have clear hours but give back to the company when needed; *we* are @senginepeople. In my home office headphones keep me at work. Besides that, we're a modern cozy family. Tech brings us closer. We iPad together, read ebooks in the same room, send each other funny stuff, etc.
@RuudHein Working from home can be a unique challenge I know #vcbuzz

— Gerald Weber (@the_gman) May 13, 2014
@the_gman "leaving work at work" is harder. I often take a little walk after the day is done #vcbuzz

— Ruud Hein (@RuudHein) May 13, 2014