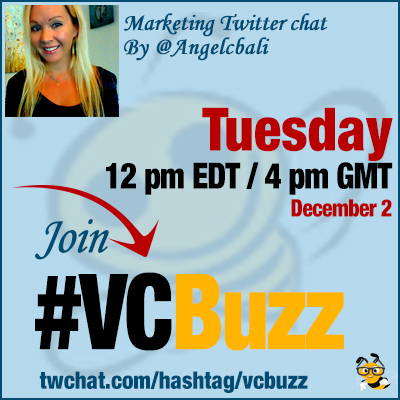 We love giving some exposure to Viral Content Buzz loyal users by bringing them into the #vcbuzz spotlight!
Today's featured user is Angel Balichowski, our active member and valued community member! Angel did a great video guide on using Viral Content Buzz which we will soon add to our official Udemy course!
***To join #VCBuzz chat, please sign in here -> twchat.com/hashtag/vcbuzz
About Angel
.@Angelcbali is a work-from-home mom blogging about making money from home and creating a successful website.
Subscribe to Angel's blog coffeewithangel.com and like her on Facebook
@viralcontentbuz Thank you for the awesome intro! #vcbuzz

— Angel Balichowski (@Angelcbali) December 2, 2014
Questions we discussed
Q1 Why did you decide to start blogging? What are your blogging (success) stories?
I knew it was smart to brand myself and not just my company. I wanted something that was my own no matter where my career took me. My mentors all blogged so I knew it was important! My first success story was that I put my blog all together myself!
My first "proud" moment was when I called someone & she said she was following me for months and I inspired her! Each time I hear that a post of mine affected someone's day brings me to tears! =)
My blogging mentor @rayhigdon featured my blog on his webinars a couple of times and that made me cry too! ? Having home biz owners reaching out to me for blogging help makes me cherish what I do.
@viralcontentbuz Ray Higdon, Tanya Aliza, Eric Worre, to name just a few! #vcbuzz

— Angel Balichowski (@Angelcbali) December 2, 2014
Once I grew a following I was able to monetize my blog more and generate business contacts. With adding in Viral Content Buzz regularly over the last 6 months I've tripled my unique visitors! It's only been 10 months so I feel like I'm still just getting started and can't wait to see where it goes!
Q2 What's your favorite social media site and why?
My favorite Social Media Site is Twitter! I love that I can really get in touch with my niche market. Twitter allows me to work smarter quicker which I'm all about! I find Twitter incredible for building my email list! Instant conversations are always fantastic! As a content producer, retweets of your content to thousands of people is perfect! Twitter produces the most bang for a Blogger's time, & the Blogging community on Twitter is so supportive! =)
@viralcontentbuz A2: My favorite this month is #LinkedIn as it has evolved to a publishing platform for thought leadership. #vcbuzz

— Kasey Sixt (@Kasey6T) December 2, 2014
Q3 Why do you like using Viral Content Buzz? How did you find us?
I heard of Viral Content Buzz from my friend and mentor @tanyaaliza during a blogging course she was teaching! I love Viral Content Buzz because it is quick, easy and effective! #Boom #wahms don't have time to waste! I've spent a lot of $ on other social sharing sites out there, and have found Viral Content Buzz to be the best by FAR!!! I love that the social shares are on relevant sites that drive visitors to your blog, and the broad range of categories makes it useful for ANY niche!
Viral Content Buzz is SO interactive! I don't feel like I'm just dumping a link there's real people sharing content! I adore the community within Viral Content Buzz! You get to know some amazing people =) I've gained many followers just from Viral Content Buzz sharing alone, I'm so grateful for this platform! I especially love to read other Bloggers' content! =)
Q4 What's your tips on getting more shares through Viral Content Buzz? Which of your articles did particularly well at VCB?
My first tip is a catchy headline! Grab people's interest and make it #Twitter friendly with a hashtag!
Watch grammar in your headlines…I tend not to share poorly written headlines ? Sorry!
Be UNIQUE!! I tend to take a peek at the blogs that spark my curiosity!!
Make sure your content is providing value, is good quality, and is visually appealing!
Be current. Check trends online and do a post around that topic. Those things go viral! =)
My best article was on How to Sell on #Instagram! That puppy got over 2500 Stumbleupon shares! – Instagram is hot and it's the Holidays so was popular!
@viralcontentbuz A4: I look for #content that is targeted & provide new insights & gives me an aha moment #vcbuzz.

— Kasey Sixt (@Kasey6T) December 2, 2014
Definitely make a point of thanking people and interacting with the community. They are AWESOME! And definitely be consistent in using VCB, the more people see you the more they know you and share!
Q5 As a stay-at-home mom, blogger and success coach, what's your productivity secret?
My best productivity secret is making a Schedule and using an Activity Tracker! I would be lost without that and my day is a mess if I don't know what I'm doing! ?
A5 I use to-do lists a lot… In fact I have a few of them every day ? #vcbuzz

— Ann Smarty (@seosmarty) December 2, 2014
I plan my day the night before. I highlight what HAS to get done and don't beat myself up for what doesn't! As long as I'm doing something productive for business each day, I don't worry about days that get out of hand.
@seosmarty Sometimes I have a "to-do" list for my "to-do" list lol….. #vcbuzz

— Angel Balichowski (@Angelcbali) December 2, 2014
Make sure to take time off!! Downtime is essential to my mental health lol #kids #momproblems
Set aside one night for your husband/wife/significant other, and make time for your kids. Staying up until 3 am is worth giving them attention when they need it! #Beenthere #ALot
A5 I have one describing my to-d- list -> http://t.co/JXFJ05PVpT #vcbuzz

— Ann Smarty (@seosmarty) December 2, 2014
WAHMs don't really get away from "work" so be silly sometimes and go easy on yourself! I also make time for personal development/meditation HUGE for me! I also don't hide that I'm a mom doing biz. I've lost followers who didn't "get" that, and that's ok!
Personal Development is always a mindset audio in the morning by one of my mentors and I read a chapter a day of a good book! I'm also very quirky about affirmations! #mindset is key =) It keeps me from being stressed.