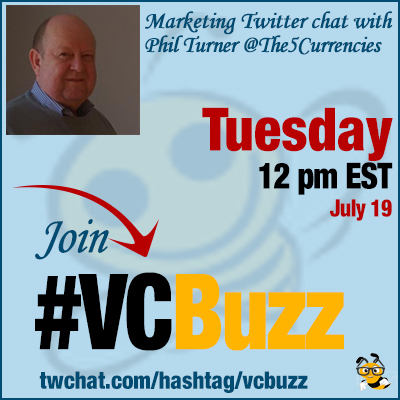 It is tough to find what works for you, discover your unique micro-niche and build your career upon that. Today we are talking to Phil Turner @The5Currencies who has been doing just that: Trying to identify his unique voice online.
***Add #VCBuzz chats to your calendar here.
***Please sign in here to follow the chat -> twchat.com/hashtag/vcbuzzMovie A Dog's Purpose (2017)
About Phil
Phil Turner used to teach chemistry in England. Nowadays he is a blogger, editor, Moderator-in-Chief at @MyBlogGuest and @MyBlogU as well as the founder of a few great websites like MaXXers.com and Time Money Problem
Questions we discussed
Q1 You have an awesome article talking about hoe your dream came true. Could you please describe your career change, what prompted you to start a new life and what you discovered along the way?
I taught chemistry (11-18yr olds) for 29 yrs. Then 6 yrs of a 24/7/365 job fixing broken ATMs. Made redundant in 2010. Age 57, mortgage, Ireland in post-banking crash depression. No jobs to be had, diagnosed with depression. No Internet at home, so spent 1000 euro on a satellite system because online was my only option.
@The5Currencies @jessytroy Unfortunately, it's real and it sucks! :* #vcbuzz

— Jonathan Nuñez (@JohnNunez2905) July 19, 2016
@JohnNunez2905 Yes – and the more people admit to having it the less stigma Depression will have – Always there in the background #vcbuzz

— Phil Turner (@The5Currencies) July 19, 2016
Knew I could write better than 95% of what was online. So decided to write at a site that gave a share of Adsense earnings. Site was InfoBarrel Site has hanged a bit since those days.
Q2 What was your first success online? What did you learn from that experience?
Community at Infobarrel was wonderful. Met some great ppl – Everyone helped each other.
Met Andrew Walton (AJ) – lost contact, but this is him. AJ had a 5 Currency theory. Time, Knowledge, Reputation, Contacts, Money.  AJ thought that you should spend Time growing Knowledge, Reputation & Contacts.  Money would just come. Oh yeah!! 18 yr old kid's philosophy of life! Sounds naive – BUT it worked & **still** works for me.
I spent TIME on InfoBarrel forum, grew my KNOWLEDGE and used it to help others, growing my REPUTATION.  As Rep grew more people added me as a CONTACT.  Some CONTACTS gave me jobs that paid MONEY – serious money.
When it comes to business: Contacts is our everything! @The5Currencies #vcbuzz

— Sana Knightly (@SanaKnightly) July 19, 2016
Q3 What are the most common mistakes wannabe online entrepreneurs make which prevent them from succeeding?
Biggest mistake is thinking about money first. Would-be entrepreneurs should think about how they can grow their reputation & help people.
The logic? – Every single cent I have earned online since 2010 has come through Contacts. Contacts who trusted me because of my Reputation as a helpful & honest guy.
My diary has been full over the past 6 years 90% of the time, I have never had to ask for work – It has just come me to me and still comes.
@SanaKnightly – I have seen ppl ask for work on forums and it is a big NO-NO. A turn off. U look desperate & nobody wants to chance #vcbuzz

— Phil Turner (@The5Currencies) July 19, 2016
Q4 What would be your one piece of advice to anyone willing to start making money online and ultimately break ties with the corporate world?
Start helping people – ideally where the help you give is visible to others (e.g. forums).  Use your Knowledge to help others and your Reputation grows. That's all you CAN do. People will see & take note. When they need someone – Your name will come to mind.
I really do live by this philosophy – It works, but it takes time #vcbuzz

— Phil Turner (@The5Currencies) July 19, 2016
Proof that the 5 Currencies works (again) My MBU "score" is good, so ppl contact me with work directly from there #vcbuzz

— Phil Turner (@The5Currencies) July 19, 2016
Q5 What are your favorite tools helping you build contacts, brand yourself and make a living online?
I don't use many online tools because my bandwidth is measured, and connection unreliable I buy software & use it locally when I can.
MyBlogU has to be top. I love brainstorming and helping others with their ideas
ViralContentBuzz is 2nd for the way it amplifies social shares.
@The5Currencies is a testimony to YOU can do it. No excuses. Even poor internet doesn't stop him. #vcbuzz

— Don Sturgill (@eBookDojo) July 19, 2016
For Infographics – Easel.ly There is a free option – paid is awesome.
TWchat because it makes Twitter usable.
Scapple $15 – gives U unlimited whiteboards to free form brainstorm on your PC.
Offline – MeetUps. I have 2 partnerships with ppl I met at Cork MeetUps after just a few weeks
just did a blog post about MeetUps at MaXXers – https://t.co/icLlK38TMj #vcbuzz

— Phil Turner (@The5Currencies) July 19, 2016
Just search for "startups" or "entrepreneurs" in your local area on Meetup – People are very friendly.
What sites do you use to promote your infographics? #vcbuzz

— 24 Hour Translation (@24hrtranslation) July 19, 2016
I don't (tho' I know I should) – Time, time, time. I realised I am slightly autistic, so Time management crucial.
OFFER – I'm moving away from writing – Now offering website critique & review service. #vcbuzz

— Phil Turner (@The5Currencies) July 19, 2016
I need testimonials, so will give 10 x full 1 hour website review critiques. You just need to fill in the form on my MaXXers site. When you subscribe you will be sent to my online calendar (Calendly) – Choose a 20 min slot to suit you. We will agree a free 1 hour consultation slot during the initial 20 mins "date".  I normally charge $100 for a 1 hour slot.
.@The5Currencies With everything you do work wise, how do you spend your free time? #vcbuzz

— Sana Knightly (@SanaKnightly) July 19, 2016
I work from 5am til 5pm, taking time out for a nap and cooking – evenings I do Social stuff because that is low stress. After 7pm, PC is off(ish) I play Civilization 4 on laptop and read paper books – ebooks suck!
Do you know more sites like Infobarrel? RT @The5Currencies: Anybody got any questions about anything from today? #vcbuzz

— Jessy Troy (@jessytroy) July 19, 2016
I don't but LinkedIn seems to have a few groups – Not tried yet
You also walk a lot, don't you? RT @The5Currencies: @SanaKnightly I work from 5am til 5pm… #vcbuzz

— Ann Smarty (@seosmarty) July 19, 2016
I do walk Ann – I try to do 3- 5 miles most days before breakfast – It clears my head and lets me brainstorm.
The InfoBarrel forum is still there and there are still good people on there, but it has lost its lustre for me. Many of the people I used to know on InfoBarrel are still there and I count many as friends.
@The5Currencies… what are the components of your website evaluations? #vcbuzz

— Don Sturgill (@eBookDojo) July 19, 2016
I look for English issues, missing pages, missing phone numbers, writing conversion quality, scannability, colours. etc. I spent 2 hours with a personal coach in a cafe – comparing her site with her local competitors and suggesting improves. Mostly I use my brain – It's faster and instinct is usually right – essential pages – Contact, In EU – a physical address. Also About – and many ppl don't have a call to action or their site's purpose isn't clear.
Our previous entrepreneurship chats: