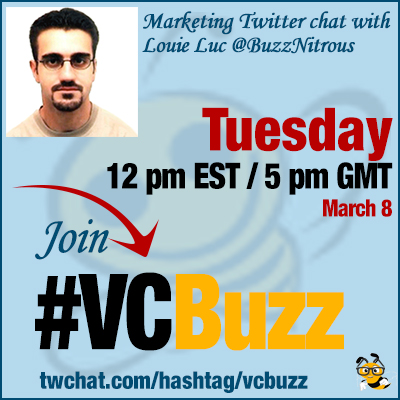 Today we are proud to host a content marketing tweetchat with @MyBlogU member Louie Luc of @BuzzNitrous who'll share his best-working content marketing tactic.
***Please sign in here to follow the chat -> twchat.com/hashtag/vcbuzz
***Important: Join this event on Google Plus to be notified of upcoming chats (It's easier with daytime savings and different time zones!)
About Louie
Louie is owner at Buzz Nitrous as well as a creative cartoonist and illustrator. Louie has been into Internet Marketing since 1999 trying different marketing and monetization methods.
Make sure to connect to Louie on Facebook!
Questions we are discussing now
Q1 How did you become an Internet Marketer? What's your career path?
I immediately fell in love with the Internet the very first time I got online.
From that very moment I started wondering how could I have my own website and I started learning web development.
Then I went to college to study Marketing and sort of join both knowledges together.
@BuzzNitrous when did you build your first website? was it a success? #vcbuzz

— Anna Fox (@manifestcon) March 8, 2016
I started building websites and started making money since the beginning. I built my first website back in 1999 I think, it was called Mega Site ? and had another one named Super Site, lol. My first websites are not a success at all.
Short after my first sites I started looking how to make money online & not to brag made $10k the first years (2000) as an affiliate
Q2 What's your content marketing success you are most proud of? What made it such a success?
My latest content mkt success is definitely my Public Niche Site Project
Great 'cause a) It helps me grow my website. b) The content I'm producing helps me get more list subscribers. c) I'm promoting the tools I work with which earns me commissions. d) It'll probably be an e-book in the future.
@BuzzNitrous I love reading blogs. but dont you think sometimes one just need a single mentor who would guide you the perfect path.? #vcbuzz

— Syed Arham Ali (@Infada2777) March 8, 2016
@Infada2777 best advice: TAKE ACTION. If you fall, fine! You learn and evolve! #vcbuzz

— Louie Luc (@BuzzNitrous) March 8, 2016
@Infada2777 @BuzzNitrous single mentor? Not sure about that! Successful entrepreneurs are not guided! They are discoverers! #vcbuzz

— Ann Smarty (@seosmarty) March 8, 2016
Mentors are great but you need to feel things yourself, it only happens when you take action and try things.
It's successful because people prefer an over-the-shoulder look into how profitable online businesses are built. As I say: «showing always beat telling».
Doing and showing stuff to people is way better than just saying this works, do it. I'll share both my successes & failures.
Q3 What's your content marketing resolution for 2016. How has it been working out so far?
I'll be creating 1 or 2 in-depth guides (I like in-depth and thorough) and probably 1/2 ebooks.
A3 Blog more for myself versus clients: Not doing good so far ;/ #vcbuzz

— Anna Fox (@manifestcon) March 8, 2016
@manifestcon Here are some tips: https://t.co/LCgBkeNoRQ #vcbuzz

— Ann Smarty (@seosmarty) March 8, 2016
Well, not going that well so far. I'm taking way too much time, because I focus a lot on quality versus quantity, but it's going.
A3 I am into organizing my past articles into online courses this year… so far so good! #vcbuzz

— Ann Smarty (@seosmarty) March 8, 2016
Plus I'm doing multiple projects simultaneously. It takes time, discipline, focus and a lot of will. ?
Organizing past articles into courses is a great idea for my business too. ? Maybe in the future. I have other plans now.
@BuzzNitrous Organizing articles into courses. What a great idea! Who would have thought? Thanks #vcbuzz

— Janette Speyer (@websuccess) March 8, 2016
Agree. I meant multiple projects under the same business. ? Niche Site Project (+ auxiliary content) > Niche Site.
Here is my content resolution. To post comments on articles I read. Help me focus and i actually have to read the article! #vcbuzz

— Janette Speyer (@websuccess) March 8, 2016
@BuzzNitrous, I find it rather challenge managing more than one project. How do you cope? #vcbuzz

— Wichly Cazeau (@Tydynics) March 8, 2016
By setting goals, schedule everything and having deadlines. Nope, it's not easy, no way. No one is superman
For a real boost, try MyBlogGuest + MyBlogU + VCBuzz! #vcbuzz

— Don Sturgill (@DonSturgill) March 8, 2016
Q4 How are you utilizing @MyBlogU in your content marketing strategy?
@MyBlogU is great! There's nothing better than improving your content with some of the most interesting insights and tips from successful people.
I love @MyBlogU. I use it for ideas and to chase the white paper syndrome #vcbuzz

— Janette Speyer (@websuccess) March 8, 2016
I usually ask the MyBlogU community to help me add value to my content.
Besides their ideas and thoughts, there's that "don't take my word for it, read what others are saying" factor.
On the other end of spectrum, sharing my own point of view and tactics on other people's blogs is awesome too. Sharing my ideas makes me and my blog gain exposure to new audiences.
@Tydynics it depends. On https://t.co/IlKS0dXfEp it's all my content and it is on my niche website for the niche site project. #vcbuzz

— Louie Luc (@BuzzNitrous) March 8, 2016
Set goals, even if they seem impossible (don't go too overboard), they'll serve as incentives.
Sharing ideas: gets me further recognized in my niche eventually making my content stand out more & become more reputable as well
MyBlogU is great: Any time I have MBU contributors, my comment and traffic numbers skyrocket! #vcbuzz

— Anna Fox (@manifestcon) March 8, 2016
Q5 What are your favorite content promotion tools?
My most important channel is my email list, naturally. It's a very-well targeted audience eagerly awaiting for my content.
I also have social sharing buttons – for the individual posts and on each of the posts' images.
I put some ClickToTweet boxes on each post too and I get people to share my content with Content Viral Buzz.
Besides that I use my social networks where I share and re-share my content.
I also share it on Facebook Private groups where you're allowed to share your posts IF they add value to those communities.
@BuzzNitrous How long did it take you to build a solid list? What was the best-working tactic? #vcbuzz

— Anna Fox (@manifestcon) March 8, 2016
It depends on several factors traffic, notoriety, what you have to offer, your niche too. It takes about 3-6 months.
You can also look for forums and Q&A sites where after actually helping people out you can drop your related link.
I also repurpose my content by turning it into a video. I easily create nice PowerPoint-like presentation videos with Content Samurai. You make your video in a few minutes simply by copying and pasting your post's text into the app and doing some minor tweaks.
Promotion is fundamental. With 2 million blog posts published every single day, we really need to stand out. Try different types of content. Infographics, slides, video, podcasts, chats, webinars, expert roundups, content curation, guides, quizzes, giveaways, etc.
@BuzzNitrous Can you give an example of a video you created with Content Samurai? #vcbuzz

— Anna Fox (@manifestcon) March 8, 2016
I have a lot of videos but they were made for my other niche sites, I can't reveal what those are ? But I'll make some for BuzzNitrous in the future, too.
Hi Everyone . A5 i tried link collider but then got a lot of junk traffic to my site. vcbuzz works superbly though #vcbuzz

— Nikhil Premanandan (@nykontym) March 8, 2016
@nykontym I agree! @VCBuzz works great and both the shares and traffic are superb! #vcbuzz

— Anna Fox (@manifestcon) March 8, 2016
Our previous content marketing chats: