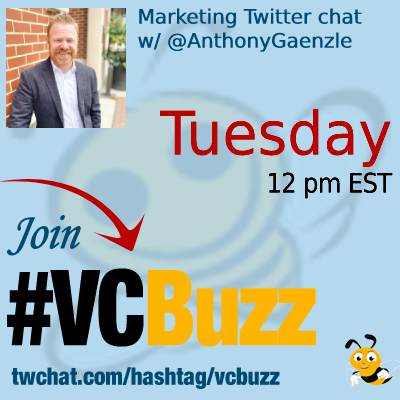 With the growth of social media and blogging, every person can become a brand if they choose to.
But many entrepreneurs and business owners don't still realize the power of personal branding.
How and why to start investing in personal branding?
Let's discuss!
***Add #VCBuzz chats to your calendar here.
***Please sign in here to follow the chat -> twchat.com/hashtag/vcbuzz
About @AnthonyGaenzle
@AnthonyGaenzle is CEO of @GrowWithGaenzle
Anthony Gaenzle specialized on growing brands. He is author of Blogging for Business: Skyrocket Your Traffic, Grow Your Readership, and Boost Revenue.
Anthony is top 40 content marketer according to @BuzzSumo.
Questions we discussed
Q1 How did you become a digital marketer? Please share your career story!
I kind of stumbled into the field. I'd been working in the film industry, and I decided to make a shift to mass communication and journalism.
Blogging was gaining traction as a respected medium, and podcasting was starting to make its mark as well. I loved writing and creating things, and I just started to explore.
I fell into a marketing job, and then I started freelancing as well. I realized I could do the things I loved about the journalism field while also doing so much more!
I landed a job as Director of Marketing at a global content agency (@EnVeritasGroup) where I was able to put all the pieces together.
Video, writing, blogging, websites, graphic design, social media…there were so many opportunities within the digital marketing space. And my love for the field just grew.
Q2 What is a personal brand and who needs to think about investing into it?
A personal brand is really the perception that's created around who you are, your expertise and experience, your on and offline presence, achievements, and more.
Everyone has a personal brand, whether you're aware of it or not. People create perceptions about you, and you have the ability to transform those perceptions.
A2. It is what information is findable when somebody who's searching for my/your brand name. It is your digital reputation which greatly influences your current and future reputation. #vcbuzz

— Jeannie Hill (@essentialskill) March 29, 2022
If you're looking to take the next step in your career, creating a personal brand that highlights your authority in your field can be very beneficial. Recruiters are digging for info about you, so control the narrative.
Consultants (across multiple fields) can really benefit from a powerful personal brand. When prospective clients seek to hire you, an impressive personal brand can really present you as the clear choice over the competition.
#VCBuzz A2.2

The internet has become an integral part of many societies and even processes in business – including researching job applicants.

What is "out there" can influence your employability – so a part of Personal Branding includes (personal) Online Reputation Management

— Lyndon NA (Darth Autocrat) (@darth_na) March 29, 2022
Bloggers, creators, entertainers and others can really benefit as well. Anyone can really benefit from a quality personal brand if you're looking to grow professionally or become an authority in your space.
Q3 How to build a personal brand?
Think of your personal brand like you would a company's brand. You are the product. You are the logo. You need to first understand the story you want to tell, then determine the best way to create it.
Today, a personal brand benefits significantly from a solid digital presence. Choose the right social channels to fit your brand. Create and publish content, but be ready to engage with your audience.
#VCBuzz A3.2

It takes time and effort – and in most cases, requires you to be in the view of others.
This can be uncomfortable – but if you aren't active, if you don't maintain the image you want perceived, if you don't let others see your value,
you'll find traction harder.

— Lyndon NA (Darth Autocrat) (@darth_na) March 29, 2022
Add value in some way. Whether it's through education, solving problems, lifting others up, or entertaining. Figure out the value you add to your audience and focus on helping them.
Create content that showcases your expertise. Blog articles, podcast episodes, videos, and other content are super shareable. This can help your personal brand grow quickly.
Building a personal brand is different for every. Make it your own journey. To help get started, I've put together a blueprint to help you launch your own personal brand.
Q4 What type of an investment are we talking about here? How much time should one dedicate to brand themselves?
The more effort and time you put in, the better the results. This doesn't mean you need to post 50 times per day on social media, however.
Focus on creating amazing things and posting them on the right channels. Spend a good % of your time building relationships. The mix of content and strong relationships will help you grow the most.
You can't phone in building a personal brand. You need to be present and active, and make yourself accessible to your audience on some level.
So true. It's not a set it and forget it thing. You need to be always on with your personal brand. #vcbuzz

— Anthony Gaenzle (@AnthonyGaenzle) March 29, 2022
There's no specific amount of time you need to invest. Test, assess, and adjust. Be flexible, and be ready to ramp up or slow down the amount of time you spend on personal branding at times.
A4 Investment? Research. Best to understand your market/competition etc to know best positioning. Hard and expensive to do it wrong and re-do. Do your homework to get an A+. #vcbuzz

— Lisa Radin (@milguy23) March 29, 2022
Q5 What are your favorite digital marketing tools?
My all-time favorite tool is @semrush. So much value in one platform. It's really amazing the SEO and content insights you can uncover and then apply to boost your presence.
Namify is a great tool for brand name generation if you are still looking to launch your digital presence.
I love @vcbuzz. It's been a huge help in improving the reach of the content I produce for both my websites.
A5: @Agorapulse is a great tool to help with both social media scheduling and social listening. Monitoring relevant hashtags, mentions, and accounts is a great way to find relevant Twitter chats, information, events, and other ways to engage! #vcbuzz

— Social hour (@socialhour_com) March 29, 2022
For building my website, I highly recommend @WordPress. Such a versatile CMS, and the plug-ins, themes, and user-friendly builders make it the best place to build your site.
A5 This goes against the grain, but.. Someone can spend a few long nights looking at their direct + indirect competitor websites/SoMe to get flavor of what's out in the mkt. Very basic analysis will help feed your mind – do ya call that a 'mind-tool' or #commonsense? #vcbuzz

— Lisa Radin (@milguy23) March 29, 2022
#VCBuzz A5.

The internet!
😀

* Social Platforms (such as Twitter)
* Q&A Sites (Forums like WebmasterWorld, and Quora etc.)
* Search Engines (find Questions/Topics and Sites)
* G Docs (save content, keep records, plan ahead etc.)

— Lyndon NA (Darth Autocrat) (@darth_na) March 29, 2022
A5 I always think of @BuzzSumo first as a great tool for branding, marketing, and writing. #vcbuzz https://t.co/v0V1dORORl

— Gail Gardner (@GrowMap) March 29, 2022
Our previous branding chats: