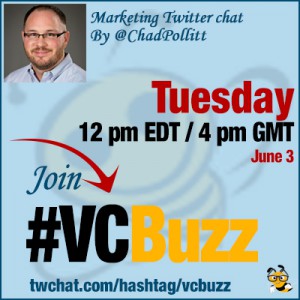 This week we are talking about digital content distribution and establishing yourself as an authority within your industry. And we have a special guest who knows a lot about that. Please meet @ChadPollitt
**To join us please sign in here -> Twchat.com/hashtag/vcbuzz
About Chad
Chad is a decorated Veteran of Operation Iraqi Freedom and former Army Commander; a member of a Forbes Top 100 List, and the VP of Marketing at DigitalRelevance (formerly Slingshot SEO)
You are highly encouraged to follow Chad on LinkedIn and on Twitter @ChadPollitt
Questions we discussed
Q1 With your impressive military background, how did you even ended up in the digital marketing industry?
I served in the #Army #NG for 10+ years. It was a "part-time" gig. Except when I was in Iraq ? When I wasn't doing #Army I was doing Sales and Marketing.
Q2 How did you manage to get a column at @HuffingtonPost?
I'm going to give you the 'super-secret' and special insiders way to getting a column on the @HuffingtonPost Ready?  I just emailed @ariannahuff and asked her ?
Top secret! RT @ChadPollitt: A2 it's just firstname@ ? #vcbuzz

— Ann Smarty (@seosmarty) June 3, 2014
@ChadPollitt Composing email in 3…2…1… #vcbuzz

— Brad Knutson (@BradSKnutson) June 3, 2014
Q3 We talked about LinkedIn marketing with @brianhughes116 recently and I see you are an active LinkedIn contributor. How is it working out for you? Any tips for beginners?
Still trying to get a feel for writing on @LinkedIn – So far it's been hit or miss, but the hits are BIG.
Yep, there goes our weekend. RT @seosmarty: I have LinkedIn publishing platform on my to-do for this week… YOU? #vcbuzz

— Roxana Nasoi (@roxanasoi) June 3, 2014
I just published on LinkedIn for my first time. I just syndicated something I already wrote and flopped big. #vcbuzz

— Paul Shapiro (@fighto) June 3, 2014
Q4 You have a great presentation "Content is King but Distribution is Queen". Could you share your best-working content distribution tactics? …Especially those that work great for establishing yourself as a niche expert (those best ones for self-branding)
Number one all-time content distribution and promotion tactic is earned media – getting the media to write about your ebook. The media always links to the landing page. On link on Inc(dot)com has driven over 9k conversion in 18 months. Yesterday I launched the world's first publication solely dedicated to content promotion relevance.com.
@roxanasoi the key to earning 'respect' and attention is consistency. I've written over 700 articles in my career #vcbuzz

— Chad Pollitt (@ChadPollitt) June 3, 2014
Everyone on this chat is cordially invited to share their voice on our new relevance(dot)com pub. Hit me up afterwords. #vcbuzz

— Chad Pollitt (@ChadPollitt) June 3, 2014
Q5 How did you manage to build such an impressive following on Twitter?
Consistency is the name of the game. With over 700 articles written I've likely touched millions of people. When you write for a long time it drives twitter followers.
@ChadPollitt what was your best year or month so far? #vcbuzz

— Roxana Nasoi (@roxanasoi) June 3, 2014
@roxanasoi every month gets better IMO – always something to write about. always people to help #vcbuzz

— Chad Pollitt (@ChadPollitt) June 3, 2014
Consistently writing on websites with established audiences will grow ur professional and personal brand!
Q6 How do you stay productive? How has your military experience influenced your productivity?
Great question! The military taught me to "embrace the suck." I don't get stressed – just charge forward everyday. I write in between appointments and meetings during the week and on the weekends. It's a constant. When you blown up in a war zone it kind of puts things in perspective ?
@ChadPollitt Great manta to have- kudos on the positive thinking #vcbuzz

— Niclas Marie (@niclas_marie) June 3, 2014
@ChadPollitt could you share biggest lesson from military that applied to your digital presence? #vcbuzz

— Roxana Nasoi (@roxanasoi) June 3, 2014
Perfect is the enemy of G.S.D (Getting Shit Done). Done w/ warts is better than not done at all!
@ChadPollitt How do you balance G.S.D. and Quality > Quantity? #vcbuzz

— Brad Knutson (@BradSKnutson) June 3, 2014
Excellent question! # Answer is here. I don't believe in Quality vs Quantity. I don't think it's a content problem – it's an audience problem.
@viralcontentbuz Content promo & distribution via earned media is all about real relationships IMO – don't be a stranger #vcbuzz

— Chad Pollitt (@ChadPollitt) June 3, 2014