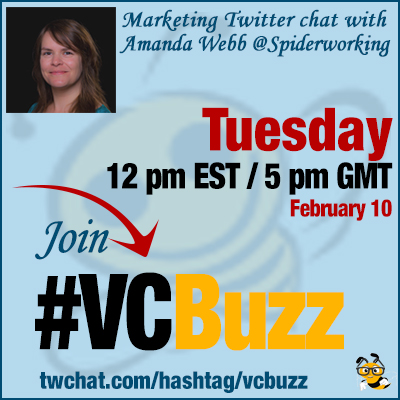 Social media marketing is hard: It requires a lot of hard work and patience. Today's chat will hopefully make it easier for you and give you some tools to get more productive.
Please meet today's guest Amanda Webb @Spiderworking
***Please sign in here to follow the chat -> twchat.com/hashtag/vcbuzz
About Amanda
Amanda runs Spiderworking.com helping small business use social media. Amanda is a certified social media addict
Please circle Amanda on Google Plus
Questions we discussed
Q1 How did you become a social media expert and trainer? What's your career story?
Social media kinda exploded when I set up my first business, an eco-friendly gift company. I stared meeting people online on internet forums. That's where we used to gather before Facebook. I use loads of social networks now though… always gathering and curating ?
I found social tools hugely effective at establishing me as someone to do business with and for WOM marketing. Then the recession hit Ireland, there wasn't money in gifts anymore so I started looking around for a new biz venture.
@vcbuzz @spiderworking omG. Great brand name that complements your real name #vcbuzz

— Alex H. Yong (@ggSolutions123) February 10, 2015
In truth I liked marketing my business more than doing the day to day stuff so I choose to look at training social media. I set up spiderworking.com over 5 years ago now and have never looked back. I'm not sure I could have ever run a successful business without the internet and social tools. It would be tough. I'm not a good sales woman naturally so warming leads on social media helps
@jessytroy Blogging is still my favourite tool ? #vcbuzz

— Amanda Webb (@Spiderworking) February 10, 2015
Q2 If a small business wants to try social media marketing, where would you suggest they should start? Can they do that on their own?
I find a lot of businesses think social media means Facebook. For many Facebook isn't the right fit. Particularly for b2b. I also think YOU need to feel comfortable with the networks you use… So if you find LinkedIn is where your customers are, spend some time getting to know how it works before promoting. The same goes for Facebook. You have to use it personally first to understand how it works.
Secondly, can you do it on your own? Yes absolutely but you will have to plan to make sure it doesn't consume all your time
I do all my own social media marketing still. I'm a one woman business. I also share responsibility for @WeTeachSocial That's a lot of content to create and curate so planning is vital. Also I like chatting online so I have to curb my enthusiasm ? Even I am not allowed to spend all day every day using social media ?
@Spiderworking Many small biz clients don't even understand what social media is (hence their bad service choice!) #vcbuzz

— Jessy Troy (@jessytroy) February 10, 2015
Very true. Or they hear they should be using it but have no idea where to start. Lots of those just end up broadcasting
I have lots of people coming to me saying 'I've no interest in using Facebook personally' I think that's a big mistake.
Q3 What's the most business-friendly social media network and why? Please feel free to share your own resources here for them to get published in our chat summary!
Again I don't think there is a definitive answer to that. I personally love Twitter but Google+ has become great for B2B recently. And of course LinkedIn, particularly the groups, is a great business network. However, I think something everyone should be at least thinking of doing is Blogging. I can't think of a business that wouldn't benefit from having a blog on their site. Writing good blog posts can take time but there are so many advantages… It's great for SEO and for getting found for things you'd never think of optimizing for.
Here's a post I wrote on SEO basics for bloggers. Blogging helps your customers by answering their common questions. Blogging makes your site a hub of knowledge about your industry. Although commenting on blog posts is dying, posts spark conversation on other social channels
If you are stuck for ideas to write about here's some tips from my blog.
I think if you don't blog, you lose. but you need something to say to blog! RT @Spiderworking: A3 Do you find blogging the best? #vcbuzz

— Ann Smarty (@seosmarty) February 10, 2015
RT @seosmarty: … A3 In other words: Don't start a blog for the sake of starting a blog #vcbuzz

— Sana Knightly (@SanaKnightly) February 10, 2015
I agree, we have to plan what we are going to write. Or hire someone to write for you
@Spiderworking I love blogging because it gives me fresh content to market online! Plus it gives a reason for people to come back1 #vcbuzz

— Jessy Troy (@jessytroy) February 10, 2015
Absolutely! That's why I love meeting someone who reads my blog. I know that someone comes back more than once ?
Q4 You did a great review of Viral Content Buzz. Could you please share your experience with the platform and how to best leverage it for content promotion?
I really like the simplicity of Viral Content Buzz. I'm a big believer in social currency and that's at the heart of it. It's also a good place for content discovery. I find interesting articles there I wouldn't otherwise see. I do have some tips for using Viral Content Buzz effectively though:
Always read the link you are sharing first – make sure it's relevant to your audience. You aren't gaining anything if what you share isn't relevant. Your followers will ignore it & the author won't get click throughs.
Where possible customise the message. It's easy to use the suggested text but you'll get more traction if you personalise. Adding a comment about why you are sharing, or what you find valuable will always get more click throughs and RT's. It will make you look like a good content curator who only shares the best stuff.
I try to customize the message when sharing to my personal Facebook.. cc @Spiderworking #vcbuzz

— Ann Smarty (@seosmarty) February 10, 2015
When you ask for shares of your own content on Viral Content Buzz choose the networks that are most valuable to you for shares. For example, if you don't have a strong image and are B2B there's less value in Pinterest shares.
Thank the people who share your stuff if you can. That means you are building relationships not just shares.
A4 Come back often and add 30 credits more to bump up + change categories (if possible) in 3-4 days #vcbuzz

— Ann Smarty (@seosmarty) February 10, 2015
A4 I prefer sharing more to Twitter (using Buffer to space out), SU and Pinterest than FB cc @Spiderworking #vcbuzz

— Jessy Troy (@jessytroy) February 10, 2015
Q5 What's your social media productivity advice? How to keep up with the busy social media world while still having a normal life?
You really have to have a plan and a schedule. I've found setting a content theme for a month really helps my content productivity. It's not that pretty for anyone else to look at. I use evernote and co-schedule. I don't pay for evernote but I do pay for Co-schedule
A5 I use content fillers (=interviews and round-ups) for content productivity… They engage! @MyBlogU works well for that! #vcbuzz

— Ann Smarty (@seosmarty) February 10, 2015
For example, I'm just starting a month of blogging and content about LinkedIn. The themes really help me focus on finding and writing content. I spend 2-3 hours a month planning blog posts/video and social content around my themes.
I use Feedly to keep on top of content from outside sources and @hootsuite and @buffer to schedule. This means I spend about 2 hours a day on social media which seems a lot but I get a lot done in that time. I have a Facebook and Twitter content schedule as well as the Blogging one. I also have a little widget on my browser called 'Strict Workflow' that blocks Twitter & Facebook and procrastination.
Here's a review I wrote about it a couple of years ago (needs updating). Get your self a business partner. Working with @writeontrack_l on @weteachsocial makes me far more productive. I'm not sure any small business owner has a normal life but those tools and planning help ?