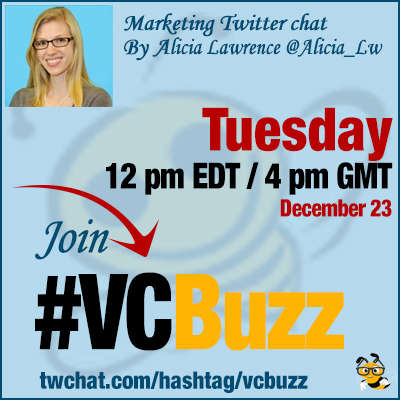 We've talked about social PR previously with @lisabuyer and today we have another great expert to teach us public relations! Please meet Alicia Lawrence @Alicia_Lw
**To join us please sign in here -> Twchat.com/hashtag/vcbuzz
About Alicia
.@Alicia_Lw is writer for @PRDaily and @MuckRack, content coordinator at @WebpageFX and … a Disney Princess (wow!)
Please circle Alicia on Google Plus and connect to her on LinkedIn
Santa's missing this awesome chat, really could use the tips for a better branding. ? #vcbuzz

— Roxana Nasoi (@roxanasoi) December 23, 2014
Questions we discussed
Q1 How did you become a PR professional? What brought you into online marketing and writing?
In college, I originally went into video but also chose #PR as my double major because 2 aptitude tests suggested it. I also decided to add a journalism degree because I loved writing and thought it would bring a unique perspective to PR. During and after college, I interned at both an agency and a non-profit doing PR, particularly social media and blogging. During my last internship, I heard of an agency looking for someone to do online PR. That's how I joined @webpageFX
What started as mostly link building for @webpageFX has morphed into social PR & content marketing. The writing aspect came from guest posting for links. I saw so much value in it that I started blogging on my own.
It's great to love what you do! A dream job ? RT @Alicia_Lw: @Anantpatel09 Thanks! I really love what I do ? #vcbuzz

— Sana Knightly (@SanaKnightly) December 23, 2014
Q2 How has PR changed thanks to social media?
Social Media opens the door for better listening, engaging, helping and communicating with consumers. PR is now a 2-way street thanks to social media and it gives us a unique perspective into what consumers really want. It also opens doors in media pitching/ link building / reaching out to influencers easily and sparking WOM.
Social media will continue to transform how we do public relations and communicate to all publics.
Q3 How can one use social media to build connections with journalists?
Social Media provides great avenues to
Find influencers/journalists talking about your subject using tools like @buzzsumo
Interact with journalists to build up a trusting relationship and 3) Get valuable shoutouts by influencers
I agree with @Alicia_Lw – social media definitely makes it easier for outreach, PR, and linkbuilding in general #vcbuzz

— David Prochaska (@DavidProHQ) December 23, 2014
Start by creating a list on Twitter, circle on Google+ (or any other platform) to keep track of core journalists/bloggers. Interact with them at least a few times a week through RTs, shares, replies. Don't hound them with pitches!! Just be helpful!
@Alicia_Lw Do you utilize tools such as Hootsuite or TweetDeck for your job? If so, which do you prefer? #vcbuzz

— Haley Rodriguez (@haleyyrodriguez) December 23, 2014
Yes I use Hootsuite and @buzzsumo to interact and keep up with the right influencers.
Shout out to #MBUstorm partner! -> http://t.co/jKSgJQ8RYd RT @JeffreyRomano: @buzzsumo is really great to find other influencers #vcbuzz

— Ann Smarty (@seosmarty) December 23, 2014
I also use buzzstream to organize my contacts (including their socials) since I have to many
I agree buzzsumo is really great to find other influencers. Also experimenting with Topsy too. #vcbuzz

— JeffreyRomano (@JeffreyRomano) December 23, 2014
Q4 Very special questions! Last month you won #MBUstorm challenge? How did you do it? Did you like participating? Do you plan entering the New Year's #MBUstorm challenge?
I loved participating in #MBUstorm! I found it very useful to get ideas/inputs for my articles and even for client campaigns.  Since I blog a lot, I have quite a few friends who were willing to vote for me when I sent out the link. Many of them now plan to compete in the New Year's #myblogu challenge.
I do plan on participating in New Year's #MBUstorm but I don't plan to compete ?  I still use #myblogu at least once a week so I'm sure you'll see me giving my 2 cents in interviews and brainstorms ?
@JeffreyRomano of course, I'll be using #myblogu! Especially as more people join the community it gives me such valuable info! #vcbuzz

— Alicia Lawrence (@Alicia_Lw) December 23, 2014
Q5 You seem to write a lot! What's your writing productivity secret?
It took a long time to build up my ability to write quickly. My first posts took at least 8 hour each!! Now I knock one out in 2 hours. Read about my writing process here.
In order write well you just have to write often! I also have a core group of writers I follow and try to emulate in my own style.
For starters read @copybloggers and get the snackable course onenchantingmarketing.com
When I get stuck or in a jam I do use a ghostwriter for clients ? I heavily edit and send a detailed outline. Especially for niche clients, it's always better to find an expert writer and then you edit for SEO and great copy. I also have a list of around 100 sentences that I love and pull from for inspiration ?
If you use better ghost writers you won't need to edit @Alicia_Lw #vcbuzz Content from @KristiHines or @Amabaie or myself

— Gail Gardner (@GrowMap) December 23, 2014
I suffer from this too ? RT @Alicia_Lw: @GrowMap Haha true but I'm also a perfectionist #vcbuzz

— Ann Smarty (@seosmarty) December 23, 2014
I also follow @neilpatel's posts and a few others. I'll gather a list and publish a post about it on MarCom Land ?
Yes, @Neilpatel rocks! @Moz is a great source for content as well! #vcbuzz

— Brian Hughes (@BrianHughes116) December 23, 2014
p.s. In 2014, I grew my #followers list with almost 300 organic followers through #vcbuzz and #myblogu twitter chats?

— Roxana Nasoi (@roxanasoi) December 23, 2014