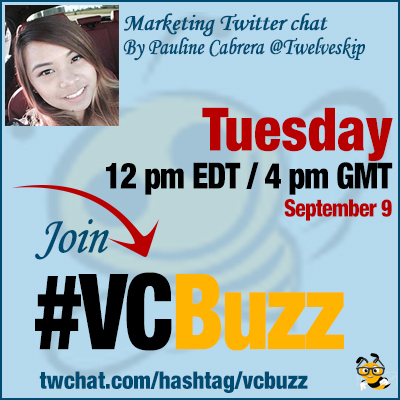 Our weekly social media marketing chat this week will cover blog promotion tactics. Join Viral Content Buzz for better results! And don't forget to join our sister project: MyBlogU.com
Our guest today is the prominent blogger Pauline Cabrera @Twelveskip
About Pauline
Pauline Cabrera @Twelveskip is the digital strategist, blogger and web designer. Pauline likes building sites and making them grow.
Please subscribe to Pauline's blog and circle her on Google Plus.
Questions we discussed
Q1 Pauline, how did you get into Internet Marketing?
It all started when I built my first website back in 2006.  I considered myself as a web/graphic designer that time until I learned about SEO. Almost every website owner was constantly talking about it which had me curious with how it works. So I started to play with it and followed the tips and advice from the pros. While doing SEO, I've also discovered the other methods of internet marketing such as SMM, email marketing, affiliate marketing, etc. I got really interested in how they all work so I kept experimenting and even tried some softwares out of curiosity ?
Myspace? Seriously? :))) RT @Twelveskip: @jessytroy I actually forgot! They were all from Myspace ? #vcbuzz

— Jessy Troy (@jessytroy) September 9, 2014
@jessytroy YES! It all started on Myspace. I started as a Myspace layout designer. ;P #vcbuzz

— Pauline Cabrera (@Twelveskip) September 9, 2014
Q2 If you were to give just one tip on starting a blog, what would it be? Buzzers, please check Pauline's all-in-one guide on starting a blog
Blog what you love! Find your passion and blog about it ? Would love to know your tips as well!
Blogging tip: Focus. #vcbuzz

— Don Sturgill (@Don_Sturgill) September 9, 2014
Whatever you do when starting a blog, just feel EXCITED! #vcbuzz

— Ann Smarty (@seosmarty) September 9, 2014
Q3 What's your most efficient way to drive traffic to a blog post?
Social media! I make each blog post shareable by injecting simple infographics and by adding social share buttons. Then I promote it across social media channels and sharing groups – Facebook, Twitter, Google Plus, Pinterest, LinkedIn and StumbleUpon. My favorite social sharing sites are Triberr, ViralContenBuzz, Scoop.it, JustRetweet. I recommend adding "PIN IT" hover button on your websites as well. It makes it easier for people to pin your images ?
.@Twelveskip Any examples of posts that went really well on SM? #vcbuzz

— Sana Knightly (@SanaKnightly) September 9, 2014
@SanaKnightly Here's the most recent one: http://t.co/W1kHuJXbNl ? #vcbuzz

— Pauline Cabrera (@Twelveskip) September 9, 2014
Q4 What's your experience with @viralcontentbuz?
.@Twelveskip How did you discover VCB? #vcbuzz

— Ann Smarty (@seosmarty) September 9, 2014
@seosmarty The pros on Google+ are always talking about it! I got curious and checked ? #vcbuzz

— Pauline Cabrera (@Twelveskip) September 9, 2014
AHHH! I love ViralContentBuzz!! I've been using it for months and it's been amazing. Love how it connects like minded bloggers and help promote each other's content. It's also a great platform to meet other awesome bloggers!
@viralcontentbuz I've had several articles approved and shared with VCB, and some new followers that way too #vcbuzz

— Crafty Frugal Mom (@craftyfrugalmom) September 9, 2014
Q5 Having so many interests and doing so good at your Internet Marketing ventures, how do you keep yourself organized?
Ha! I'm not an organized person! LOL ? But… I always have a paper beside me where I'd list all the things I want to get done. I try to focus on one thing at a time. For example, this week I'll focus on this project. Next week, I'll focus on that project.
How about you guys? Do you use a planner?
@Twelveskip I use Excel and recently Scapple (30 day free trial) it's like having multiple whiteboards on your computer #vcbuzz

— Phil Turner (@EP_pturner) September 9, 2014
For major things – yes. Otherwise it will get cluttered RT @Twelveskip: @seosmarty OHHH, do you use a calendar? ? #vcbuzz

— Ann Smarty (@seosmarty) September 9, 2014