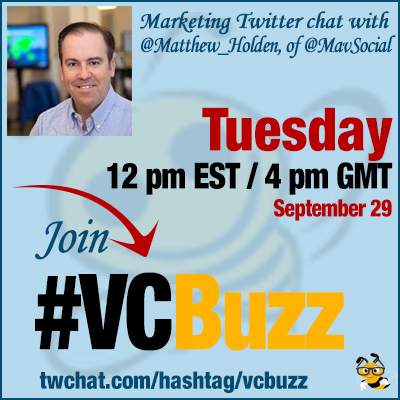 Effective social media marketing is all our platform is about, so we are always looking for tools, platforms and tricks to make it easier and more efficient for our users.
Today we are featuring one of the best social media sharing tools out there: @MavSocial and its CEO @Matthew_Holden
***Please sign in here to follow the chat -> twchat.com/hashtag/vcbuzz
***Important: Join this event on Google Plus to be notified of upcoming chats (It's easier with daytime savings and different time zones!)
About Matthew
.@Matthew_Holden is an experienced CRM, digital & social media solutions champion, business development & market manager for SME-enterprise level companies in the advertising sector and Fortune 500 companies.
.@Matthew_Holden is the CEO and founder of @MavSocial, the visual social media marketing platform which is completely free!
Questions we discussed
Q1 How and when did you come up with the idea of @MavSocial? What's the story of this awesome project?
I've always loved photography and video. I've watched social grow and change so much over the past few years. But there's always been gap between content & publishing so we set about building @mavsocial to have one location to do this.
So, I took a big, bold decision & created a new startup in Australia, but then decided to move the company, family & dogs to SF! And here we are today helping marketers around the world!
@matthew_holden On yr site now – VERY impressed – I'm in – & I'm hard to impress re Soc media #vcbuzz

— Phil Turner (@The5Currencies) September 29, 2015
Q2 How can @MavSocial help a blogger, digital marketer and website owner? How is it different from other social media platforms?
We are very different to the @hootsuite @SproutSocial @Sprinklr platforms. We're blending content & publishing together.
Content is king. Visual storytelling is what everyone wants today and we allow photos, videos & audio to be in the platform.
A2 You all know I love @mavsocial because I can push multiple images, video, SlideShares & infographics to drive more traffic #VCbuzz

— Gail Gardner (@GrowMap) September 29, 2015
The other reason is we aim for the small business to mid market. Time is so precious and tools should be easy, fast to use. And we wanted a product created by marketers for marketers.
Interesting & sounds a bit like PostPlanner? MT @matthew_holden: A2/1 We're blending content & publishing together #vcbuzz

— Wendy Kiana Kelly (@WendyKKelly) September 29, 2015
Except that we have 50 million stock images in our platform, different functionality. Vendors all operate in the space.
Matthew, what's your take on Twitter revoking 3rd party access to their API via JSON? @matthew_holden http://t.co/QQqDsXHhZQ #vcbuzz

— Don Sturgill (@DonSturgill) September 29, 2015
There are big (and exciting changes) I see at Twitter. There are always API changes. As developers that's our job.
Yes, @WendyKKelly… I think we'll hear more about Twitter's plan to drop JSON API access. Alternatives are costly. #vcbuzz

— Don Sturgill (@DonSturgill) September 29, 2015
Q3 How come @MavSocial is free? Do you have plans of limiting its free functionality like @Hootsuite did? What are future plans for @MavSocial? Where is the project going?
Originally we charged $99 then $39 but pricing is madness.  Social should be free for small users so we abolished pricing.
We believe transparency is best. no hidden fees report. Our free base product; unlimited posts, single user, 50 profiles. You can access the @GettyImages @Bigstock for about $2 per image or @pixabay for free. Linking via @Bitly and others.
Checking out #MavSocial right now & it looks incredible. Super impressed. Almost like you could read my mind ? Exactly what I need. #vcbuzz

— Wendy Kiana Kelly (@WendyKKelly) September 29, 2015
Our mid-market product is chargeable & getting huge attention from small-mid social advertising agencies n brands globally.
@MaxRevenues And you can buy premium images through their platform. I just bought one for my post published today #VCBuzz

— Gail Gardner (@GrowMap) September 29, 2015
We derive revenues from social agencies and solutions for larger customers. Some users have 200 profiles n 40 accts
Re product future plans are awesome! I sitting on some cardboard boxes in our new office in San Francisco opens Oct 1!
We've got some really cool new features for our platform for late 2015/Q1-16 we expect to really move the social dial. But at the end of the day it's all about team; it's not easy but our folks are the ones that make it happen
A3 I can't wait for the ability to schedule the same post multiple times out into the future @mavsocial I do have a workaround #VCbuzz

— Gail Gardner (@GrowMap) September 29, 2015
Q4 What's your favorite social media network and why? What's the most efficient social media network when it comes to visual marketing?
I love visuals so @Instagram. But for marketing today I believe @twitter is under-utilised by for visual marketing.
Again @TwitterAds is a great way to go. Social marketers get a near instant results can adapt their social tactics and visual.
Canva sure seems to be doing well with free membership, but charge for premium photos… ? #vcbuzz

— Don Sturgill (@DonSturgill) September 29, 2015
You're right @DonSturgill but we're not creating our own library. That is too limiting we aim to be the hub of social stock content. To date we have 7 major libraries. 50 million images. About 20m are free use. Others paid. More libraries soon
That's also one of the challenges of images – too much choice. With one search you search all libraries at once
@matthew_holden I love Instagram also. It's great for branding. Anyone here use #Flipboard? #vcbuzz

— Janette Speyer (@websuccess) September 29, 2015
Ads will also change when @Instagram allows direct ad API for platforms like ours to publish.
Facebook is the mature giant in the room. We all expecting even tighter pay-to-play in 2016 so brilliant visuals essential.
A4: Best for visual marketing is Instagram. Crazy levels of engagement happening there with vibrant images. #vcbuzz

— Caledon Virtual (@CaledonVirtual) September 29, 2015
When do you think Instagram will start limiting organic reach? #vcbuzz

— Darren DeMatas (@DarrenDeMatas) September 29, 2015
Good question @DarrenDeMatas. Personally not soon. I think Instagram one of the smartest social today. Slow and careful rollout.
It's all mobile. soon marketers will be again saturated with interface apps. more work for us
Without doubt FB is the giant @seosmarty FB is a very programmatic – Instagram is still open #vcbuzz

— Matthew Holden (@matthew_holden) September 29, 2015
Q5 You have quite an international team: WOW! How do you manage to be a productive team when all the managers are all in different countries?
Hah! With difficultly and less sleep but that is the nature of #entrepreneur and #startup right?
We've such a great, young vibrant team in India, Hong Kong and USA. We're hiring and tools such as @SlackHQ @Atlassian help.
I see my role is to help lead us as a company n our team to help marketers do their job and solve a problem. I've seen and experienced too many companies burn customers and hit'n'run. That not what we trying to engender with our team!
@GrowMap I'm from the land downunder but believed in our business so moved my wife, kids n whole dice to the USA! #vcbuzz

— Matthew Holden (@matthew_holden) September 29, 2015
Like others, it's time grow. We're looking for #venturecapital so we continue development, expand into other markets and build!
Like marketers it's all about team. We're across 3 continents it's not easy but our folks make it happen; but I still fly a lot.
Probably the biggest challenge for any business is to keep site of the goal; ours is to be the visual content bridge for social.
Our previous content marketing chats: