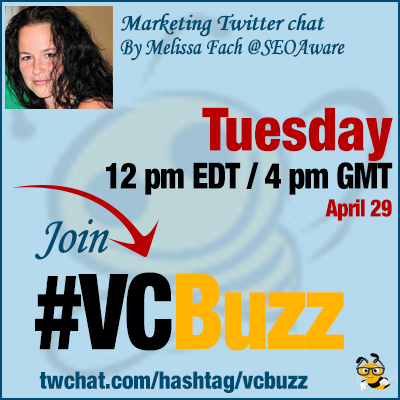 This week we have a great guest – please meet Melissa Fach @SEOAware
**To join the Twitter chat please sign in here -> Twchat.com/hashtag/vcbuzz
About Melissa
Melissa Fach is the owner of SEO Aware, LLC, Associate at @Moz, Editor for @AuthorityLabs and contributor to dozens of high-profile of blogs.
I personally consider Melissa almost a family because she was the next @sejournal editor after me. Once upon a time, we had one home ?
@seosmarty I was soooo honored to take over after you! ? #vcbuzz

— Melissa Fach (@SEOAware) April 29, 2014
@SEOAware I was happy they picked YOU! they could not have made a better choice ? #vcbuzz

— Ann Smarty (@seosmarty) April 29, 2014
Please follow Melissa on Twitter @SEOAware and Linkedin!
Questions we discussed
This week Melissa will tell us about the ins and outs of social media customer service because that's what she has been doing for a number of huge companies, including helping at @Moz as the associate.
Q1 [Personal] You have SEO in your Twitter username… How did you even get into SEO? How did you switch to social?
Well, freelance copywriting turned into SEO Copywriting which then snowballed into serious SEO. This led to other opportunities like SEJ and then @Moz, @AuthorityLabs etc. I have been addicted to Twitter for awhile. I got deeper into the business side when I was the editor at SEJ… Then was blessed to somehow end up on the community team, as an associate at @moz. I love social now, and never want to leave ?
@the_gman My business cards now are just my twitter handle and my first name. #vcbuzz

— Melissa Fach (@SEOAware) April 29, 2014
My degrees are in psychology and mental health. I enjoy people and community a lot.
Q2 What's the smartest way for a big company to manage their corporate Twitter account? How do you manage many people accessing it to always be on top of things? How do you avoid mistakes, overlaps and clutter?
First, choose a social management platform that allows you to archive, tag, assign & overall manage customer service. Next make sure you have a team focused on the core values and goals of the company. I talked a lot about teams and structure at @Pubcon in this presentation. If you don't care about the individual people & their issues you shouldn't be running a brand's social account.
At Moz we have shifts for social & thankfully guides for different scenarios. Also we all focus on the same values… I learned from @moz that mistakes are going to happen. Owning up to it & being honest is the best thing to do. I hate making mistakes, but they keep telling me it is okay ?
Q3 [Related to Q2] How do you turn your Twitter account into a strong social media support channel? Pros and Cons to providing customer service on Twitter?
You start by genuinely caring about people. You also have to get to know your audiences – needs, wants, likes etc. You can't be good as a support channel unless you understand what the audience wants and needs. You should have plans in place for everyone on the team. Values, goals and the brand needs to be consistent. You have to predict what could go wrong & have plans in place on how to deal with issues that should arise. A strong & supportive team is community is critical if you want to be good at social media customer support.
A3: To add, don't completely ignore the complaints. This is a huge mistake that brands make frequently. #vcbuzz @viralcontentbuz

— Ninja Mike (@IMNinjaMike) April 29, 2014
Pros: 
People are going to go to social to communicate w/brands. It is an chance to eliminate a negative review online.
People are going to go to social to communicate w/brands. It is a chance to eliminate a negative review online.
It also gives your company insights into issues you might not have been aware of & it is fodder for marketing.
You can and will quickly see what your target audiences want, need, like and dislike.
Cons: 
You have to have a team in place & proper coverage (hours monitoring). Many businesses don't have the resources… They end up making mistakes and missing important issues that need to be addressed. You have to invest to succeed.
A lack of training or a bad choice for someone handling social can result in the loss of reputation or the business itself.
Q4 Have you ever come across a company with the smart social media editorial policies? Can you share any insights / examples?
Well, I found a very detailed one by the BBC that I thought was interesting. I think all guidelines come down to how you are going to treat your audiences and support them and not irritate them ?  I wish I could let people see how the team at @moz works to do what is right for the audience. Guidelines should be specific to the audiences you are dealing with. I have learned tons from @moz about social, community and people.
This is a great article about what it takes at @Oreo to deliver those witty, timely tweets http://t.co/SlO6NzdsUx #vcbuzz

— Niclas Marie (@niclas_marie) April 29, 2014
All businesses should care about what is best for their social teams too. It is a fatiguing job at times.
@SEOAware @viralcontentbuz As Melissa said earlier can't be a good support channel unless you actually care. So basic but important! #vcbuzz

— Gerald Weber (@the_gman) April 29, 2014
Q5 Your favorite social media management and research tools?
For small businesses Hootsuite & Tweetdeck are nice. Larger brands, Cotweet offers tagging, archiving, multiple users & multiple accounts & the ability to assign tasks different team members for specific tweets. I love that! I can't live without @buffer. I used it for my accounts & for business. It is like my handy organizational friend. I dig @followerwonk for research & Moz Analytics Data. Been liking True Social Metrics and Sprout Social a lot lately.
@SEOAware I also use Hootsuite actually. Love it. Great for managing multiple social accounts #vcbuzz

— Gerald Weber (@the_gman) April 29, 2014
I am constantly looking at tools because anything that makes my day easier has a shot of being used long-term. My ever note is full of tool lists…and I keep saving them so keep writing them people!
A5 I am waiting for a cool G+ tool so if you know of any please fill me in ? #vcbuzz

— Melissa Fach (@SEOAware) April 29, 2014
Q6 Lastly, you are doing millions of things: How do you manage your time? How about work-life balance?
I admit I am not overly organized and run back and forth a lot, but responsibility is huge to me. I am a bit of a perfectionist. My need to not screw things up means I tend to work on things more than I get paid to. I have to watch for burnout, I admit it.  I have a schedule for each job/project. In my head I want to get each thing done by "X" time each day. This helps.
Being a mom, I have to keep my son in my mind & what help he needs w/ homework & activities, so I can't get behind. I never thought I would have career that kept me busy 14-18 hours a day & I don't want my family to feel unimportant. Their happiness is what I want more than anything, which means I have to stay organized to give them time. So you could say time management is a must or I feel guilty ?
My husband is my best friend & supporter. Balance, for me, comes only when that relationship is solid. My husband has also recently left his job to come help me, so I am looking forward to help ? Recently I have been forcing myself to rest on the weekends, when I can, & that seems to help me rejuvenate and I have recently decided to eliminate negative people and things from my life because they exhaust me.
To survive work and family you have to do what is healthy for you and your family. Then you have balance.
Working with truly good people like those at @moz & @authoritylabs makes my life better. They care & that helps me… If you can, try to work with those that uplift you & care about your well-being.