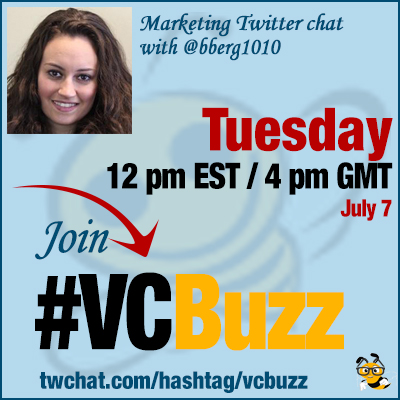 The Internet has made our identities vulnerable. Someone may be talking about you right now, publicly, and you want to know what they are saying.
Reputation management is something everyone should be aware of nowadays: From huge corporations to small and personal brands
Today we have a reputation management expert and the representative of the huge reputation management platform teach us a reputation management lesson! Please meet Brittany Berger @bberg1010 of @Mention.
***Please sign in here to follow the chat -> twchat.com/hashtag/vcbuzz
***Important: Join this event on Google Plus to be notified of upcoming chats (It's easier with daytime savings and different time zones!)
About Brittany
Brittany Berger is a marketer with a love of words – both writing them and reading them. She is Content & PR Manager for @Mention.
In the past few years, she has written hundreds of posts about a variety of different topics, including productivity, social media marketing, personal branding, etc.
Please connect to Brittany on Linkedin
Questions we discussed
Q1 How did you end up working for @Mention? What's your unique career story?
I started at @Mention in April – so I'm still new! I'd used & loved Mention for a long time and was looking to move to NYC. I saw the job opening on their website by chance – it was the perfect opportunity! It took awhile, but it happened. ?
@bberg1010 wow what was your background back then? #vcbuzz

— Jessy Troy (@jessytroy) July 7, 2015
I had been in a similar role (content marketing & social) at an online advertising company in Delaware. I studied PR, English, and interactive media – so I set myself up well for content marketing. ?
Q2 Your Twitter bio is state of the art… How do you come up with the 160-character Twitter bio that reflects your personality? What's your formula?
Haha, thanks so much! It can be hard to describe yourself in so little space. Don't try to include every facet of yourself. Instead, pick 2-3 things you'll be tweeting about and spend a little more space getting witty describing those. And a great Twitter/copywriting tip in general: never say in two words (or more) what you could say in one.
Definitely! I don't even think I could describe all my interests in 160 paragraphs, let alone characters.
I always say "too much to fit in a box". ? cc @seosmarty RT @bberg1010: A2. It can be hard to describe yourself in so little space #vcbuzz

— Roxana Nasoi (@roxanasoi) July 7, 2015
Definitely – just because someone can read complicated copy doesn't mean you should make them do so ? The biggest bio mistake is trying to describe yourself, vs describing one or two interests.
@vcbuzz A2: Craft it to be different. There are so many people on Twitter. You need to stand out! #vcbuzz

— Mike Tiscione (@mjtiscione) July 7, 2015
I do recognize that I'm lucky in that my sense of humor (dry and sarcastic) is the kind that does well on Twitter.
A2 SO Describe your interests / hobbies, sound interesting, add some humor. DON'T try to write the biography! #vcbuzz

— Ann Smarty (@seosmarty) July 7, 2015
A2 Since my tweets are finance-centered, my bio is toned down, talking about helping families who need money guidance. #VCBuzz

— Jim Katzaman (@JKatzaman) July 7, 2015
Q3 What does reputation management involve? How can it help a small business or startup?
Reputation management involves monitoring & reacting to the conversations happening about your brand and niche online. It can help SMBs & startups because it's time & cost effective. Monitoring tools do a lot of the listening work for you.
@bberg1010 are you monitoring your personal reputation, or just company? #vcbuzz

— Jessy Troy (@jessytroy) July 7, 2015
Both! I have brand and industry alerts set up for @mention, my personal brand, as well as hobbies and side projects.
@bberg1010 What's your favorite monitoring tool? #vcbuzz

— Mike Tiscione (@mjtiscione) July 7, 2015
Well, @Mention, but I'm not just saying that. ? I would have said that a year ago as well – it's why I work here. I also love Twitter lists – which I use TweetDeck to keep track of.
Need to be doing a better job! RT @bberg1010: @jessytroy Your online reputation impacts your job and future career opportunities. #vcbuzz

— Jessy Troy (@jessytroy) July 7, 2015
For example, a lot of college students have trouble in their job search with their social media reputation.
A3 I am definitely monitoring my name mentions since day 1! One of my secrets to "being everywhere" ? #vcbuzz

— Ann Smarty (@seosmarty) July 7, 2015
Q3 I use buzzbundle but the font is teeny tiny AND it burns bandwidth like there is no tomorrow #vcbuzz

— Phil Turner (@EP_pturner) July 7, 2015
@vcbuzz @seosmarty A3 I do and the @Mention app is a good tool for this #VCBuzz

— Robert Katai (@katairobi) July 7, 2015
A3 I track mentions and retweets in the sense that whenever I see one I send thanks for the RTs, listings and often follow. #vcbuzz

— Jim Katzaman (@JKatzaman) July 7, 2015
Q4 How does @Mention work and what makes it better / different from other reputation management platforms out there?
@Mention's a media monitoring & social listening tool. It lets you set up keyword-based alerts for online and social media. @Mention's platform is a lot more flexible than other monitoring tools. You can add and/or & negative keywords & block sources.
@bberg1010 maybe I will try @mention – Even on 28″ screen BuzzBundle is too small font! #vcbuzz

— Phil Turner (@EP_pturner) July 7, 2015
Wow! I have an 11″ – I can't even imagine your screen. Does it feel like you live inside it? haha
Here's an example: Mention is a common name, as well as @mention being a common term on Twitter – it's hard to monitor. On most social monitoring platforms, our list of replies and mentions would have a ton of noise, but @mention filters it out.
No credit card required #winkwink ? RT @seosmarty: Who here tried @Mention? (pst they have the free trial) #vcbuzz

— Brittany Berger (@bberg1010) July 7, 2015
@bberg1010 Does @Mention have some wicked FB algorithm? #vcbuzz

— Ann Smarty (@seosmarty) July 7, 2015
Haha wicked algorithm in general. We've got such a great team working on it. ?
A4 Seriously, if not in general, I'd recommend looking at @Mention at least for monitoring Facebook: NO alternatives! #vcbuzz

— Ann Smarty (@seosmarty) July 7, 2015
Q5 Reputation management can be overwhelming: There's so much chatter online! How to be productive and effective about monitoring your mentions?
It's all a matter of optimizing your alerts according to your goals using the and/or/negative keywords and excluding sources. To filter out noise, each alert should have only 1 goal: support, PR, lead gen, marketing, etc. And fine tune the alert to that. The optimization takes longer up front, but you don't have to deal with the irrelevant conversations in your dashboard. Pretty much any department at a biz can find a way to use monitoring. ?
@bberg1010 So an alert is much more than eg "broadband in UK" ie 1 phrase? #vcbuzz

— Phil Turner (@EP_pturner) July 7, 2015
Yep – for example, a sales alert for a social media software might be "social media tools" AND "looking for," etc. The optimization and modifiers filter out mentions that aren't the right context that you're looking for.
@vcbuzz A5: Just keep up with it and don't miss a beat. This stuff can happen fast. #vcbuzz

— Mike Tiscione (@mjtiscione) July 7, 2015
A5 I use Tweetdeck for Twitter mentions (good for multi-tasking & reacting fast), @Mention for business FB monitoring mostly #vcbuzz

— Ann Smarty (@seosmarty) July 7, 2015
Our previous reputation management chats: