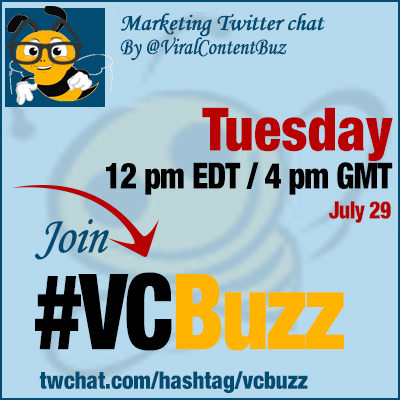 Today's #Twitter chat is going to be different. We are showcasing the collection of articles that did very well on social media in order to give our community perfect examples of why it spread!
We sourced 15 answers through MyBlogU.com group interview request. Not all of the examples got hundreds of shares, but what's important, each of them DID get shared and thus it teaches us a lesson. Let's just see which lesson!
Before we list the examples, let us answer this question:
Please name ONE most efficient blog promotional tactic…
If I was to name the most efficient blog promotional tactic it would be to use 'influencer marketing'. Getting influencers to share your content can amplify the reach of your content substantially and from there it's a snowball effect! + 'Thoughtful' blog commenting on related posts + Use your existing email list! Anthony Mcloughlin

Get collaborators in your niche to use Twitterfeed to share each other's content. Gail Gardner

Run your blog posts through an SMO tool, make sure it's shared the way you WANT it to be. Barry Wise

Try and thank anyone that shares your content (they will be more likely to share again). Find awesome bloggers who are at the same stage as you & work with them. Become the next generation of influencers in niche. Help the little guy (because you were once him too). One evergreen tactic is to find previously popular content in your niche, update/better it… then reach out to those who shared it. David McSweeney

Schedule several tweets to go at different time of the day to reach more Tweople! Jessy Troy

Advertise! Have a profitable funnel. That way you can leverage traffic to buy more traffic. Maybe this goes without saying but -> convert traffic into email subscribers Yoav Ezer

Participate in communities to get more reach. Christy Kunjumon

Link to people in a blog post and tell them about it in an email with a Click to Tweet link. Check out your Google Analytics > Keywords > Organics for clues for what your audience is after. Rob Cubbon

Help people when possible to build relationships. Find content you like from established bloggers & contribute info to help their content be more uptodate. Brian Hughes
Now, let's feature our case studies!
Christy Kunjumon @christykunjumon

The most shared blog is Facebook Cheat Sheet and latest infographic Internet Marketing Tools. Following are the reasons which I believe which led to many social shares.
About Facebook Cheat Sheet:
Commonly searched by designers and social media marketers.
I got the idea from our company designers, when they were searching for easy method to find all the image dimensions of FB.
Targeted audience.
Design of infographic
Creating a new avatar for infographic, we used same avatar in other infographics too.
Facebook Ads
Communities
Patricia Weber @patweber

5 Tips To Understand and Get Out of LinkedIn Group Posting Jail – Pretty sure this is the one most shared because it also got the most comments. Why might it be the most shared? Because people at one time or another have either been in LinkedIn GWAM – group wide auto moderation status, or know someone who is or was.
LinkedIn makes it difficult to get out of the jail and that adds to almost everyone's frustration of getting there.
Hasan @DIRJournal
I have had many over the years but this one had the most shares especially from StumbleUpon. It was shared because we literally went through thousands of quotes to come up with such a list and people liked it. We also kept updating it moving forward and so visitors kept coming in. There are more than 1000 comments on that piece!
The key is that content. If the content is good, it can do well with a little bit of push.
groupusers

Viral #Content Buzz – Free #Social Media Promotion Tool
The major article content was presented through main points like 'How Viral Content Buzz Can Help' , 'Why Use Viral Content Buzz' so on. The article is very well structured
Wow… 739 retweets! Testament to the power of @viralcontentbuz RT @seosmarty: So many tweets! #vcbuzz

— David McSweeney (@top5seo) July 29, 2014
Cormac84 @BrightonCormac
The article was a guest post on Edudemic titled – 5 TED Talks Teachers And Students Should Both Watch.
I imagine the reason for its popularity was down to the title partially – which is a little bit different as it's inclusive for both teachers and students. In addition, the use of TED Talks – something many of us tends to enjoy was also probably a factor as they're often intriguing watches. Edudemic's position as a prominent blog with a huge social following also is privy to the success too. That said in content marketing terms, it shows the power of a good title and an interesting subject matter.

The Future is Video Traffic * Marketing Momentum w/Charles & Deborah
The key is the title. There are so many options out there that the title/headline has to grab people.  The other aspect is relevancy.  In this case, the title/headline mentioned the future and that seemed to intrigue people in wondering what it is about the future that they need to know to be successful.
Another thing that I like is when people include hashtags.  For example, when I see the hashtag #ileane, I know I can trust the content because I know who Ileane is ?
Russ Jones @rjonesx
I can't say for sure what the most shared article I ever created was, because it was likely created for a client rather than for myself or my company. However, within that realm, The Broken Link Building Bible has probably been up there.
It is by far one of the most exhaustive works I have produced online, giving as complete coverage of the topic matter as I could at the time. I think the clear message with this success was to be thorough, well organized, and useful. The best part about it is that the piece has been slowly but steadily earning more and more shares over the past year because the content is foundational.
Rob Cubbon @RobCubbon
Not Blogging? You Must Read This!
It's a clickable title, definitely – I think the question mark and exclamation mark help with that. The article itself is broken up well with images and subheadings.
However, I must say I'm surprised this is my most shared article as it doesn't necessarily teach much and is more of an encouragement to blog rather than a "how to". Maybe I can learn from this – I'll try to do more inspiration and encouragement.
This is the most shared article on my blog.
This did well because this was a guest blogging contest entry and people were crazy to win the contest. So this guy shared the tips to win any guest blogging contest by following simple guidelines.
And the irony is – this guy won the contest also. ?
jonstolpe @scrybes
Ten Things Every Small Group Leader Should Know
I think there are a number of reasons this post has been shared the most from my site:  (1)  The title tells readers exactly what to expect in the article, (2) The subject is targeted very specifically to a group of people who might lead small groups, (3)  The actual content of the article is very helpful and informative.
jnferree @FerreeMoney

I published this article Social Shares is becoming the New SEO back in February 2012. At the time, Google+ was only about 7 months old. My social engagement on G+ was significantly more versus FB and Twitter.
The number social shares of my content was more in number and quality too. 3 year later, I'm connected with 32,000 people on Google+ and my profile has a little over 3 million views. I think its too soon to declare Social Shares is the New SEO but I think social shares of your content is critical for growing your business and brand.
Barry Wise @BarryWise
Social Media Optimization (SMO) Is The New SEO
I think one of the reasons this article did so well last year was because it was very topical, discussing SMO (Social Media Optimization) at a time when it seemed like everyone had questions about author citation and other markup schema issues that Google was adding to their results.
However perhaps the main reason it really took off was the result of the free new SMO tool it announced at http://smo.knowem.com – people love free tools! I had designed this tool to let anyone enter their website's URL, and then it would fetch the code and check its SMO markup on a bunch of different social networks; most notably Google+, LinkedIn, Facebook and Twitter.  It would not only check to see if the markup worked with OGP data and Twitter cards; it also showed you a preview of what your site would look like to users if they shared the content.
Of course choosing to have it published on my professional blog at knowem.com rather than my much-neglected personal blog at barrywise.com really gave it a boost, since that site just gets more traffic in general.  And finally it was helped in no small part by asking a few friends with some Twitter juice to retweet it for me; especially, but certainly not limited to, my partner @streko.
It was a great rush to see it kind of take off with a life of its own and get so many compliments – about 100 shares combined across the major networks within hours after publishing it. But what helped it gain popularity also hurt it a bit; it seems it was the tool at smo.knowem.com that stole the viral glory.  A majority of readers got to the 2nd or 3rd paragraph and then followed the link to the SMO tool and shared that instead, evidenced by the fact that the tool's site received several hundred tweets, shares, likes, etc. on each network – not combined – within hours.
haha it does! RT @BarryWise: Yay! #12 rocks! ? #vcbuzz

— Ann Smarty (@seosmarty) July 29, 2014
Anthony Mcloughlin @anthony_mac85
When Amazon announced that they would be using drones to deliver goods we decided to Hijack the news story with an article titled "The 10 Weirdest Things that Could Happen to Amazon Prime Air Drones" The article has achieved 555 flares to date.
These are the reasons why I think it did so well
Post type – "10 things" posts are really easy to read and digest, especially when accompanied with imagery.
Imagery – People love images. We even took the time to customize each image showing our creative flair which people appreciate
Timing – The article was created within hours of the news story being released
Humor – The article makes people laugh. People like to share things that make them laugh.
Outreach – We only spent around 2 hours on outreach which consisted of sharing on all of our social platforms and blog commenting. We dropped comments on big sites that had picked up the news story such as techcrunch, mashable, huffington post, and the verge. This is where we saw the biggest gains in traffic and social sharing.
@top5seo @seosmarty @Moz #vcbuzz very true. Sometimes it is better to go where the audience already is.

— rjonesx (@rjonesx) July 29, 2014
Here's the link to the 'article', which lives on Tumblr: 10 Rules For Writing Your First Draft
It's not an article in the classic sense – it's an embedded infographic/how-to poster from Copyblogger. But the reaction  this got – and still gets – tells us everything we need to know about using the right platform for our content marketing.
Three things, besides using an appropriate platform, stand out:
The design is unique, and does obfuscate the message;
The advice – it's a 'top 10 list' – is evergreen;
It's from a recognized niche authority (in Demian Farnworth and/or Copyblogger).
It was posted in September 2013 and, to date, has 1,329 notes; compare this to the WordPress equivalent post, which has a mere 13. Whilst the last note was posted some 49 days ago, for the first six months of its life, it was picking up multiple likes and re-blogs daily.
In a way, the fact that it has done so well combines the three major elements of the semantic web:
Trust – in the author/source of the content (brand awareness);
Relevance – an image shared about writing to a blogging platform that likes images;
Authority – the tone in which it's written leaves little doubt it's by someone who knows what they're doing.
David McSweeney @top5seo
Negative SEO: What Happens When You Go To War With A Link Network….
There's a whole separate article explaining why it went so well!
Let us help to bring more social media shares to your content. Join viralcontentbee.com