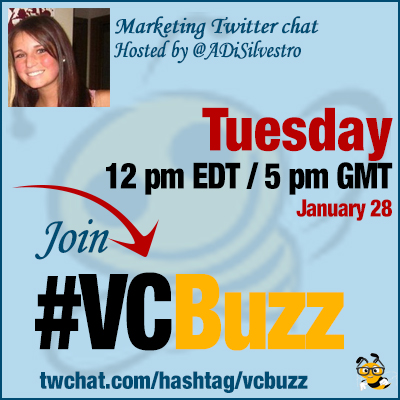 This week we have one of the most knowledgeable content marketers joining us to teach us content marketing! Meet Amanda DiSilvestro, content editor and writer @highervis
**To join us please sign in here -> Twchat.com/hashtag/vcbuzz
Amanda has been an active VCB user and she has mentioned us quite a few times in her articles. Here's one: 3 Social Sharing Tools That Do Something Specific
About Amanda
Amanda DiSilvestro gives small business and entrepreneurs SEO advice ranging from keyword density to recovering from Panda and Penguin updates.
She writes for the nationally recognized SEO firm HigherVisibility.com that offers online marketing services to a wide range of companies across the country.
Happy to be here @seosmarty and so excited to see so many people participating. #vcbuzz

— Amanda DiSilvestro (@ADiSilvestro) January 28, 2014
Questions discussed:
Q1 How do you come up with fresh content ideas?
Read! Any small little thing I see in an article and don't understand, I see if I can write an article about it to learn more. Reading other articles also helps me see if I can take another angle with something. A lot of inspiration sparks that way for me.
I started my own blog exactly for this reason: To understand and learn SEO and organize my knowledge! cc @ADiSilvestro #vcbuzz

— Ann Smarty (@seosmarty) January 28, 2014
@seosmarty Starting your own blog is an awesome way to start, and I think people would be surprised and how easy it is to get going. #vcbuzz

— Amanda DiSilvestro (@ADiSilvestro) January 28, 2014
@sejournal interviewed me on this very question here. I also discuss asking people you interact with online. This is not to be confused with copying/ spinning an article. It's simple a way to get inspiration which is often TOTALLY different!
Q2 Tell us a little bit about your most successful guest post placement. How did you get the placement? What was you inspiration?
I was thrilled to start working with @DannyNMIGoodwin at Search Engine Watch because I loved reading that site. My article on @sewatch got quite a few clicks and I had been trying to connect with them for sooo long and it finally happened! I think the lesson here is that you will have to work hard and be in the industry a while to reach these popular sites. SEW said they had seen my face on SEJ and around the web when they finally answered. Another reason authorship matters!
A3 Another hard lesson with gb I learned: One popular placement WON'T make you famous. You need to work hard for years! #vcbuzz

— Ann Smarty (@seosmarty) January 28, 2014
@seosmarty Yes exactly it takes so long! Patience and determination is incredibly important. #vcbuzz

— Amanda DiSilvestro (@ADiSilvestro) January 28, 2014
Q3 What one piece of advice would you give someone just starting out with Content marketing?
I think not getting discouraged is a good thing to know. You WILL get ignored by editors. Thats normal so don't think it's just you. I also can't stress enough the importance of tagging other websites and forming those RELATIONSHIPS. That's my #1 piece of advice.
@viralcontentbuz Q4: content > form. In other words don't create a video because it's trendy, but because it suits your content. #vcbuzz

— Matt Fielding (@mattfieldingSEO) January 28, 2014
Q4 What do you think of Matt Cutts recent statement about guest blogging?
I love Matt Cutts' statement, but I'm worried that people are making too big of a deal about it. You can still guest blog! I wrote all about my opinion here. Basically just don't guest blog for links. This wasn't really "new" news ?  I do think you make a good point Matt. I'd say be careful for a little while but don't be scared. I think it does make sense that genuine guest bloggers are worried, but all you can do is produce/publish the best content you can. Let Matt Cutts' little announcement raise the stakes for you. Turn it into a wake up call!
@ADiSilvestro I so agree! It wasn't "news" at all. We already knew. I wrote a (debut) post about it too. http://t.co/uOZRWOgQAC #vcbuzz

— Shannon Hutcheson (@LdyLarke) January 28, 2014
We did have MANY cases when Google attacked good sites by mistake ? RT @mattfieldingSEO: Q5: worrying for genuine guest bloggers #vcbuzz

— Ann Smarty (@seosmarty) January 28, 2014
Q5 What is your favorite/best method to promote your guest posts?
I personally love Google+. I am one of those people who believes this will really affect rankings someday so I'm starting now. With any type of promotion, I always try to mention another site if I referenced them in any way or think they would be interested. By referencing or "tagging" other websites when promoting on social media, you get a larger reach and I find this works for me. Referencing your connections or other websites does take a little bit more work, but I have found this to make a big difference.
That's how LINKS work for relationship building! RT @ADiSilvestro: mention another site if I referenced them #vcbuzz

— Ann Smarty (@seosmarty) January 28, 2014