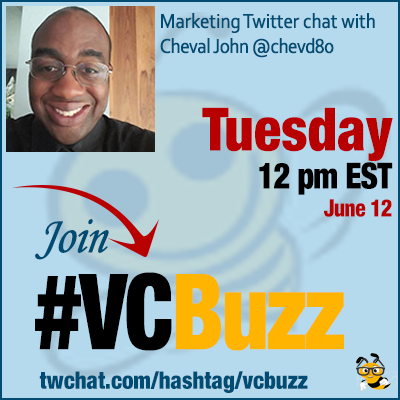 Blogging strategy is not something to take lightly: There needs to be a lot of planning for your blog to be a success. Unfortunately, most business blogs exist just because it "seems to be a thing": There's not much planning or measuring behind it.
Today we are offering an easy plan for you to follow, i.e. turning your blog into a content hub.
***Add #VCBuzz chats to your calendar here.
***Please sign in here to follow the chat -> twchat.com/hashtag/vcbuzz
About Cheval
Cheval John @chevd80 is no stranger to our chats. Apart from being  a regular contributor, Cheval was also a host teaching us niche social media marketing.
Just a reminder: Cheval John @chevd80 is founder and CEO of VallanoMedia, LLC, a marketing agency which helps small to mid-sized businesses build a loyal audience via social media.
Questions we discussed
Q1 What types of content are there and what are the benefits of each one?
There are educational type of content which informs the reader about the changing world of their particular industry.
A1. We do a lot of #sociallearning posts. Adding valuable content for our community (website hosts, WordPress developers, online business owners) especially those looking to improve their online business results. #VCBUZZ

— pair Networks (@pairnetworks) June 12, 2018
There are technology blogs which keep up with what is going on in the changing world of tech.
@vcbuzz A1C. Example of one tech blog is @techcrunch, which just reported that instagram stories will allow viewers to buy products via shopping tags: https://t.co/4bvKdGoblP #vcbuzz

— Cheval John, Social Media Professional (@chevd80) June 12, 2018
There are also now podcast, live video which it's purpose is to make life easier for the consumer and allow them to make a decision on whether you are worth following or doing business with.
A1: There's audio, video, listicles, narrative blog posts, case studies/stories, infographics, social media posts and more. Each speaks to a different type of audience based on their attention capabilities. #vcbuzz

— Narmadhaa (@s_narmadhaa) June 12, 2018
Two types of content: works and doesn't work 🙂 #vcbuzz

— Don Sturgill (@DonSturgill) June 12, 2018
It's the same with #marketing. The key is being able to figure out what works and what doesn't without spending huge amounts of money #VCBuzz https://t.co/5V89fcPYPp

— LYNDON@COMMS.BAR (@THINK_Lyndon) June 12, 2018
This is all too true about most business blogs. #vcbuzz Should do the following:

(1) Plan
(2) Develop content
(3) Measure
(4) Refine
(5) Rinse/repeat https://t.co/VzbwgoN5SC

— Anita Campbell (@smallbiztrends) June 12, 2018
Q2 What is a content hub and why is it so powerful?
A content hub is a place where people can find valuable information whether it is a podcast or live stream. I would say your website should be the place to have a content hub because all of what you produce is all yours.
A2: A hub is a collection of content in related topics. #vcbuzz

— Narmadhaa (@s_narmadhaa) June 12, 2018
If you are running an online business, you should make your website the one stop shop for all of the content because you can not run a business on rented land (social media).
The biggest mistake most brands and influencers are doing is putting all of their content or business on social media to build an audience.
And don't invest in their own content sufficiently! I agree –>>> #vcbuzz https://t.co/n1Ue1H4n3r

— Anita Campbell (@smallbiztrends) June 12, 2018
The recent algorithm changes with Facebook and updates to Youtube proves why you should build all of your content on your website (mainly blogging).
You have to have content on your own website that you can control and give a reason for people to go to your site as the only place to get it. #vcbuzz https://t.co/ihMDUzjkux

— Anita Campbell (@smallbiztrends) June 12, 2018
Q3 How to turn your blog into a content hub?
You basically provide valuable content on a weekly basis that solves a particular pain point related to what you do.
A3. Understand your audience and anticipate their information needs. I like BuzzSumo, Google Trends & other tools for figuring out what is connecting. #vcbuzz

— Kristin Huntley (@seekristintweet) June 12, 2018
You also have to understand your audience too. Look at twitter chats or other places to see what they are chatting about because mostly you will get your ideas for a blog.
A3. Another option is to be a resource gatherer…doesn't have to be all original content. #vcbuzz

— Kristin Huntley (@seekristintweet) June 12, 2018
Most people repurpose their podcast on their website and include show notes for those who do not have the time to listen. They can also have the replays of their live stream shows on their website too with key points made.
Q4 Please give a few examples of content hubs and note what makes them effective / original?
@redbull is one example of a content hub because they provide documentaries surrounding their products.
A4. @CMIContent @SMExaminer are 2good examples of hubs in social/content. They r effective because they r timely and relevant. #vcbuzz

— Kristin Huntley (@seekristintweet) June 12, 2018
@cheddar is another example of a content hub due to the fact they did not have their live stream network confined to one social platform and their website is the base for distributing content to other platforms.
A4. @LIbsyn #blog is a great content hub. They combine spotlighting #podcast customers and offering technical tips for their podcast customers and potential future podcasters. They house all custom content on their blog. #VCBUZZ

— pair Networks (@pairnetworks) June 12, 2018
@expwriters is a huge example too of a content hub because @juliaemccoy basically focused on long form blog posts in the early years of her company before adding a podcast and other resources to the website.
A4. And @Quuu is a cool new app of curated content. https://t.co/OsL0XpqgKW #vcbuzz

— Kristin Huntley (@seekristintweet) June 12, 2018
If you need a solid marketing content curation tool, check out @ZestisApp #vcbuzz pic.twitter.com/PIxoSD1JCu

— Ann Smarty (@seosmarty) June 12, 2018
A4. @Hubspot is another great hub (no pun intended.) They continue to iterate and adjust their tech without compromising the objectives of the blog. #VCBuzz

— pair Networks (@pairnetworks) June 12, 2018
Q5 What are your favorite content planning and creation tools?
I am going old school on this answer: my notebook as it gives me the opportunity to write out what type of content I am going to put on the blog and of course twitter because I can see what type of conversations are happening.
A5. I use Pinterest and Evernote a lot. I organize my thoughts visually and clip excerpts for ideas. #vcbuzz

— Kristin Huntley (@seekristintweet) June 12, 2018
Q5. We switched from #HootSuite to @eClincher for the curation tool and #UX. To be more engaged and provide relevant, valuable content to our social community. @CreativeCloud for the content creation win. #VCBUZZ

— pair Networks (@pairnetworks) June 12, 2018
A5. Also, @Yoast SEO tool is a must. Blogs are complex content that needs to be search friendly. #vcbuzz

— Kristin Huntley (@seekristintweet) June 12, 2018
A5 Look at @CoSchedule for content planning! Keeps all team members in the loop with tasks, checklists and scheduling! #vcbuzz

— Ann Smarty (@seosmarty) June 12, 2018
Don't forget @PostPlanner for scheduling social posts (saves a ton of time). #vcbuzz

— Don Sturgill (@DonSturgill) June 12, 2018
A5 more planning tools: @Cyfe @Trello @ZenkitHQ ? #vcbuzz

— Ann Smarty (@seosmarty) June 12, 2018
A5.Another SEO/Content tool https://t.co/48ap88PVlO and Social Seeder is a great way to boost rank. https://t.co/Z8EAM6VeLu #vcbuzz

— Kristin Huntley (@seekristintweet) June 12, 2018
Our previous blog marketing chats: