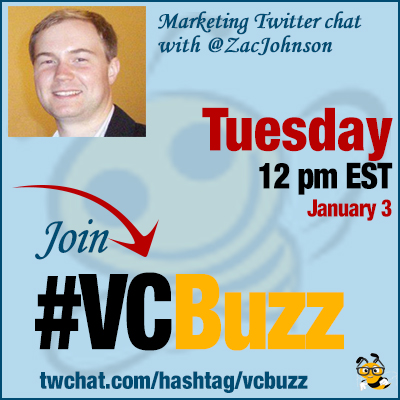 Having our site visitors convert into buyers or subscribers is actually the ultimate goal of digital marketing. There's no use in having traffic unless it converts. So how to increase your site conversions? Today's chat is just about that!
***Add #VCBuzz chats to your calendar here.
***Please sign in here to follow the chat -> twchat.com/hashtag/vcbuzz
About Zac
.@ZacJohnson is a well recognized blogger and Internet marketer. In 2007 Zac launched his first blog at ZacJohnson.com, which is focused on his successes and failures
A self taught entrepreneur, Zac's been making money online for over 15 years and has been involved in nearly every facet of internet marketing
Questions we discussed
Q1 Just a few words about yourself! How did you become a digital marketing expert?
I always had an entrepreneurial and business mindset from a very young age. The internet came around at the perfect time.  Instead of carrying books around in my backpack in school, I would carry six-packs of soda and sell them at lunch.
I started messing around with it while I was in high school back in 95-96. I started with a few different programs and methods that are mostly no longer around, but what worked really well was Amazon. I ended up doing six figures in sales with them while still in high school and that lead me into the world of affiliate marketing.
I soon realized I could make more money getting people to fill out lead forms versus needing them to use a credit card. This quickly expanded my reach and earnings with affiliate marketing.
Other highlights over the past 20 years… I created a social media resources site back in 2005 that made $800k profit in 4 months. I then launched my own blog at zacjohnson.com in 2007 and also my latest project at blogging.org – all aimed at helping others learn how to do the same type of stuff I've done over the years. And that's a quick summary! ?
Q2 What is a conversion? (There can be different types!) How to track / analyze conversions?
A conversion is any type of lead, sign up or sale that can be tracked. A  good example of this would be if you sent a visitor to Amazon and they ended up buying something through their site. A non-purchase conversion could be any of those zip or email submit offers that we've all seen promoted over the years.
Conversion = Completed CTA. #vcbuzz

— Don Sturgill (@DonSturgill) January 3, 2017
Affiliate networks (third party / middle man) are used to track conversions between the advertisers and the affiliates. Once you start pushing volume and make real money with your campaigns, you would usually have your own tracking platform in addition to an affiliate network as well.
This would help you better understand your conversions and earnings, while also comparing them with ad network stats.
CPC (cost per click), CPA (cost per action), CPL (cost per lead), CPI (cost per install), CPM (cost per 1,000) are also all popular #vcbuzz

— Zac Johnson (@zacjohnson) January 3, 2017
Q3 What's the best converting traffic referral for you? What's the best converting social media traffic referral for you?
I personally still love organic search traffic. This goes back to my love of creating websites and content.
I've always just had a skill for ranking good content and love the idea of creating content that will continually get traffic. At the same time, I still like social media promotion as well… especially with Facebook Ads paid traffic.
Facebook has an amazing platform for demographic targeting, and over a billion users on their network to test with. This means if you can find success with one campaign or audience, you can likely replicate the process and target new audiences. This works extremely well if you found success in one country or age group, then want to split testing it with different targets.
I've seen good results from Facebook Boost posts, @zacjohnson. Low cost promotions. #vcbuzz

— Don Sturgill (@DonSturgill) January 3, 2017
I would also recommend implementing retargeting within your ad campaigns, this will increase conversions and lower costs. As it will allow for your audience that didn't convert the first time, to continually see your ads after they leave your site.
It's older, but here is a case study example of how Facebook ads and campaign creation works.
Q4 What is your favorite conversion growth hack?
I like using my brand or expertise to build a following, or associating/leveraging the expertise and branding of others.
For example, if I was to launch a course or sell an ebook, if I had a review or testimonial from another expert within my industry that would do wonders for my conversions and help increase trust from my audience. It works extremely well and can be applied to nearly any niche. Expert roundups also work extremely well, as it's allowing you to reach new audiences through the social promotion and sharing from the experts you've interviewed.
You can see a full case study and guide on this process here.
I also like using autoresponders, popup windows and offering a free video series to provide people with great content, then get them locked in for whatever the end call to action is. This works best on high CPAs or when selling high priced content.
I would again throw retargeting into this method as well. The hardest part is to get your audience the first time around, once you have them in place, you can keep hitting them with new emails, video, autoresponders and/or retarged ads.
A4 Niche influencer's testimonials do wonders for conversions! h/t @zacjohnson #vcbuzz

— Ann Smarty (@seosmarty) January 3, 2017
In summary, create a great campaign that offers value, then track it on all levels to try and make each lead profitable.
@zacjohnson Have you seen any ranking issues around Interstitials yet? #vcbuzz

— Debi Norton (@BRAVOMedia1) January 3, 2017
Personally, I haven't seen any changes, but I'm sure the popup creators will be ahead of this and report first.
Q5 What are your favorite conversion optimization tools, plugins and browser extensions?
Pre 2007, I was very affiliate marketing and lead generation focused.
After launching my blog in 2007, I was able to focus more on my brand and moving away from just being an "affiliate".
The opportunities and benefits have been immense, still… affiliate marketing is one of the best ways to make money online.
With that said… everyone is going to have their own favorite set of tools for tracking, analyzing and whatnot.
For myself, (with a focus now more on SEO and analyzing the competition), I do love tools like SEMRush and/or MonitorBacklinks. Both allow me to keep an eye on my own sites and their rankings, while also keeping an eye on the competition.
WiseStamp is also a great browser extension for Gmail that allows you to create a custom signature within your emails. This has been perfect for my branding and gaining new business. Just think about how many emails you send out daily!
For social media scheduling and management, I also like and use MeetEdgar and JustRetweet.
Also, a special gift for anyone attending… here are 15 passes to access my 30-day blogging video course for free.
Use coupon code "VCBUZZ" to bring the price to $0 at checkout. https://t.co/Z7fw5SgZv2 #vcbuzz

— Zac Johnson (@zacjohnson) January 3, 2017
What an AWESOME offer!!! Thanks #vcbuzz – Looking forward to trying it. https://t.co/lRSstNsbeH

— Debi Norton (@BRAVOMedia1) January 3, 2017
@zacjohnson wow that Yahoo! check screenshot is inspiring!!!! #vcbuzz

— Anna Fox (@manifestcon) January 3, 2017
Our previous conversion optimization chats: