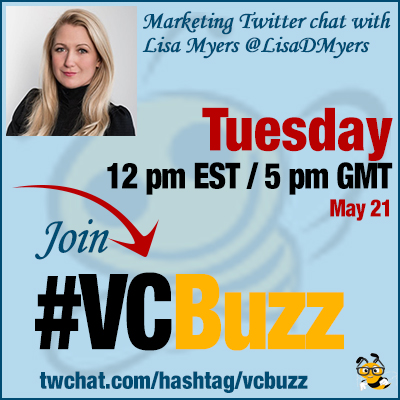 Link building remains the most effective way to obtain search engine visibility and overall build (referral) traffic. It's also one of the most abused and hence riskiest tactics out there.
How to evaluate the value of links you are obtaining? How to tell if the link is worth pursuing? Let's discuss!
***Add #VCBuzz chats to your calendar here.
***Please sign in here to follow the chat -> twchat.com/hashtag/vcbuzz
About @LisaDMyers
@LisaDMyers is CEO and Founder of Award Winning SEO Agency @VerveSearch as well as Founder @WomenInSearch and Conference Speaker.
She has been working in Marketing since 2001 and got into SEO in 2005, when she was tasked with setting up the Search department at a Integrated Marketing Agency. In 2009 she decided to start her own agency and Verve Search was born.
Check out Lisa's decks at Slideshare
Questions we discussed
Q1 How did you become a digital marketer? Please share your career story!
I got into digital marketing by somewhat of a chance. I was working as a project manager in an ad agency when I got pregnant (at 26), when I came back they offered me the role of SEO, which it didn't seem they knew much about, they just had to give me something.
I just loved it straight away (although I had to actually Google what SEO meant, ha!) That was in 2005. I then grew the team in that agency, felt frustrated by the speed, then decided to start my own agency @VerveSearch in 2009. I sold to Omnicom Media Group in 2017.
Q2 Should a company still invest in link building? How to find best link building opportunities?
Absolutely! Links are STILL the primary part of the off page algorithm. On page and technical get's you where you deserved to be in the first place, I still think links is primary way of increasing rankings.
A2) I believe it's Links, Content, and RankBrain according to Google #vcbuzz

— David Hartshorne (@davidhartshorne) May 21, 2019
How to find the best link building opportunities is harder to explain here. It depends what kind of site, competition etc. We use Gorkana to find the right contacts and @Buzzstream for pretty much everything else.
@LisaDMyers Do blog comments net anything valuable? #vcbuzz

— 24 Hour Translation (@24hrtranslation) May 21, 2019
In my opinion blog comments give ZERO value.
@seosmarty @Jaimeshine I would think that comments are not necessary for all types of blogs/business sites. Maybe if you were asking for feedback, but otherwise, no. #vcbuzz

— Lisa Shomo (@keenkoncept) May 21, 2019
a2 IMO Link Building is part of the overall digital marketing process and should be integrated into the work. The BEST of links are built organically by supporting the quality of the content.#VCBuzz

— Debi Norton (@BRAVOMedia1) May 21, 2019
@BRAVOMedia1 exactly! Link building is not just for SEO! You need them for referral traffic! #vcbuzz

— Ann Smarty (@seosmarty) May 21, 2019
A2: Links are important and contribute to what directly impacts #website visibility in search: Authority.

Good content attracts quality links.
What REAL people do after they click (read, convert, etc.) is as important as the source.#vcbuzz #SEO

— Rebecca Murtagh ? (@VirtualMarketer) May 21, 2019
Yes, I find that I stop reading sites that don't have comments for the most part. I've invested my time in reading their thoughts and often want to respond in some way. #VCbuzz

— Gail Gardner (@GrowMap) May 21, 2019
Q3 How to find your competitor's most valuable links?
We use Majestic to find the links of clients and their competitors, although it still don't find all of them (or not fast enough always). So for clients we also go through their referral in analytics to pick up the links gained.
a3 Do a Google Search links:https://t.co/0oNUoMW7Q0 – That's a good start.#VCBuzz

— Debi Norton (@BRAVOMedia1) May 21, 2019
We actually spent 5 years building a tool that measurers the value of a link, because we felt so frustrated with people STILL counting links. It's called the LinkScore.
The SEO industry STILL says "I want 250 links", I can get you 35,000 links in 2 min, but it will do bugger all to your rankings. It's the QUALITY of the links that matters. We have seen a client go up 50 position (to postion 2) for a competitive keyword with ONLY 22 LINKS.
If 50% of all the traffic goes to 73 websites, it really makes sense to target those websites. Basically spend MORE time targeting the BIG authority sites than loads of SMALL sites.
Q4 How to identify least valuable (and potentially dangerous) links?
We have used both LinkRisk tool and LinkDetox.
@LisaDMyers What are some strategies for getting valuable links from local businesses? #vcbuzz

— 24 Hour Translation (@24hrtranslation) May 21, 2019
It depends on the industry. I don't think any high authority links comes easy. If you're in travel I would say it is worth targeting the tourist boards, they are usually open to linking to great content. Sorry its difficult to compress in a tweet 🙂
I also have the unpopular opinion that it is rather fruitless to do blogger outreach, in fact I believe it can HURT your site. For example 47% of Travel bloggers charge for links, it is very risky to get a link from those blogs even if they don't charge you.
Also you are likely to NEED hundreds, if not thousands of links from Blogs in order to increase rankings for competitive keywords. While going for the highest authority links in your sector will likely do more with a handful.
My two bits: A link from a relative and decent site is always valuable. (end quote) #vcbuzz

— Don Sturgill (@DonSturgill) May 21, 2019
Q5 What are your favorite link research tools?
We are BIG fans of @Buzzstream also Buzzsumo, Gorkana, Majestic and Ahref. And of course our LinkScore tool.
Thank you for having me @seosmary and @vcbuzz Here's a link to some case studies https://t.co/Nwbch5oW3X and a presentation I did on Measuring the Value of links https://t.co/0rvt6HKpJf #vcbuzz

— Lisa Myers (@LisaDMyers) May 21, 2019
Our previous link building chats: