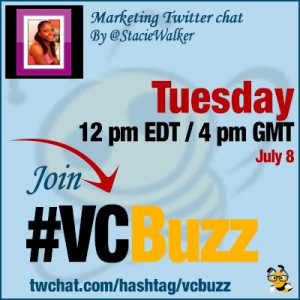 We are discussing podcasts today but first a couple of updates:
We launched @MyBlogU last week, please join to create epic content and get featured!
If you review our VCB Udemy course, we'll give you 100 free ViralContentBuzz credits to promote your content!
**To join us please sign in here -> TwChat.com/hashtag/vcbuzz
About Stacie
.@staciewalker is the best-selling author, podcaster, mentor and entrepreneur. Please check out her mastermind program here
.@staciewalker is also the host of #YourGreatness Twitter chat
Questions discussed:
Q1 Stacie, how did you get into web marketing? What's your background and story?
In 2007 I almost died due to my liver not removing toxins. My MD told me that I had to stay in bed until I recovered. I was bedridden for seven months. I had to find a way to keep my family from being homeless
My life was forever changed. I built a successful online business consulting firm from the ground up from my bed in less than a year.
Yes. even though it didn't seem like it. RT @jessytroy: Hard times are most motivational… RT @staciewalker: A1. less than a year. #vcbuzz

— Stacie Walker (@staciewalker) July 8, 2014
Q2 I am an absolute podcasting newbie… Could you explain to me how to start a podcast… Tools + WP plugins I'd need?
It's pretty simple to start. You don't need all of the fancy bells and whistles to get started. You can invest in the "bells and whistles" when you know for sure if it's something you want to continue.
First – You need a USB microphone – Never use the microphone that comes with your computer. They range from $30.00 – $250.00 USD Audio-Technica USB microphones are of great quality… More specifically the Audio-Technica ATR2100-USB
My fav is Blue Microphones Yeti USB @staciewalker: A2. More specifically the Audio-Technica ATR2100-USB #vcbuzz

— Josepf Haslam (@Josepf) July 8, 2014
Second:
Pamela call recorder – to record the conversation between me and my guest (The Pamela call recorder is used only if you want to record Skype to Skype calls with your co-host or guest. )
Audacity – Free Audio Editor and Recorder
Libsyn is a podcast host (The fee for using Libsyn ranges from $7)…. The best WP Plug in is PowerPress. You would publicize your podcast by using Libsyn podcast host and PowerPress 3.0.
I would never recommend you uploading your mp3 directly to your blog
A2 To sum up you'll need ~$70 to start (domain + blog hosting + mic + podcast hosting)… Did I miss anything @staciewalker? #vcbuzz

— Ann Smarty (@seosmarty) July 8, 2014
Q3 I've noticed you are using leadpages… They seem to have an interesting concept… How does it work?
Leadpages is an business owners dream. They provide awesome professional landing pages to build your email list. You can customize your landing page to your liking.
Yes, they do:) RT @viralcontentbuz: @staciewalker do they offer A/B testing features as well? #vcbuzz

— Stacie Walker (@staciewalker) July 8, 2014
Also you can integrate your Leadpages with your email marketing serviced provider. You can also integrate your social media profiles – Google, Twitter, Facebook. You can even embed your own videos into your Leadpage
Leadpages cost a pretty penny but it's worth the investment.
Why leadpages instead of any other landing page generator? (PP, getresponse, etc.) @staciewalker #vcbuzz

— Gail Gardner (@GrowMap) July 8, 2014
Leadpages is really user friendly and they are constantly testing out their templates. The top online marketers are using Leadpages and it's because conversion rates are higher using their templates.
@GrowMap I have tried the others and Leadpages has been the best to date. #vcbuzz

— Stacie Walker (@staciewalker) July 8, 2014
Q4 Do you have some kind of an editorial calendar for your podcast episodes? How do you get consistent and organized?
Oh yes. I can't live without an editorial calendar. My life would be a wreck if I didn't. I have guests on my podcast show, so it's essential.
My team and I use Google Calendar to coordinate podcast production and the guests.
How can we volunteer to be a guest? #vcbuzz

— Gail Gardner (@GrowMap) July 8, 2014
@viralcontentbuz My assistant Irma will get you set up. Just email – info@staciewalker.com #vcbuzz

— Stacie Walker (@staciewalker) July 8, 2014
My assistant will send you a guest info packet and a link to vCita to schedule your best three dates to produce the episode
Q5 You are @ViralContentBuz valued user! Please describe how you are using the platform and what kind of results you are seeing!
I LOVE viralcontentbee.com I use the platform to promote my content. After I publish a post on my blog, I head over to @ViralContentBuz to get some buzz.

I always share the content of other members FIRST.

The content is always of high quality and I share on my favorite social media platforms – Twitter and Facebook

After I share the content of others, then I post my content to be shared.

It's been a great platform to amplify my content on various social media platforms.

I make sure I am consistent about using the platform. That's the KEY to social media buzz success

Since I use Twitter the most. I always thank the members who share my content
RT @staciewalker: A5. I make sure I am consistent about using the platform. That's the KEY to social media buzz success. #vcbuzz

— Jessy Troy (@jessytroy) July 8, 2014
#YourGreatness chat is on the 2nd and 4th Thursday of the month from 3-3:30 pm CDT. Details here – http://t.co/sA0mqKugFp #vcbuzz

— Stacie Walker (@staciewalker) July 8, 2014