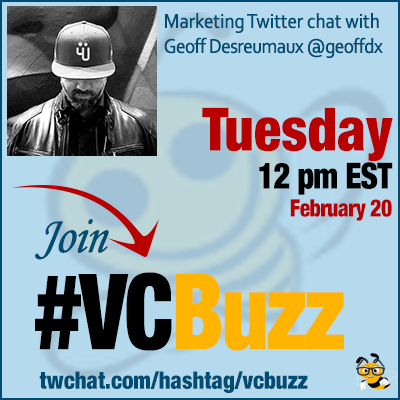 Launching a new website to a success is most people's dream. Most of us also do it, and most of us give up on those sites sooner than they can achieve any exposure.
So what's a secret? How to launch a blog and see it a success? Let's discuss!
***Add #VCBuzz chats to your calendar here.
***Please sign in here to follow the chat -> twchat.com/hashtag/vcbuzz
About Geoff
Geoff is the Founder and Editor-in-Chief of We are Social Media. He also leads the Social Media team at Zimmerman, an Omnicom agency based out of South Florida, USA.
Geoff is also a visiting lecturer at Universities across Europe and the US, and an international #smm speaker.
Follow Geoff on Linkedin
Questions we discussed
Q1 Why did you launch @wersm? Why did you feel the world needs another social media blog?
I was facing a challenge: at the time I was working for a PR agency in Athens, Greece. The toughest part of my job was always to educate my clients about social media.
There were very few resources available back then (think 2011) and every day I had to scout several websites to gather the information/links I needed to share with my clients. – That's how I had the idea of WeRSM. A place for it all.
Q2 How long did it take you from idea to a launch? What were your pre-launch steps?
Great question! I move fast. I consider that an idea has a very short lifespan before it has to become an actual thing. I had the idea for WeRSM on my drive to work. By the afternoon I had a brand name and a plan.
First I was going to test the idea by launching a Facebook page and build a community. I started by sharing links from other publications and understand what people were interested in. Analytics were always a big part of the process.
@vcbuzz A2. I would tell you I wanted to continue to cover collegiate sports, so I just transitioned the blog into an online media company immediately after taking break from graduate school #vcbuzz

— Cheval John (@chevd80) February 20, 2018
The page quickly grew to 5K+ followers, I knew there was a real opportunity. That's when I launched the 1st version of WeRSM. It was only me writing at first & I was publishing maybe 2-3 articles per week, while I kept on sharing links from other websites too.
Today we have over 250,000 followers on social media, and we are one of the leading websites for everything social media.
Yes — we're not a HUGE player and, frankly, we don't aspire to be (at least at this stage), because that would mean diluting our content QA process. We don't offer news only, but analysis too, along with a holistic approach to what we call "connected lifestyle"

— We are Social Media (@WeRSM) February 20, 2018
Q3 How did you find writers for the blog? How do you keep it active all the time?
This one was quite easy actually. My best friend (@gcsimos) and my wife (@villou), they both work in the industry. They were the two first additional writers.
After them, I added a few people by actively scouting online and inviting people to write for us. It worked more or less but the quality wasn't always there and we decided to part ways with most of them.
Since then we have established a strong recruiting process where we check people's knowledge and understanding of the industry as well as their writing skills. But we don't have to look for people anymore, they come to us!
Keeping writers active isn't difficult if you start on the right basis. Before we introduce a writer, they have agreed to a frequency that suits them. They choose how many articles they want to write per month, and all we ask is that they stick to it.
A3. I just started writing again for my blog that started in 2003. I lost my voice for a while Heheh #vcbuzz

— Janette Speyer (@JanetteSpeyer) February 20, 2018
Most writers gain immediate fame when starting to write for us. Job offers, freelance gigs or new clients, that's what our writers get from being active on WeRSM, and that's what attracts them.
Geoff, are you talking about paid writers or guest bloggers? #vcbuzz

— Don Sturgill (@DonSturgill) February 20, 2018
So far we have not paid writers. It is something we may consider in the future.
Geoff, are you experiencing much churn in your writers? Do they use the platform for leverage, then fall off? #vcbuzz

— Don Sturgill (@DonSturgill) February 20, 2018
It happens. That's why we have put together our recruiting process. We check their motivation beforehand.
Q4 What is your blog promotion strategy? How about tactics? Any secrets to share?
Publicity is hard to get. People talking about us & sharing our content, that's how we grow. We maximise our efforts to promote our content on social, often with $0 budget (I'm a strong believer of organic reach, even after Facebook's algorithm change).
But our #1 strategy is CONTENT. We offer a fresh approach to social media blogs. We cover all the news, yes, but we offer an opinion, an explanation as to how this will affect their work.
@vcbuzz A4. For me, participating in twitter chats helps to promote my business blog indirectly and also being here on twitter most of the time is great because I love this platform #vcbuzz

— Cheval John (@chevd80) February 20, 2018
We're also the only site that covers all aspects of their lives: news, creative ideas, opinions, all the way to the tools & technology they need to use and even an approach to the lifestyle associated with working in the industry.
Finally, I'd like to point out how important personal branding is. Your business is YOU. People start following WeRSM after they find me, or vice versa. I built my personal brand while building WeRSM and today people recognise that.
I share all of our content on my social media, I speak at conferences, teach at universities, participate in events, online webinars and chats (like this awesome one).
Q5 What social media and blog management tools are you using on a regular basis?
The truth is that we don't use many tools.
We have a tool for SEO (Yoast), one for crafting the best headlines (co-schedule), and a plugin to schedule content on the site and social.
We are content creators with a lot of respect for the platforms and a native approach to social media. And we also have an awesome partner (@villou) who can create our own tools when we need them!
@vcbuzz A5. I am using wordpress for my business website because their platform has blog roots #vcbuzz

— Cheval John (@chevd80) February 20, 2018
What are some tools you are using that you'd like to share with everyone here?
Yoast, MailChimp, ShareThis, Sumo for starters #vcbuzz

— Janette Speyer (@JanetteSpeyer) February 20, 2018
I almost forgot! ? I ❤️ @buffer for scheduling all the content I share on social media!
A5 Always recommended @Cyfe for all management things, also comes with social media scheduling widget! #vcbuzz

— Ann Smarty (@seosmarty) February 20, 2018
I'm still a Hootsuite believer. #vcbuzz

— Don Sturgill (@DonSturgill) February 20, 2018
They're good. I like how they were the first ones to add the new Instagram API, allowing to schedule posts on the platform
A5 for Instagram posting/ scheduling: @Later @SproutSocial @MavSocial #vcbuzz

— Ann Smarty (@seosmarty) February 20, 2018
A5E. I can add that @agorapulse is a great platform for allowing you to see tweets you missed especially in a twitter chat #vcbuzz

— Cheval John (@chevd80) February 20, 2018
Our previous blog management chats: