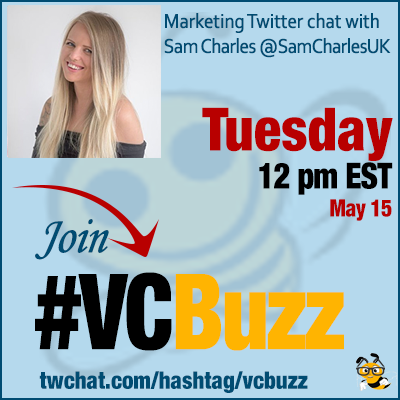 Links remain the most powerful search ranking signal: There's no top Google's positions without links
Links also bring traffic and leads… There's actually no effective marketing possible without link building
But how to build links without entering the shady areas and running into a risk of being banned from Google? Let's discuss!
***Add #VCBuzz chats to your calendar here.
***Please sign in here to follow the chat -> twchat.com/hashtag/vcbuzz
About Sam
Sam Charles @SamCharlesUK was featured in The Drum magazine 50 Under 30 list and nominated for "Young Search Professional" at the UK Search Awards.
Alongside running Float Digital, Sam delivers digital marketing seminars and workshops.
Questions we discussed
Q1 How did you become a digital marketer? What's your career story?
When I left college I got my first job in a web development and branding agency. I wasn't 100% sure what I wanted to do, but I knew I wanted to work in marketing. I was so lucky that while I was at university I had the opportunity to study abroad in Australia.
@SamCharlesUK #Australia – that sounds exciting! #vcbuzz

— Sana Knightly (@SanaKnightly) May 15, 2018
Ah it was! I was so lucky living just a stone's throw from Surfer's Paradise! The experience I had working over there was invaluable as well, it really set me up for future opportunities in the UK.
Living on the Gold Coast, near Brisbane, is where I landed my first digital marketing job with a beauty company (part of the The Hut Group). It didn't take long before I fell in love with outreach and everything blogging related! Once I finished my course I moved back to England in 2012 and continued studying, set up my own blog, and started working at an SEO agency. I hopped to another couple positions before launching my own digital agency @float_digital in 2016.
A1 .. @Float_digital has gone from strength to strength, and over the past 5 years so has the blog (shortlisted Best UK Lifestyle Blog – @MyproteinUK Fitness Awards). Read more on the Float Digital website: https://t.co/OPUsbAduPa or on my blog https://t.co/baiH6KoY0R #VCBuzz

— Sam Charles ?? (@SamCharlesUK) May 15, 2018
Q2 If you want to start building relationships with bloggers, where should they start?
Building a relationship with a blogger means building a rapport. For example, I'm (unsurprisingly!) more receptive to outreach execs that take the time to genuinely learn about me and my blog, and put a little extra effort into their outreach email.
Follow bloggers on social media, engage with their posts, and contact them when you have a suggestion that may genuinely add value to their blog. Perhaps there's a particular dates coming up which would be perfect for a collaboration?
A2 The easiest way to connect with bloggers is by interacting on social media. The worst way is through generic emails often used by impersonators. #VCBuzz

— Gail Gardner (@GrowMap) May 15, 2018
Make it easy for bloggers to work with you.
A2 Make sure you look for, read, and comply with the blogger's guest posting guidelines. If you blog, have a page like https://t.co/c1VpAkpADA #vcbuzz

— Gail Gardner (@GrowMap) May 15, 2018
Q3 How to get bloggers talk about your brand and link to your site?
Don't get hung up on how bloggers link to you. Let them do it naturally, otherwise you risk annoying bloggers (which may result in a backlash!), and an unnatural looking backlink profile.
Don't just target influencers with millions of subscribers like @Zoella. These bloggers are inundated with request all day, everyday. Build relationships with content creators that are at the beginning of their blogging journey and grow with them.
Before you outreach considering, what's in it for them? Why should they write about your company, and not the other 30 people that emailed them that day? Preparing a post for a company can take hours, so it needs to be mutually beneficially.
A3 If you want bloggers to link to you, publish something exceptional: current statistics, great quotes, images with permission to republish, case studies, videos, SlideShares, infographics, etc. #vcbuzz

— Gail Gardner (@GrowMap) May 15, 2018
Exactly! Put yourself in the bloggers shoes, why should they link to you?
@SamCharlesUK "Before you outreach considering, what's in it for them?" – that is so simple and so important! Sadly not seen in so many pitches. #vcbuzz

— Sana Knightly (@SanaKnightly) May 15, 2018
And then people wonder why their outreach campaign fails!
Q4 What are major blogger outreach mistakes and tips?
My lifestyle blog ranks on page 1 for highly searched terms, and subsequently I see TONS of outreach emails on a daily basis. This is great for research purposes and helps me reflect on my own outreach emails. These ones that really grind my gears.
Focus on giving and getting comes naturally. #vcbuzz

— Don Sturgill (@DonSturgill) May 15, 2018
The worst outreach emails I receive begin with some kind of lie (usually stating they're a freelance writer or a blogger trying to get exposure!). This is my pet hate because they assume they can pull the wool over my eyes. I instantly take a disliking.
Q4 If you want to maximize responses and do not want all your links nofollowed STOP routing your email through Google! Why in https://t.co/hdgNyrGksk #vcbuzz

— Gail Gardner (@GrowMap) May 15, 2018
Another frustrating blogger outreach mistake is when it's clearly been written from a template. I know it saves time but we see hundreds of these emails a day. Shake it up – I don't even read a 500 word email about 'how much you loved' my last post.
One mistake I see often is being impersonal. If you don't bother to look up my name – why would I bother publishing your content or linking back? #vcbuzz

— Sana Knightly (@SanaKnightly) May 15, 2018
Q4 Do NOT pitch from gmail addresses. There are impersonators pitching bloggers now. If you use gmail how do we know you are really from that company? Use an email on that domain. #vcbuzz

— Gail Gardner (@GrowMap) May 15, 2018
One last one before we go onto the next questions.. (I could write about this stuff all day!). Emailing bloggers for social stats is a waste of time. Collate this data before you outreach to a blogger + make a decision on if you're going to pursue them.
I agree about the lying in outreach pitches. Do they REALLY think we believe they "read your blog ALL the time" and "loved the "paste title here" line @SamCharlesUK #vcbuzz

— Gail Gardner (@GrowMap) May 15, 2018
Old but good! https://t.co/JjsARiA3IB Think about it every time getting yet another pitch like that LOL #vcbuzz

— Sana Knightly (@SanaKnightly) May 15, 2018
A4 If the blog guidelines say no links to sales pages, understand what a sales page is. The best links are to substantial, quality content in blog posts or on your domain. #vcbuzz

— Gail Gardner (@GrowMap) May 15, 2018
Q5 What are your favorite blogger outreach and relationship building tools?
I'm a huge fan of automation. It can save you a lot of time and make you money! HOWEVER, blogger outreach is one of those tasks that needs a human-touch. You can spot an automatically generated email a mile off, and it'll probably be archive instantly.
Even though I believe blogger outreach shouldn't be automated, there are a few tools that I endorse that make life easier. Firstly, @BuzzSumo is great for finding quality content which will lead you to influential bloggers.
A5 If I'm researching niche blogs, I like to use @TheInkybee I wrote about why in https://t.co/2rEknn94Qz #vcbuzz

— Gail Gardner (@GrowMap) May 15, 2018
@followupthen is a great tool (not JUST for blogger outreach!). This decreases my to-do list because I can just use this tool to stay on top of my emails and be more productive. It makes blogger outreach a breeze when you're in a sea of outreach emails.
A5 If you want to use a platform that assists you with blog outreach or influencer marketing, you could use @VazoolaMedia https://t.co/UGTu4eHdW9 #vcbuzz

— Gail Gardner (@GrowMap) May 15, 2018
@yesware is another great tool. It's built to increase your sales but it works nicely for blogger outreach because you know if your emails are being opened. Perfect if you want to know if a blogger is ignoring you.
A5 A great way to find influencers, what they share, and what they write is by using @BuzzSumo Tips in https://t.co/i8jle4QgUZ #vcbuzz

— Gail Gardner (@GrowMap) May 15, 2018
@EmailHunter can save you time without compromising your outreach quality. It quickly pulls all the email addresses you need from your prospect list, enabling you to get cracking on the important stuff.
Our previous link building chats: