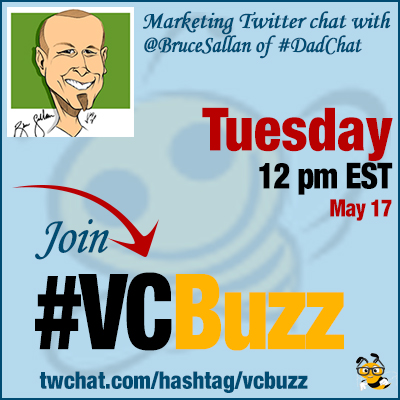 We have a Twitter chat on hosting a Twitter chat today! How cool is that?
In all seriousness, Tweet chats are excellent ways to build you audience and establish yourself as a niche influencer.
So to encourage you to try and host one, let's talk to the founder of one of the most successful Twitter chats out there: @BruceSallan
***Add #VCBuzz chats to your calendar here.
***Please sign in here to follow the chat -> twchat.com/hashtag/vcbuzz
About @BruceSallan
Bruce is dad, writer, iTunes radio host, and founder of #DadChat. Buy Bruce's book A Dad's Point-of-View
Do subscribe to Bruce's blog at BruceSallan.com and connect to Bruce on Facebook and Linkedin.
Questions we discussed
Q1 What and when inspired you to start #DadChat?
­I was inspired to start #DadChat by the success of my A Dad's Point­of­View column and the need FOR a Dad advocate.  I also welcomed the challenge of making my chat successful!
@BruceSallan why did you retire #DadChat ? #vcbuzz

— ❀ ᕮᖇᕮᑎ ᗰᑕkᗩY ❀ (@ErenMckay) May 17, 2016
#DadChat had run its course after 4 1/2 years – my kids were grown – and the HATERS helped to destroy it! And, most of my supporters were scared to take them on! SAD
@BruceSallan So you are writing books? Or are you rather a freelance writer? #vcbuzz

— Jessy Troy (@jessytroy) May 17, 2016
I've taken a hiatus from writing after moving to Park City…where I work HARD at skiing and golf!
@BruceSallan which site was your column on? #vcbuzz

— ❀ ᕮᖇᕮᑎ ᗰᑕkᗩY ❀ (@ErenMckay) May 17, 2016
Over a 100 papers and website around the world
I also advised chat members to follow ALL the great people you "meet" here at #vcbuzz.
@BruceSallan 4(?) years ago… Not sure if tweetchats were popular? why Tweetchat? And not other medium (like on-site community) #vcbuzz

— Jessy Troy (@jessytroy) May 17, 2016
I loved #BlogChat – one of the first such chats and felt I could do the same and focus on my area of interest
@MackCollier pretty much invented the TweetChat with is #blogchat – great guy, too!
Q2 Was #DadChat an instant success?
I began #DadChat SIX years ago!  #DadChat was hardly an instant success! My patience was tested waiting and hoping that #DadChat would catch on.
A2 I still have to see ANYTHING being an instant success… Maybe others experience things differently. Mine is always hard work! #vcbuzz

— Ann Smarty (@seosmarty) May 17, 2016
#DadChat provided brain exercise and FOCUS given how fast it went and how many tweets there were!
There are some great Twitter chats around, but #DadChat was special and is still missed today. #vcbuzz

— Gail Gardner (@GrowMap) May 17, 2016
Q3 How did you promote #DadChat to grow its audience and engagement?
I promoted #DadChat by becoming "popular" on other chats.
I also promoted #DadChat via the many platforms I worked in – my columns, radio show, and brucesallan.com and more.
I promoted my columns and its discussion via comments by becoming an ACE-commenter on only blogs, plus I also cheated!
@BruceSallan Do you miss it? #vcbuzz

— Jessy Troy (@jessytroy) May 17, 2016
I'd been long-retired so I did have time..it was also GREAT fun to participate on good chats!
@BruceSallan Any tips on becoming an ACE-commenter? Does it still work as well as it used to? #vcbuzz

— Ann Smarty (@seosmarty) May 17, 2016
I agree – commenting is dead…it was a great tool to build a blog, once!
@seosmarty that's due to the fact that with page segmentation Google is filtering out those backlinks IMO #vcbuzz

— ❀ ᕮᖇᕮᑎ ᗰᑕkᗩY ❀ (@ErenMckay) May 17, 2016
Immodestly, I should be hired by BRANDS to begin chats in their area…I was hired by that snowboard dude (forget his name) to do it.
@vcbuzz We can still bring back commenting. It only died out because people like us got busy working and stopped doing it. Some do. #vcbuzz

— Gail Gardner (@GrowMap) May 17, 2016
Q4 What would be your most important piece of advice to a blogger willing to launch a regular twitter chat
Most important is to build it is persistence. And bringing great guests aboard such as Billy Ray Cyrus and Guy Kawasaki.
Having PERSONALITY and the willingness to take chances will also enhance your potential for a successful chat.
TEACHING your guests how best to answer questions and how best to "work" your chat REALLY helps! When having someone like Guy, no teaching necessary. With someone like Billy Ray who only tweets on his phone, it's VERY important!
YES! Forgetting the PC Bull! RT @ErenMckay: @BruceSallan by personality are you refering to being bold and unafraid to take chances? #vcbuzz

— Bruce Sallan (@BruceSallan) May 17, 2016
Giveaways also get more participants at chats! EVEN small ones…in fact the big ones are often more of a hassle than they're worth!
OH, and being a quick thinker and typist is equally important – to be able to ACT on the fly! For what it's worth, I'd be more than happy to advise a new chat and help launch it as a guest (for free)…
@BruceSallan #DadChat welcomed people and didn't jump all over them for minor infractions so it grew instead of declined. #vcbuzz

— Gail Gardner (@GrowMap) May 17, 2016
@BruceSallan Which chats do you still participate in these days, if any? #vcbuzz

— Jessy Troy (@jessytroy) May 17, 2016
None, I've taken a sabbatical from SoMe. Sometimes I talk with my wife!
The BEST thing you can do in life – and to build a chat or anything – is to GIVE BACK!
Twitter chats encouraging a LITTLE self-promotion like #DadChat did or #ggchat does with their #shamelesspromotion encourage loyalty #vcbuzz

— Gail Gardner (@GrowMap) May 17, 2016
Q5 If you could have started everything all over again, would there be anything about #DadChat that you'd have done differently?
I regret getting 2 politically incorrect during #DadChat. Part of ME was being irreverent. That doesn't translate well 2tweets. If I could do it over again, I would have not tried to do it all myself for so long – and reached out sooner for guests.
FYI, I do have a new chat idea that I might start – waiting on an expert partner in the area – so we'll see! I won't "tell" until its ready to go!
Bruce. I'd love to know the top benefits you got and your thoughts about ROI (including time & sweat invested) #vcbuzz

— Tom Treanor (@RtMixMktg) May 17, 2016
The top benefit I got was making amazing new friends, from participants to guests. Making some money was nice, too! But, to be clear, monetizing #DadChat was never a big priority.
@BruceSallan Monthly or weekly tweetchats? Pros? Cons? #vcbuzz

— Jessy Troy (@jessytroy) May 17, 2016
Yes, per week. I am VERY fast on the writing – wrote pre-chat posts and questions and more…
Getting guests is hard – reach on to ANYONE – try not to take no for an answer – given the a REASON to join!
@vcbuzz Weekly is better because you're more likely to forget monthly chats. #vcbuzz

— Gail Gardner (@GrowMap) May 17, 2016
Q6 You had @GuyKawasaki co-host #DadChat… Any tips on successfully engaging influencers like that?
Getting people to guest on your chat is the hardest thing to do – you MUST be persistent and willing to approach anyone. Part of securing good guests is finding clever ways to get their attention. Or simply asking, as I did Guy at a conference.
After Guy said yes to guesting, I had to follow through for nearly a year to finally secure him!
For example, give a prominent guest – like @GuyKawasaki – a vehicle to promote something – in his case, a new book
@BruceSallan Do you follow up if no reply? I usually follow up on social media. It's crazy how many people actually MISS the email! #vcbuzz

— Ann Smarty (@seosmarty) May 17, 2016
YOU bet I follow up if no reply – THAT is persistence. Maybe I follow up with a video plea! Think outside the box!
Q7 Have you ever tried monetizing #DadChat or seen anyone monetizing theirs successfully?
I did monetize #DadChat pretty well – I made 50K one year from it! I think I came up with the idea of sponsors for a chat. Then, as with guests, I pursued them tirelessly. And, to me, making 50K for perhaps 5-10 hours of work, isn't a bad wage! Lol.
@BruceSallan So you reached out to sponsors? Or did they reach out to you? Or both? #vcbuzz

— Jessy Troy (@jessytroy) May 17, 2016
90% I did the reaching! I went mostly after sponsors I wanted – or I wanted their product – or I felt is was VERY relevant to my audience…  Examples of sponsors I pursued and got: GoPro, Samsung, a cell provider (forget which one), a photo online service (forgot which).
Agreed, products you use and love… Those are awesome to promote! @ErenMckay #vcbuzz

— Ann Smarty (@seosmarty) May 17, 2016
Or something you approve of!
I wanted sponsors like General Mills, healthy food companies, ToysRUs – that fit well with parenting – got some of those but few.
@BruceSallan Oh that is amazing! What was the conversion rate? 1 out of 10 went for it? More? Less? #vcbuzz

— Jessy Troy (@jessytroy) May 17, 2016
Q8 Any tips for Tweet chat newcomers? How to participate in Tweet chats to gain connections and knowledge?
Getting noticed in a chat is about being clever, funny, and engaging.  Yes, quality trumps quantity, but the more you can tweet in a chat, the more likely you'll get noticed.
I was often the top tweeter in #Blogchat – bigger than Mack – who LOVED that I helped so much.
I was #Blogchat month sponsor… Loved how Mack set things up. Very recommended… #vcbuzz

— Ann Smarty (@seosmarty) May 17, 2016
@MackCollier is a gentleman and a scholar – kinda smart, too!
@BruceSallan Did you have media kits / case studies for sponsors? Wondering how it went for them! #vcbuzz

— Jessy Troy (@jessytroy) May 17, 2016
I had a media kit but I ALWAYS wanted to talk to them directly – I'm a very good salesman (from my showbiz career).
Also, go OFF the chat topic now and then – I did music oriented chats – like favorite Xmas songs at Christmas time – people loved it!
Want a good chat – know how to pace it as the hosts of this chat are doing so very well!
@BruceSallan So how did YOU pace it? What was the best / optimum speed? #vcbuzz

— Jessy Troy (@jessytroy) May 17, 2016
The best speed is warp speed but you have to go with the flow…on slow chats, I'd ask crazy spontaneous questions. Again, I'd ask unrelated questions when it occasionally got slow since I often used up my 20+ prepared questions!
@BruceSallan Interesting. I always felt like being the top tweeter in #BlogChat might have been stepping on Mack's toes. #vcbuzz

— Gail Gardner (@GrowMap) May 17, 2016
I thought that too until I asked him directly… I was mostly just a participant!  I did guest on many chats over the years – always fun and often I got them their best numbers ever.
If you own a chat, you don't run it to be in the spotlight… If you do, your chat is doomed to failure ? @BruceSallan @GrowMap #vcbuzz

— Ann Smarty (@seosmarty) May 17, 2016
Q9 How to keep yourself going as a host? A regular Twitter chat is a huge commitment!
To me, hosting a TweetChat is all fun. I found the work involved to be easy. The more you host, the more you figure out the best way to prep. Prep is important but spontaneity is KEY to a chat's success. Otherwise, it is too formulaic!
@BruceSallan I think the key is being fast mentally so you can keep things going PLUS being very friendly so people feel welcomed. #vcbuzz

— Gail Gardner (@GrowMap) May 17, 2016
In the old days when I was more active in SoMe, I would also help to promote the chat I was guesting!  It was always challenging, though the early days of low participation was hard .I changed the name and it took off!
@BruceSallan what was the old name? #vcbuzz

— Jessy Troy (@jessytroy) May 17, 2016
#aDadsPov – @AdamCohen suggested #DadChat – a winner!
Bruce – we'd love to hear your cheat ? #vcbuzz

— Tom Treanor (@RtMixMktg) May 17, 2016
On commenting, I would fake comments and then reply – often doing provocative stuff – fake by using another handle! IT was fun, too – an opportunity to add to your column by getting a dialogue going!
@BruceSallan That isn't too surprising as many won't comment until someone else has. #vcbuzz

— Gail Gardner (@GrowMap) May 17, 2016
There's a small chance I will do a one-off #DadChat – a manager of a pretty big R&R star wants me to do it…
Our previous chats on marketing events: