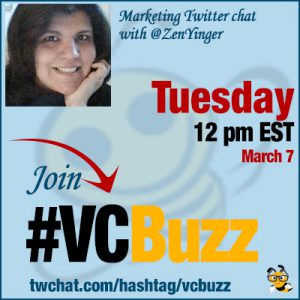 More and more brands recognize the need to start managing their communities. But where and how exactly they should start? Let's discuss.
***Add #VCBuzz chats to your calendar here.
***Please sign in here to follow the chat -> twchat.com/hashtag/vcbuzz
About Zen
.@ZenYinger is international public relations, social media and marketing professional with 20+ years experience in strategic communications planning.
Zen's passion is engaging communities, driving change through effective-targeted messaging, inclusion and expansion.
Connect Zen on LinkedIn!
Questions we discussed
Q1 How did you become a social media marketer? What's your career path and story?
While at the pinnacle of my corporate communications career, I took a long sabbatical to be a stay at home mom. Wouldn't change a thing!
In late 2011 when my family situation changed, I re-entered the market to become financially independent. I found the corporate ladder had morphed into a jungle gym. So I took to social media to look for job opportunities and learned the ropes along the way. I realized I loved it! I enjoyed making friends and building relationships via Twitter and LinkedIn. Instead of finding a full time PR leadership position, I landed up taking social media management gigs for small to mid-size tech companies. The field of social media is always rapidly evolving, so you need to have an "always be learning" attitude.
This fell right into my wheel house, since I hunger for new learning. In a couple of years, I was taking up projects and offering my consulting services as a social media branding strategist and social media marketing consultant. All through WOM (word of mouth via social media). I started having steady long term clients and I absolutely loved the independence and freedom of being a solopreneur.
As a single mom it was like having the best of both worlds!
@ZenYinger As a Social Media Marketer do you work as a solopreneaur or do you have a team? #vcbuzz

— Debi Norton (@BRAVOMedia1) March 7, 2017
Yes, TY Debbie. I have my own co. ZenSocial a Socialmedia & Mktg Consultancy @BRAVOMedia1:…. do you have a team? #vcbuzz

— Zen Yinger (@ZenYinger) March 7, 2017
Q2 Where should brands start when they decide to get into community management?
Brands need to explore social media as part of their marketing mix. They need to commit to it and not treat it as a one off means of advertising or free promotion.
Companies need to be clear on their social media goals and objectives. Deciding to plunge into it because everyone is doing it, is the wrong approach.
The brand must have a social media strategy – it doesn't have to be fancy it could be a simple one at the onset which begins with only exploring two or three key social media platforms where the brand audiences gather. Twitter and LinkedIn are always a safe bet for B2B's. For B2C's Facebook, Twitter are more viable options.
Then as the brand learns and grows, they can expand on it. Hiring the right social media consultant is key so that the brand develops a healthy and can do mindset about social. The company needs to have faith that the consultant is trustworthy, reliable and is one of their front line brand advocates. The right social media consultant tailors the brands social media strategy and solutions to the brand needs and believes they are a part of the brand community.
@ZenYinger I'm finding SMB's are intimidated by Social. Any advice how to win over that group? #vcbuzz

— Debi Norton (@BRAVOMedia1) March 7, 2017
Yes, I understand. That's because they aren't able to grasp that social is a communication tool.Just like email, etc.
I love that #SMM has evolved to be where your customers are instead of be everywhere @ZenYinger. #vcbuzz

— Katy Blevins (@chaosandkiddos) March 7, 2017
That is true and the fact that solopreneurs can constantly interact on social media is awesome @ZenYinger #vcbuzz https://t.co/Rci8SYMxYV

— Cheval John (@chevd80) March 7, 2017
Q3 How to sell your boss a community management program? How to explain it best? What's the ROI?
Social Media is not a quick marketing fix, it takes time for a brand to grow a relevant community and establish its authority. In today's world social media is an essential form of communication for all brands.
You don't really need to sell a social media management program. If the boss hasn't realized it as yet maybe you need to point out that there is a "real need" for it that must be addressed. This is how you do it. In our digital, connected world if we don't grab the opportunity to define our brand, then someone else (maybe our competitor) will do so on our behalf. No brand or boss wants that to happen. So unless the boss is living in a digital vacuum, she or he will soon realize that the majority of the brand related conversations today are happening online and more often than not, on social media. If the brand doesn't establish their digital or social media footprint in 2017, it is a huge disadvantage for the brand and all the stakeholders, employees and clients associated with the brand.
@ZenYinger That makes sense w/ lg brands – exposure & brand awareness. Does the same work for SMB's? How to quantify ROI? #vcbuzz

— Debi Norton (@BRAVOMedia1) March 7, 2017
yes, @BRAVOMedia1 once #SMB's address how social can meet their biz needs and goals, they can formulate a simple strategy #vcbuzz

— Zen Yinger (@ZenYinger) March 7, 2017
Social media helps the brand to define itself and actively drive the conversations surrounding it in our social world. It helps build a community of brand advocates, influencers, peers and fans who are actively engaged with the company. With authenticity, consistency and offering value over a period of time, the brand is able to build relationships, establish trust and ascertain brand authority.
Great community managers help build relevant communities by establishing strong, authentic relationships with relevant audiences and by consistently sharing high value content with their communities. Community managers are your trusted brand advocates who aim to engage and inform your customers and help you reach new ones.
A3. You have to be consistent in putting out quality content that will allow you to build trust over time #vcbuzz

— Cheval John (@chevd80) March 7, 2017
Social media ROI is dependent on your ROR, Return On Relationship. Has your brand established credibility and trustworthiness? Are you an unconditional giver? A helper? Do you consistently offer relevant content and value to your social communities? Do you engage with your audiences; your clients, employees, peers, brand advocates and key influencers? Are you engaging and positive in your communications? No matter how well you execute your social media strategy, if your brand's personality and social feed/content comes across as heavily promotional and filled with mostly automated, unilateral communication your social ROI will suffer.
Q4 What are your favorite community management tools?
There are several SMM tools. Here are two great resources on popular social media management tools.
My favorites are Hootsuite, Audience (earlier SocialBro), ManageFlitter, Kout, Tweetdeck, to name a few. I've also developed custom key influencer scorecards to track, connect, engage and build relationships with key audiences in a brand community.
I love Hootsuite! RT @vcbuzz: Buzzers! What are you fav tools? #vcbuzz

— Jessy Troy (@jessytroy) March 7, 2017
Right me too! Especially for scheduling & tracking influencers.
Q5 Please list your favorite community management guides and resources! We'd love to read more of your stuff too if you have written any!
Here is my HuffPost Biz article I co-authored with Dorie Clark and another on Positivity I posted on LI Pulse.
Resources/Guides:
Love info/articles/Insights shared by @seosmarty 😉 GWS (Goes Without Saying) and @markethubio @marketo @hubspot @hootsuite @buffer @socialmediatoday @smexaminer to name a few.
Here's a helpful guide.
A5. I've learned that #socialmedia isn't abt influencing minds it's about winning hearts thru authenticity & real engagement #vcbuzz

— Zen Yinger (@ZenYinger) March 7, 2017