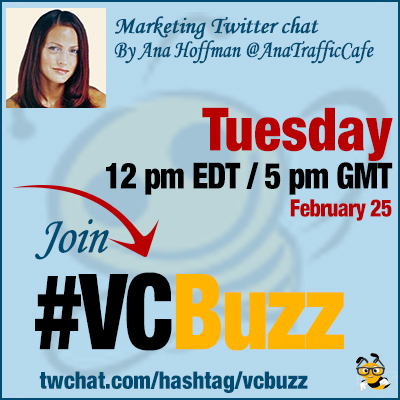 Today we are chatting with the traffic generation expert: Ana Hoffman aka @AnaTrafficCafe
**To join us please sign in here -> Twchat.com/hashtag/vcbuzz
About Ana
According to Ana:
90% of your problems can be solved by smart marketing. Solving the other 10% just requires good procrastination skills. Can't help you with the latter, but I do know a thing or two about smart marketing. Want me to prove it? Get my free "Mommy, Where Does Traffic Come From?" traffic report to increase website traffic and we'll go from there.
Very well deserved ? RT @AnaTrafficCafe: Love it when I am called an expert – music to my ears! lol #vcbuzz

— Ann Smarty (@seosmarty) February 25, 2014
Questions we are going to discuss
Your blog is an excellent resource for bloggers and business owners alike. Basically anyone interested in generating web traffic that converts. One of the few that I subscribe to personally in fact. This makes us very curious….
Q1: Why did you start TGC? Can you tell us a little bit about your motivation for wanting to help others generate traffic? What was it? Money? Fame?
More like I had nothing better going on… ? Plus I really wanted to be the Queen of something; might as well be traffic generation, right? But really – I wanted to learn more about driving traffic to a business I was starting (an MLM business of sorts) and figured I might as well share with others what I was learning. Thus Traffic Generation Café was born.
In your guide SEO Traffic 2014: Your One-Stop Reference Guide for Non-SEOs you talk about the love-hate relationship with Google.
I actually mostly love Google.
"Google search engine traffic is great, no doubt about it, but far not the only way to get very targeted highly converting website traffic."
Which brings us to question 2.
Q2: What would you say is your best "non Google" traffic generation source (that converts)
I just find it very hard, especially for an average business owner, to depend on Google traffic. My best non-Google traffic source is always the one I put the most effort into. I think it's true for every business owner. For instance, right now I am heavily vested in G+ and Slideshare and I see huge returns from my engagement there.  G+ is also a back door to Google traffic. In case you are still in doubt, GOOGLE+ = GOOGLE. Besides being good for Traffic Generation Café, G+ allows me to be ranked for keywords that my blog would never rank for on its own. Since G+ posts rank on Google as any other web page would.
I caution bloggers against over-relying on Google (think Panda/Penguin/penalties). Use G+, but KEEP @CommentLuv #VCBuzz

— Gail Gardner (@GrowMap) February 25, 2014
Slideshare: I like to turn some of my posts into Slideshare presentations. Slideshare is a huge traffic powerhouse. Have you noticed how all major players are always posting presentations of sorts? For a good reason: to give their readers diverse content + to get traffic from Slideshare directly. Another thing that happens when you focus on a traffic generation strategy like Slideshare or G+ is referral traffic from blogs.
@AnaTrafficCafe How much time, or num of posts does that take on average? #vcbuzz

— Zen Ameer (@Zen_Ameer) February 25, 2014
@Zen_Ameer you mean how many posts to get noticed? Depends on how good those posts are. #vcbuzz

— Ana Hoffman (@AnaTrafficCafe) February 25, 2014
The next 2 Questions are about how you lean on Google in your content marketing strategy.
Once you start building authority on a subject, you get noticed, shared, read, and linked to. That sort of becomes your backdoor to mentions on other blogs = links = more Google traffic in the end.
They are trying but struggling RT @dfaltz: @GrowMap It would be great if Google would just discount the links #vcbuzz

— Ann Smarty (@seosmarty) February 25, 2014
Q2A: In your weekly marketing skinny newsletter you recently started posting the stories on Google+ and then embedding the Google+ stoires into your roundup. Can you explain a little bit about your reasoning for this?
Most people think that we should post all content on our blogs first, THEN repost it elsewhere. However, it's like comparing fishing in a lake vs in the ocean. In order for you to be effective on social media, you need to post more than 1-2 a week, wouldn't you agree? So then, if you only repost what you publish on your blog, then you have to share the same content over and over again to keep your social media stream full. A different approach (like fishing in the ocean): post on social media way beyond what you'd publish on ur blog. Thus become known as someone who shares a lot of great info. THEN people will come to your blog without being asked. That's why I embed G+ posts into my blog posts – to bring in more fish. Plus, G+ embeds allow more interaction – my readers can comment on any specific story vs the whole post. I've been testing this strategy for about a month now and love it. Much more interaction and more resulting shares and traffic. I am not saying we shouldn't save the best for our own blogs. But don't be afraid to share on other platforms in order to bring the crowds back to your blog.
Seems like you've partially replied, but… Q2B: You have also changed your comments from commment luv to Google+ commments. I know you have been a long time advocate of comment luv so I'm really curious to know the reason for the change here.
Ahhh… you are not beating around the bush, this will be a tough one. I've never shared this particular info before. I am going to write a blog post about it first, to make sure I cover all the bases, but here it is in a nutshell: I did recently start using G+ comment system, but only IN ADDITION to the native WP comment system with CommentLuv. First, G+ comments: I get a lot more interaction that way. Plus, the system automatically pulls comments from G+ that relate to the post. Thus, it's a much more "productive" way to get your post shared and create more social proof. Additionally, more and more savvy influencers become more active on G+; they are much more likely to use G+ comments that WP comments.
Now onto CommentLuv (CL) – I still use it at Traffic Generation Café, but not the actual CL links. You might be thinking then what's the point, right? CL has many other incredibly useful features, like spam fighting, sending email replies to comment etc. I stopped using the CL link originally because I had way too many broken ones and there was no way to fix them back then. Andy Bailey has since then added a way to check for broken CL links. So why am I not using them then, right? A step back: back in September, Traffic Generation Café was hit with a manual penalty from Google for unnatural links to certain pages. I am still working that part out, but to help me out in the process, Eric Enge from Stone Temple Consulting volunteered his help. Eric Enge is the one who sat down with Matt Cutts on more than one occasion – just to let you know why I trust him so much. As Eric and I were going through my backlinks to find the possible culprits that might've caused the penalty, the first thing he pointed out where the CL links from other blogs. I am not saying that CL links that I've built over the years by commenting on other blogs caused the penalty. Eric simply explained how Google sees those kinds of links – as manipulated links that can be easily "mass produced". Thus I don't use CL links at Traffic Generation Café and don't use CL when commenting on other blogs.
Q3: Can you walk us through the steps of how you promote a content piece when you want to go big or go home?
My biggest "secret" is making it impossible for influencers not to share it – by mentioning/quoting/linking to them in posts. The SEO guide you mentioned earlier is the perfect example. I mentioned a lot of authority sources there and every one of them shared the post – it ended up raking over a thousand shares not to mention comments. Another thing that's instrumental is continuously building relationships with others. Gerald and Ann are the perfect example here – we've "worked" with each other so much in the past, they can ask for anything and I'll do it for them, even though I'll say no to others. You need to build relationships understanding that it might take a long time to see anything back from them. It shouldn't stop you though. If you never give, you'll never receive – that's the one thing you can be sure of.
Q4: What is your most successful social platform?
Google+ by far. I think most of it has to do with the fact that that's the only platform I know of where influencers flock to. It's the perfect platform to engage, find the best and the latest information, opinions, etc. Influencers on G+ make up a larger percentage of Google+ and when they find your content to be of value they will end up citing it and linking back to you, which might be worth dozens or even hundreds of mentions elsewhere. Twitter and Facebook are just not the same. If gaining more website traffic through search engine marketing is part of your marketing strategy then you can't afford to ignore Google+.
Q5: What is your best piece of advise for bloggers and business owners wanting/needing to generate targeted traffic that converts.
Start with KILLER content and be patient. Check with others to make sure your content is as killer as you THINK it is; tweak to make it better. Then build relationships. The traffic will catch up, even though might not be as quickly as you'd like it to ?
You HAVE TO BE on Google+ – whatever the niche, if you hope for search engine traffic and authority.  Also, one more thing about "targeted" traffic specifically – each niche is different of course. You need to find where YOUR targeted traffic is. The easiest way to do it is by looking into where your competitors get their best traffic from & go from there. I  talk more about in in my free ebook "Mommy, Where Does Traffic Come From?".
Have a wonderful week, everyone and have fun storming the castle! Any more questions – find me at Traffic Generation Café. #vcbuzz

— Ana Hoffman (@AnaTrafficCafe) February 25, 2014