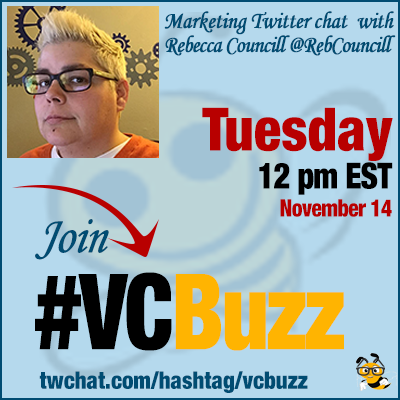 Last week we talked about engaging your readers and social media followers. This time we are following up with more tips on how to go about engaging with your social media peers to build stronger relationships, discover more business opportunities and build your influence.
***Add #VCBuzz chats to your calendar here.
***Please sign in here to follow the chat -> twchat.com/hashtag/vcbuzz
About Rebecca
Rebecca is known for her creative hair and ability to take challenging Web and social media topics and deliver them in bite size pieces for small business owners and companies of various sizes to understand and implement.
Learn more about Rebecca over at clrdigitalmedia.com
.@RebCouncill is co-founder and president @SMAOfHou
Questions we discussed
Q1 How did you become a social media marketer? What's your career story?
When social media for started and everyone was jumping on… I started paying attention and seeing what others were doing. As it became clear that it would be great for businesses I got on Twitter and started following some who were talking about how it could potentially help their business.
As classes and training started coming out.. I was absorbing all I could. And started it out on my current clients to see if I could make it work for them. Trials and tests for how I found my love for it.
Q2 How and why to effectively connect to social media peers? Do you have a process you try to follow on a regular basis?
I am not what I call a "traditional marketer". I don't use social to build my business contacts. I use it to create relationships that I like to nurture. I don't just "friend" anyone on Facebook
I like to start on Twitter, Instagram or LinkedIn and see how the relationship builds…if it does and a true friendship is built, then I will think about it… but most of my connections are started and built on Twitter or in Facebook Groups.
Authentically like a real human! #vcbuzz

— PRKRISTYNA (@PR_Kristyna) November 14, 2017
True fact, I meet some of the best peeps over social and form the best friendships with them. @PR_Kristyna and @WatsonKS and others are some examples!
A2C. Most of the people I met here in houston and around the world was through twitter. The "followers" on other platforms trickled from here #vcbuzz

— Cheval John (@chevd80) November 14, 2017
It is harder to build true relationships in the groups without TONS of work.
Q3 How can small businesses with small marketing budgets use social media marketing to the maximum capacity? How to handle it without making it a full-time job?
Knowing your audience and your market is HUGE in keeping your spending down. Also look at others who are in your space who have had success and see if you can adapt it to your business.
Knowing how to start and not just stabbing air is always key. Do your research first and get your key specifics down. Know your goal, your audience and your keywords are great places to start
A3D. An example of a company who are doing well with a limited budget is @toutsuitehtx because of their strong social media presence #vcbuzz

— Cheval John (@chevd80) November 14, 2017
Q4 How can businesses measure the ROI of social media marketing? How to measure the success of an engagement campaign?
When starting out sometimes the best thing to measure is the engagement.. Are your views up, are you posting at the right time (do you know how to see if you are). Are more people liking, commenting or sharing your things.
One client I have, was getting no traction on FB, so I had them to to Twitter and start conversations over there… asking questions and building those relationships… then slowing sharing their FB posts over there.
We slowly starting to see their likes and shares go up. It is OK to cross post and find your balance… sometimes the measure of a campaign can be just in the views and the reach. If those are going up that is always a win (especially on Facebook).
Social Media is a slow thing and you have to remind the clients of that CONSTANTLY!
@vcbuzz With today's attribution and tracking tech its much easier to see where leads and customers come from, and what brand touch points they had. I did some research on affiliate marketing recently and this has been a big development in that industry. #vcbuzz

— JeffreyRomano (@JeffreyRomano) November 14, 2017
Remind them it is a marathon… NOT a SPRINT!! They are in it for the long haul! they HAVE TO BE!
Q5 What are your favorite social media engagement tools and why?
For me, I love the native platforms for analytics, and engagement-I find that the native platforms really do the best job at telling the story.
For monitoring many keywords one time, I use Tweetdeck. It is owned by Twitter and feels more native for me, for looking at analytics to see where the engagement is on on Instagram, UnionMetrics is my go to
Twitter analytics tip, download to Excel to get a better insight! RT @RebCouncill: A5a: For me, I love the native platforms for analytics #vcbuzz

— Ann Smarty (@seosmarty) November 14, 2017
A5. I love @BlueJeansNet because they are a stable video platform and they have adopted their services to facebook live #vcbuzz

— Cheval John (@chevd80) November 14, 2017
I use @buffer for scheduling… for REAL TIME, I do native… copy the copy and paste to the other platform
A5C. I will add @semrush because they are one of the authorities with seo and they even host their own twitter chat as well #vcbuzz

— Cheval John (@chevd80) November 14, 2017
Our previous engagement marketing chats: