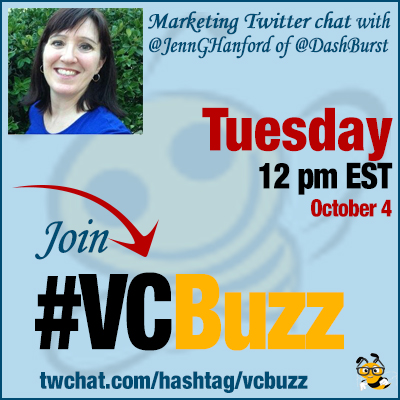 Community management is one the newer areas but it's quickly becoming one of the most popular career paths in marketing. What does it entail? Let's discuss with our expert today @JennGHanford
***Add #VCBuzz chats to your calendar here.
***Please sign in here to follow the chat -> twchat.com/hashtag/vcbuzz
About Jennifer
Jennifer Hanford is social media and blogging freelancer for hire. She is the owner and managing director at j+ Media Solutions.
Jennifer is also community manager at @DashBurst, a new multimedia blogging platform, search engine and creative social network.
Questions we discussed
Q1 How did you become Internet Marketer? What's your career path?
I often like to say it was "accidental" that I became an Internet Marketer. But it all started for me when I joined my former employer's website brainstorming team in 2012.
I decided to try my hand at business blogging for the site and was quickly hooked.  I fell in love with social media though. I jumped into it headfirst and haven't looked back.
@JennGHanford always happens! #vcbuzz

— Ashley Faulkes (@madlemmingz) October 4, 2016
Yes!
.@JennGHanford Was there something or someone that really inspired/supported you? #vcbuzz

— Sana Knightly (@SanaKnightly) October 4, 2016
A good question, Sana. I wasn't inspired by a single person at first, but rather a group known as #usguys.
Q2 What is @DashBurst? Who should join and how to use it?
@DashBurst is a multimedia publishing platform and social dashboard for #creators #bloggers #photographers #artists
DashBurst is also centered around celebrating quality original content, which sets the community apart from many of the others.
Anyone can join, and it's free. We're still in beta, but our community has grown in leaps and bounds over the past year. It's been amazing to watch.
A2. Please feel free to connect with me here: https://t.co/ua2nRuRAMO – and I'll be glad to answer any questions! #vcbuzz

— Jennifer Hanford (@JennGHanford) October 4, 2016
@DashBurst has a bit of Tumblr, Pinterest, YouTube, Soundcloud and Flickr, all rolled up in one place.
After you register, it's a breeze to start connecting with others, commenting, sharing to your other social media accounts.
Q3 How does one manage a community at the early stages? How to encourage growth?
Appreciation and reciprocation can go a long way to building a community, especially in the early stages.
Buzzers! Please share YOUR experience of being a member of a "young" community? What made you stay/leave? #vcbuzz

— Ann and Gerald (@vcbuzz) October 4, 2016
I tried joining TSU and couldn't get too active… #vcbuzz

— Ann Smarty (@seosmarty) October 4, 2016
Tsu was tough to get into, I agree. They're no longer in existence…
I used to in a writing community – https://t.co/3OkaSENYs1 – It had a great sense of community. ppl helped each other in a forum #vcbuzz

— Phil Turner (@The5Currencies) October 4, 2016
We also feature inspiring and creative folks every day on @DashBurst. It's a good way to encourage continued engagement within the community.
Having conversations is important, too, when you can. Encouraging convos between a community and its members is priceless!  Meant to say starting convos that keep going between the community's members is priceless – and golden!
I consider value for collaboration partners, possibility for introductions, conversation quality and content exposure. #vcbuzz

— Keri Vandongen (@KeriVandongen) October 4, 2016
BTW I wrote a post on being early adopters of new social media platforms here -> https://t.co/BRKexvDzDC #vcbuzz

— Ann Smarty (@seosmarty) October 4, 2016
I was part of the Ello and Tsu early adoption as well…
@madlemmingz what did you launch and how did it go? ? #vcbuzz

— Jessy Troy (@jessytroy) October 4, 2016
@jessytroy an SEO course, was not bad for a first launch! working on improving :> #vcbuzz

— Ashley Faulkes (@madlemmingz) October 4, 2016
Q4 What are your favorite community management tools you use on a regular basis?
So many great tools for community management out there! ? I'm going to plug @DashBurst here as one of them, too.
I can use DashBurst for scheduling and posting to my other social platforms such as Twitter and Facebook at the same time. DashBurst also lets you schedule and queue "Bursts" for later, publish to Twitter, Facebook and your own website.
I also use @Hootsuite, and @SproutSocial with other clients and like both of them as well.  Both @Hootsuite and @SproutSocial are useful for content discovery, scheduling posts and managing communities.
I use @MavSocial @drumupio Tweetdeck @twchatcom (for Tweet chats) @vcbuzz @JennGHanford #vcbuzz

— Ann Smarty (@seosmarty) October 4, 2016
@JennGHanford I love Trello and Hootsuite for community management #vcbuzz

— Jessy Troy (@jessytroy) October 4, 2016
Trello is good, I've used it for several projects!
A good and functional contact page can also be a great tool, right? https://t.co/jvTLN8NC4n #vcbuzz

— Sana Knightly (@SanaKnightly) October 4, 2016
i use commun.it. looks good #vcbuzz

— Jason Chow (@JasonCPF) October 4, 2016
Q: Management Tools: @hootsuite @Storify and a new convert to @trello Don't know how I lived without it before last week. #vcbuzz

— Lori Sailiata (@LaraBrittWrites) October 4, 2016
Q5 We know you love coffee. Which other productivity tips do you have?
My first cup of coffee is not just for productivity – I need it to jumpstart my brain on a daily basis. ? But yes, coffee is probably my favorite productivity tool.
@JennGHanford I hear ya Jen, but been fasting in the mornings lately. interesting to try! #vcbuzz

— Ashley Faulkes (@madlemmingz) October 4, 2016
You are brave, Ashley!
@JennGHanford or stupid ! I should instead be listing my most important tasks for the day (in my head instead) #vcbuzz

— Ashley Faulkes (@madlemmingz) October 4, 2016
As a freelancer, I work at my kitchen table instead of in an office (which I love). I have to be self-motivated though.
I've been using @Toggl for a while now, – to keep me on task. It helps me track my time for various projects. I can use Toggl reports to show me the time I've spent on projects – it's really helpful when it's time to invoice clients.
Another productivity tip is for when I'm blogging, I turn off my phone and any social media platforms so I can focus.
I'm also a huge fan of spreadsheets – both Excel and Google. I use both to keep me organized with various projects.
Our previous community management chats: