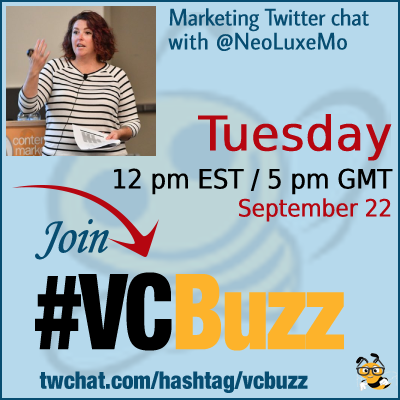 Content marketing is extremely diverse: There are lots of tactics, tools and tricks, and there is not a single thing that would work for just about anyone.
You have to develop your own process and style, and today's lesson may help you get inspired.
Here you go: How to create useful content.
***Add #VCBuzz chats to your calendar here.
***Please sign in here to follow the chat -> twchat.com/hashtag/vcbuzz
About Maureen Jann @NeoLuxeMo
Maureen Jann @NeoLuxeMo has 18 years of marketing experience focusing on building marketing infrastructure, telling brand stories, and driving leads.
She is co-conspirator and chief marketing strategist @NeoluxeMktg
Connect to Maureen Jann on Linkedin here.
Questions we discussed
Q1 How did you become a digital marketer? Please share your career story!
I started out as a graphic designer. Turns out that wasn't for me. I needed something that gave me more control and more data!
After doing a little bit of everything over 15 years or so, I was found myself running a marketing department and then another. It turned out that leadership and marketing strategy was my jam.
After the companies I was working for were sold, I went out on my own. Now I'm partnered up with @CraftWrites at @neoluxemktg!
Q2 How do you define "useful" content? What is it?
Useful content is content that acts as a tool for those it's written for. It's about giving the consumer of said content a leg up that helps them accomplish their goals.
Q2 Time is money

If reading content gives more real actionable benefit or insight than the reader values their time, it is useful to them.

Better to aim for a paradigm shift for at least a percentage of readers.#vcbuzz

— Andy Beard (@AndyBeard) September 22, 2020
When something is useful, it has a clear use. So people who create useful content know exactly how it can turn the bolt or twist the screw to help further the customer's journey through the funnel.
All the time. I think the trick is really about ensuring that you are so clear about the intention and goal of a piece that it can't help but be useful to your audience. #vcbuzz

— Maureen Jann (@NeoLuxeMo) September 22, 2020
A2 It depends on the audience and where the content is going to be shared. Useful content is simply content that's useful FOR your audience. #vcbuzz pic.twitter.com/GQvEWESehG

— Krystal Blais 🤘🔮🔥🤘🏳️‍🌈 (@krystalblais) September 22, 2020
Exactly. And you should know that audience so well and understand the challenges they face so clearly that useful content that answers their critical questions is the default.
Absolutely. This is a great list. #vcbuzz https://t.co/toqd6QnmMi

— Maureen Jann (@NeoLuxeMo) September 22, 2020
Q3 How do you measure the "usefulness" of your content? Why is it a good idea to create useful content?
Measuring usefulness can often be tied to attribution. If a customer is making decisions to go deeper into your content because they found something useful and ultimately convert, then you're winning.
And you will likely see that manifested in their behavior. It's a great time to look at lead scoring so you can track the value of each interaction! #vcbuzz

— Maureen Jann (@NeoLuxeMo) September 22, 2020
Why create useful content? I think the real question is why would you spend time, energy, and resources to create content that doesn't help solve your customer's challenges?
A3 I love when I see Google Classroom sending clicks to my content. This means teachers are using it too! #vcbuzz

— Jessy Troy (@jessytroy) September 22, 2020
Q4 So how exactly can we create more useful content?
The first thing I recommend to my clients is to go spend real time with their customers. Get to know their personal and professional challenges, see where your brand overlaps with them and get after it!
Also, make sure you're experimenting with methods of delivery. From video to articles, to audio content, experiment to see what us the most USEFUL to them!
Great point. Listening to customer calls can be an amazing source of information. So much of the time our customers are seekers. They're trying to overcome a barrier. You can help! #vcbuzz https://t.co/Lu7CS8Xev6

— Maureen Jann (@NeoLuxeMo) September 22, 2020
Q5 What are your favorite content marketing tools?
I love a good content matrix. Y Axis can be your personas, X axis can be industry challenges. Use each cell as an opportunity to answer their questions in a way that is specific to their role and circumstance.
A5 The nerd in me loves tools that inspire me to create, help me create, and help me measure the quality of content based on search results. Therefore @ahrefs and @semrush are my two favorite content marketing tools. #vcbuzz

— Chris Craft (@CraftWrites) September 22, 2020
A5 @contently @textoptimizer @wordliftit @spyfu – all worth checking out! #vcbuzz

— Ann Smarty (@seosmarty) September 22, 2020
I also love a good content calendar. We use Google sheets to create quarterly themes and monthly deep dives to help our clients methodically plot out pillar content.
Our previous content marketing chats: