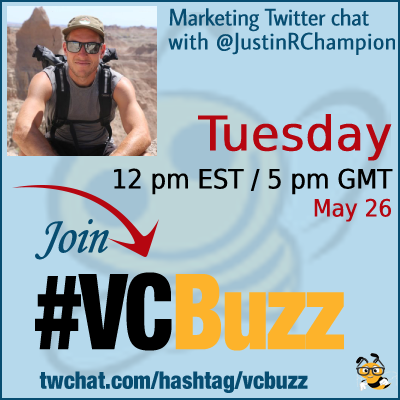 Inbound marketing is not a new term.
It's been around for years, yet most businesses have hard time understanding what it is and how to embrace it.
What is inbound marketing and how can it help a business to build online visibility?
Let's discuss!
***Add #VCBuzz chats to your calendar here.
***Please sign in here to follow the chat -> twchat.com/hashtag/vcbuzz
About @JustinRChampion
@JustinRChampion is digital nomad, @hubspotacademy Content Professor and author of Inbound Content: A Step-by-Step Guide To Doing Content Marketing the Inbound Way
@JustinRChampion is creator of Inbound Strategy Camp, an online, on-demand workshop series that you can watch where ever you do work best.
Questions we discussed
Q1 How did you become a digital marketer? Please share your career story!
I started off as a freelancer building commerce websites with my brother for the wine industry. I graduated college when the market crashed in 2008, so it was difficult finding a job.
I landed my first job a a search marketing start-up as a Sales Consultant. I was hungry to learn as much as I could about search engine marketing.
To help myself upskill, I earned my Inbound Marketing University credential – this was pre-HubSpot Academy. This is when I was first exposed to HubSpot. I was hooked.
Fast-forward three years later and I joined HubSpot's services team. I knew once I got my foot in the door, I'd find where I'd want to be at HubSpot.
And now I'm working on the Academy team, helping to inspire other aspiring marketers like myself many years ago to be the best digital storytellers possible.
@vcbuzz (A1—6) @hubspotacademy offers free online trainings spanning marketing, sales, and service. Looking to upskill? Check out the various course options available (and stay up to date on the new pieces of training we launch regularly): https://t.co/aTJgZYazHw #vcbuzz

— Justin Champion (@JustinRChampion) May 26, 2020
Q2 What is Inbound Marketing? Is it just another word for content marketing?
Inbound marketing is a business methodology that attracts customers by creating valuable content and experiences tailored to them.
Content marketing is a subset of inbound marketing—there is no inbound without content. Marketers should think in terms of "and" not "or" when it comes to the content/inbound relationship. Success relies on both
Content may help fuel your inbound engine, but there are similarly valuable inbound projects—like technical SEO, freemium trials, interactive tools, marketing automation, etc.—that may exist outside of the content marketer's scope.
If you aren't opening yourself up to the possibilities of inbound practices, you are limiting the potential impact you can have as a marketer or marketing leader.
In other words, your inbound initiative should be a superset—inclusive of your content assets, but not limited to them. There are implications for organizational structure, roles and responsibilities, as well as skills procurement.
Q3 How to create an effective inbound marketing strategy, in a nutshell?
Determine the purpose of your content
Know your audience
Know your audience's buyer's journey
Identify topics you want to be known for and build authority around
Identify contextual terms you intend to rank for on search engines
Pair your educational content with practical resources
Create a feedback loop
Optimize and expand your content based on feedback.
@vcbuzz (A3—3) Learn how to create an inbound marketing strategy here: https://t.co/RjYWXLtO4s #vcbuzz

— Justin Champion (@JustinRChampion) May 26, 2020
a3 Inbound Marketing Strategy is about nurturing & leading a visitor down the sales funnel, once they've arrived on the website. #VCBuzz

— Debi Norton (@BRAVOMedia1) May 26, 2020
Q4 Which inbound marketing resources and certifications would you recommend?
To get started with inbound, I recommend getting your Inbound Certification from @hubspotacademy
For a comprehensive overview, I'd recommend reading Inbound Content and completing the exercises at the end of each chapter.
Once you complete Inbound Content, you'll be ready to earn your Content Marketing Certification from HubSpot Academy.
I've found @HubSpotAcademy's courses and certifications helpful. Highly recommend! #vcbuzz

— Jaime Shine 🖋️ (@jaimeshine) May 26, 2020
If you're looking for an advanced level training to become an inbound marketing strategist, then check out this workshop.
a4 Inbound Marketing Resources @CMIContent @HubSpot @SiteTuners #VCBuzz

— Debi Norton (@BRAVOMedia1) May 26, 2020
Q5 What are your favorite inbound marketing tools?
@HubSpot offers a list of free tools that can help you get started. One of my favorites is the pop-up form tool.
Keyword research is a necessity for building an effective content strategy. @Moz has a free tool to help you get started.
a5 Inbound Marketing Tools
* Email
* Webinars
* Newsletters
* Podcasts#VCBuzz

— Debi Norton (@BRAVOMedia1) May 26, 2020
Every marketer needs to track the results of what they're doing. Google Analytics is a free tool that offers a lot of functionality.
My favorite productivity platform that makes it easy to collaborate is Google Drive. Google Docs, Sheets, and Presentations makes it easy and fun to get things done (and it's free).
Our previous Inbound marketing chats: