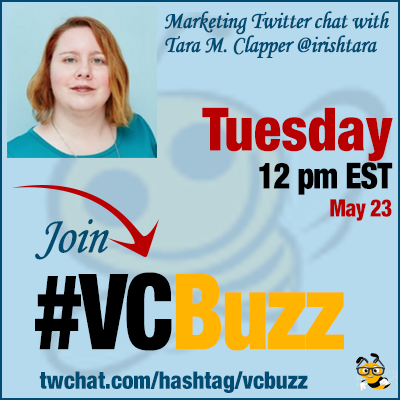 Doing interviews with niche influencers is a great way to promote your site, but not many publishers can still do that right. Today we'll learn some tricks: Interviews as a powerful content marketing tactic!
***Add #VCBuzz chats to your calendar here.
***Please sign in here to follow the chat -> twchat.com/hashtag/vcbuzz
About Tara
Tara M. Clapper @irishtara is content development specialist at @ExpWriters and senior editor at @RollForGeekInit. A veteran of digital publishing in the Philadelphia area, she's worked with A Better World, hibu, Taylor & Francis, and Xlibris.
Connect to Tara on Linkedin
Questions we discussed
Q1 How did you become a content marketer? Please tell us your career story?
I started in the publishing industry straight out of college in '03, then moved into copywriting & marketing.
Publishing was in an interesting place – transitioning from print to digital. Marketing was doing the same.
A lot of it involved full time freelancing and adapting to SEO / growing as Google did.
I did w/ @MyBlogU and it did AWESOME! https://t.co/WQ2K4ZAKBk RT @vcbuzz: RT @seosmarty: created content marketing interviews? #vcbuzz

— Anna Fox (@manifestcon) May 23, 2017
Q2 How do content marketing interviews work?
2 kinds:
Interviewing client to help them find an tell their story;
Interviewing an expert for a feature/roundup
In both types, the objective is really to discover that person's story and share it (or help them share it).
@thedavepepper @vcbuzz .@thedavepepper Yes. Storytelling skills = biggest value I bring to my employer. I practice it 24/7 https://t.co/rtQTYobRrS #VCBuzz

— Tara M. Clapper (@irishtara) May 23, 2017
At @ExpWriters, I cowrote a piece with my colleague Hannah all about content marketing interviews.
@irishtara Interviewing clients is new to me! Do you have a list of questions you usually ask them? #vcbuzz

— Anna Fox (@manifestcon) May 23, 2017
Yes! I try to find out about their business, story goals, target audience, & USP so I can help them meet their goals.
At @ExpWriters we aren't trying to 'sell' clients – we want to match them with content that best fits their needs.
Don't sell. Serve. @irishtara @vcbuzz #vcbuzz https://t.co/zB5GO7ocKr

— David Pepper (@thedavepepper) May 23, 2017
Q3 How to find best guests for your content marketing interviews?
Tons of #Networking. Which influencer do I want to know better? That's a good guiding q. @BuzzSumo is also helpful.
If it's going on @ExpWriters blog or @RollForGeekInit, who benefits from our audience & vice versa? Consider audience.
Q4 Please share some interviewing tips: How to steer the interview into most interesting angles?
Do your research and ask something that hasn't been asked before, like this.
Ask for help. I was not a cornerstone content experts, so I asked @yoast for help!
@irishtara Very important to come up with good questions for your expert interview to steer the discussion into a good direction #vcbuzz

— Viral Mom (@viralmomtweets) May 23, 2017
A good interview is also more like a conversation. If conversation goes somewhere interesting, ask a follow up questions.
A4 We have an article on how to come up with great questions for your interview: https://t.co/TrxUuG5EmG #vcbuzz

— Ann Smarty (@seosmarty) May 23, 2017
Q5 Are using any writing productivity tools? Please share your favorite productivity tips!
I use Zenwriter to minimize distractions. I chat often w/ @JuliaEMcCoy & team about topics for inspiration.
Never tried it! Intrigued! RT @irishtara: A5: I use Zenwriter to minimize distractions #vcbuzz

— Anna Fox (@manifestcon) May 23, 2017
I also use AnswerThePublic, @SEMrush, & @BuzzSumo to find ideal topics an keywords.
A5 NEW tool alert: https://t.co/corkOVYZE8 from @Buzzsumo #vcbuzz

— Ann Smarty (@seosmarty) May 23, 2017
Nothing substitutes passion for a topic. Passion drives the best research and I find it combats laziness/burnout.
A5 Another tool I use every day is @Serpstat. Also Trello, Google spreadsheets, @VCBuzz… #vcbuzz

— Ann Smarty (@seosmarty) May 23, 2017
Does anyone else pause heavy research pieces to do some creative writing to get the creative juices flowing? I do!
I don't have time for inspiration 🙂 #vcbuzz

— Don Sturgill (@DonSturgill) May 23, 2017
@irishtara Yup I pause everything as soon as I feel inspired. Otherwise I'll lose it! #vcbuzz

— Ann Smarty (@seosmarty) May 23, 2017
Our previous interview marketing chats: