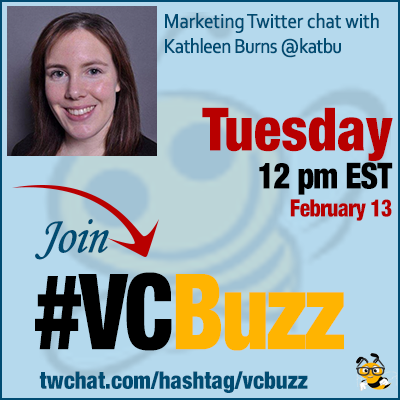 Whether you are building an actual product, SaaS platform or a service-based business, creating an explainer video is the most efficient way to show your future customers why they need what you offer.
***Add #VCBuzz chats to your calendar here.
***Please sign in here to follow the chat -> twchat.com/hashtag/vcbuzz
About Kathleen
Kathleen Burns @katbu is marketing communications manager at @SSWhite1844 and voiceover actor at burnsvoiceovers.com
Connect to Kathleen on Linkedin
Questions we discussed
Q1 How did you become a digital marketer? What's your career story?
My journey to marketing was certainly an adventure! I have been working in various areas of internet marketing for five years in industries such as food and beverage, graphic design, SaaS and now market for dental manufacturing. When I began, social media was barely a thing.
@seosmarty A1. My first marketing gig was working the houston auto show last year and it was a fun assignment #vcbuzz

— Cheval John (@chevd80) February 13, 2018
My career really kicked off when @irishtara recommended me, I landed a job as a Community Manager for a SaSS company @Semrush. It was there that I dove deeply into digital marketing, learning new techniques and honing my craft as a marketer.
I took several professional courses, learned new techniques such as agile marketing, content marketing, affiliate marketing, and advocate marketing. I worked part time with a theater company and honed my skills as a digital marketing consultant.
It was a long road, but my journey is not complete. You should always be learning something new as digital marketing is flexible and ever changing. I challenged myself to learn something new every quarter while I was working full time.
It's never complete! That's why we love digital marketing! RT @katbu: A1d: It was a long road, but my journey is not complete #vcbuzz

— Ann Smarty (@seosmarty) February 13, 2018
That's what makes digital marketing so interesting. It's always changing and evolving!
Q2 How to put together an explainer video? Where does one start and where do they hire help?
You start with an idea. Explainer videos should be short videos that tell a company's story or explain their products and services, and in the age of social media, it should be crafted to visually catch the eye. @kissmetrics has a great creative brief to follow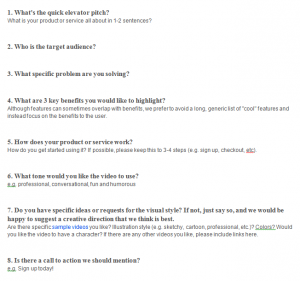 A great script is the backbone of any explainer video. Your first draft should be written by someone who knows the brand and the purpose of the video. It needs to explain the brand's story, product, or service in a way that is easy to understand.
@vcbuzz A2. You have to understand your audience and also their pain points. That will guide you on how to do your videos #vcbuzz

— Cheval John (@chevd80) February 13, 2018
Once you have a script, figure out the visuals. Is there b-roll footage, animation, or some talking heads? If you have an in-house design team, they help with this. Otherwise there is software for various animation and freelance videographers.
@katbu I feel like too many people think all video should be impromptu. I can certainly see the value in scripting. #vcbuzz

— Josh McCormack (@joshmccormack) February 13, 2018
Freelancer.com, Voices.com, Behance.com are fantastic places to find pros for video, voice over, and graphic design. 100% I recommend you hire a professional to do your voiceovers because they are trained to sound great, be understandable, and enthusiastic for all your needs.
What is you favorite source for stock footage? #vcbuzz

— 24 Hour Translation (@24hrtranslation) February 13, 2018
Tough question. I'll be honest, I tend to work closely with my marketing team and freelancers and let them find the best footage. I have no favorite source currently!
A2 Research niche questions! My favorite video to find what your audience is willing to know! #vcbuzz

— Ann Smarty (@seosmarty) February 13, 2018
@katbu Breaking up the process into these steps suggests to me you don't necessarily have to do it all yourself. #vcbuzz

— Josh McCormack (@joshmccormack) February 13, 2018
Q3 What are some recent video marketing trends to keep in mind when putting together a new video?
Know your audience and what platform you'll be showcasing the video. For example, there are about 1.65 billion Facebook users on Facebook alone who watch about 8 billion videos daily. But most of those videos play silent (at first). That's important to know!
@vcbuzz A3: Think seriously about having solid captions on for all. Many watch videos without sound. #vcbuzz

— Josh McCormack (@joshmccormack) February 13, 2018
I consume more video now with captions than without. Especially on social networks like Facebook.
Live streaming. With the rise of Twitch.Tv, YouTube, etc. It's 100% accessible for every type of marketer. If your brand wants to connect with customers and to express the more human side of the brand, use live streaming for interviews, Q&A's, behind-the-scenes, and more.
@vcbuzz A3. I think the video marketing trends is the emergence of live streaming networks about to take over television #vcbuzz

— Cheval John (@chevd80) February 13, 2018
Virtual Reality or VR. Now this isn't widespread yet, but I imagine we'll see more product placement and interaction in this medium. This type of video allows consumers to become a part of an environment to engage with a product they are thinking about purchasing.
A3 Native videos! FB will give your video a boost if you upload it there versus sharing a Youtube / Vimeo link ?? #vcbuzz

— Ann Smarty (@seosmarty) February 13, 2018
360 degree video content. Several brands use this for videos on social media so keep up! It's a type of video that allows the consumer to control their perspective when viewing. This can be with a VR headset or simply with a computer or smartphone screen's browser control.
A3B. @cheddar is leading the way with live streaming post network because they understand their audience and also each of the social platforms #vcbuzz

— Cheval John (@chevd80) February 13, 2018
@katbu Video production can be intimidating for someone with no experience. Knowing you could break the work up and have several people work on it can take the pressure off. #vcbuzz

— Josh McCormack (@joshmccormack) February 13, 2018
Yes! Absolutely. There are so many moving parts when creating video that it seems like there is no end. That's lead to a lot of video production stalling in companies I've worked with.
Q4 What are the best platforms to market a video?
The best platform to market relies on which audiences you're targeting and the purpose of the video. Social media is a great place for regular video content but most explainer videos work best on websites, teaching course sites, Twitch.Tv and YouTube.
@vcbuzz A4. I basically would say Twitter is great because most of the audience is on here. #vcbuzz

— Cheval John (@chevd80) February 13, 2018
Depends more on your brand's audience. Are they on twitter? Twitter can have great reach, but not always.
It also depends on the brand the video is for. A makeup brand can do a quick explainer video on a makeup technique, showcase their product, and be visually engaging on social media, YouTube, and their website. Remember, video content needs to be engaging!
A4 I am obvious: Youtube, Facebook, Twitter (short versions) #vcbuzz

— Ann Smarty (@seosmarty) February 13, 2018
For example, my company @SSWhite1844 had a video series on YouTube that challenged an artist create a sculpture using only the company's dental burs. The end result was gorgeous and it showcased the cutting power of different types of burs and our brand's CORE messaging.
Few reasons I have heard: 1) Dislike google 2) Higher quality 3) Videos can be longer without cutoff RT @seosmarty: Q: I've seen many sites using Vimeo to embed videos versus Youtube… Anyone knows any reasons? #vcbuzz

— Kathleen Burns (@katbu) February 13, 2018
@katbu I can understand disliking Google but not using its platforms to market still seems weird lol #vcbuzz

— Ann Smarty (@seosmarty) February 13, 2018
It is weird! It provides excellent SEO and you can't beat that. I would probably post on both platforms, but embed the YouTube on my site still.
Q5 What are your favorite video creation and marketing tools?
Too many to list! Stock Photos and Video go to iStockPhoto and Getty have thousands of royalty-free images and video clips. For animation, Whiteboard style is super popular with companies like Explaindio Video Creator, Sparkol VideoScribe, GoAnimate.
A5B. I use YouTube as the place for the snippet videos of the podcast #vcbuzz

— Cheval John (@chevd80) February 13, 2018
Screen captures use @ScreenFlow @Camtasia. Obviously if you want to get pro voiceover artists, head to Voices.com and Freelancer.com, or reach out to me directly and I'll tap my network contacts.
Have a marketing plan in place for launch. Select a video host @Wistia @Vimeo @Brightcove @Vidyard @YouTube. Use your blog, social media channels, email signatures, and events to share video. @Hootsuite @Buffer can help you schedule social media posts.
Our previous video marketing chats: