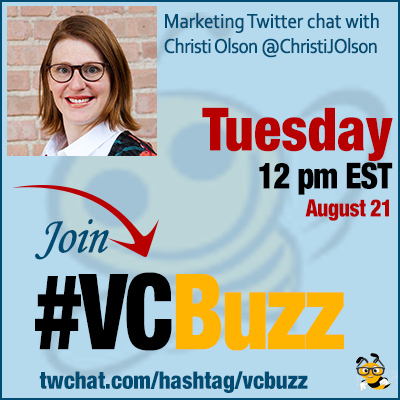 Keeping your marketing organized is key to your business success: This way you can put things into perspective, keep many dots connected and set longer-term goals.
Creating a digital marketing roadmap is the best way to create an effective strategy while emphasizing on taking action
But how to do that? Let's discuss!
***Add #VCBuzz chats to your calendar here.
***Please sign in here to follow the chat -> twchat.com/hashtag/vcbuzz
About @ChristiJOlson
Christi Olson @ChristiJOlson is a proactive results oriented professional with extensive years of marketing experience from startup to Fortune 500 companies
Christi is Head of Evangelism for @Bing Search at @Microsoft
Connect to Christi on Linkedin!
Questions we discussed
Q1 How did you become a digital marketer? Please share your career story!
I'm a xennial so I grew up with my foot in the digital space (but wat back in the ICQ and Geocities days) and I always spent time learning about websites and HTML. But when I went to school there really weren't careers in Digital Marketing yet.
So I got into digital marketing by accident. I went to the University of Idaho and graduated with a Bachelor in Business and Marketing – then went into sales.
A few years later I met someone who was running their own SEO agency who needed help selling their services. I joined the company to help them with sales, but also took on responsibilities for managing Paid Search. … and I LOVED IT.
Seems like a lot of great digital marketing careers started by accident 🙂 #vcbuzz

— Sana Knightly (@SanaKnightly) August 21, 2018
And the rest is history! I've been doing digital marketing (SEM, SEO, Analytics, Comparison Shopping Engines, and hint of social) for the last 15+ years. I love it and can't image doing anything else (other than being a Mom).
I think it's been helpful to my career to have gone deep into several fields within digital marketing – most people choose one and stick with it. It gives me a better understanding of how everything fits together –which is important for building out a roadmap.
@ChristiJOlson So, you get to see the big picture! #vcbuzz

— Sana Knightly (@SanaKnightly) August 21, 2018
Exactly. It's really easy to only think about the channel we manage or work in and focus on it and only it's details. The roadmap makes us step back and think holistically and everything works together towards a specific goal.
Aha! Great to meet another marketing pioneer who was "doing" (learning as we go ; ) web, digital #marketing, #SEO & #ppc long before courses and degrees were created to "teach" it! ??@ChristiJOlson #vcbuzz https://t.co/fOf8jyGabH

— Rebecca Murtagh ? (@VirtualMarketer) August 21, 2018
Q2 What do you usually recommend including into a marketing roadmap? What are its goals and components? How far ahead should it plan things out? 6 months? A year? More?
Every successful marketing initiative needs a roadmap to defines the vision and set the goals so that all of the marketing channels are aligned to the messaging. It's the 30,000 foot view of what you are trying to accomplish and how you'll measure it for success.
I like having a roadmap that looks either 6 or 12 months into the future.
I've worked on a couple of different types of roadmaps. I think it's worth talking through them and how they can fit together and when you might use them: Marketing Plan, Marketing Mix (digital channel roadmap), the product roadmap, and a promotional roadmap.
You can add them all together into a single view, but I've found it difficult to view the details when they were all combined, so I like to break them apart to make sure the details don't get lost.
The marketing plan includes the core initiative pillars, the key themes and messages that all of marketing will be aligning to and the metrics to measure success. It also includes key "moments in time" which could be events, product launches etc.
Marketing Plans are the 30,000 foot view that has buy in by the leadership team. It's the heartbeat of what marketing is doing to support the business objectives and the channel owners take it to create their plans. It includes everything plus Digital.
Next is the marketing mix roadmap. It's the plan for each of the marketing channels to provide a quick snapshot of how each channel will execute against the current plan and marketing initiatives.
The product roadmap is the view of what products and features are releasing, when, and how marketing will align to support.
A new company's marketing roadmap should be 12-18 months based on when public messaging begins and when the product will be available to the public. Then the shorter "legs of the journey" will be comprised of the goals and details to meet company objectives. #VCBuzz

— pair Networks (@pairnetworks) August 21, 2018
@pairnetworks True. If you are a new company you need a longer view for the marketing roadmap including key moments in time such as the launch. It's also when you need a Product Roadmap so marketing can create a GTM (go-to-market) plan to support launches and features. #vcbuzz

— Christi Olson (@ChristiJOlson) August 21, 2018
Finally I've used a promotional roadmap in eCommerce scenarios when we have specific seasonality and promotions running so that digital marketing is aligned for the promotions and the discounts used across channels. Really important for Affiliates!
Q3 How to avoid over-planning and maintain balance? How to encourage your team to go beyond the plan by getting creative and innovative?
It can be tough to balance. In digital we need to plan in advanced so we know what's coming and how to support but be agile enough that we can adjust the plan based on what's happening at any point in time.
You want the framework to be a guide — not the tactical execution plan. Allow some flexibility but always go back to check that what you are doing aligns to the pillars and initiatives.
We host regular brainstorming session across the digital marketing team to try to think about what we've done in the past and how we can do things differently. We discuss what we think will have impact vs busy work.
A3: Something I love about @BingAds is that we are constantly encouraged to try new things. To fail fast, learn from the mistakes and keep on testing ways to reach our customers. #vcbuzz

— Christi Olson (@ChristiJOlson) August 21, 2018
Failure is not a failure if you keep moving and trying to do better, right? @ChristiJOlson #vcbuzz

— Sana Knightly (@SanaKnightly) August 21, 2018
So true! Our leadership team at @Bing created the Golden Plunger award — it's given out monthly for someone who tried something that didn't work but was able to learn from their mistakes.
For instance @djgeoffe is my sounding board at @BingAds for ways we can be innovative with what we as a Brand Marketing team can do. Geoff is always trying new things. Every org needs something like him.
@virtualmarketer @pairnetworks @amyppc how do you keep your marketing fresh and not overly planned/rigid? #vcbuzz

— Christi Olson (@ChristiJOlson) August 21, 2018
The plan is the foundational framework. Still important to observe, assess and respond to emerging trends and opportunities! #business #marketing #strategy #VCBuzz

— Rebecca Murtagh ? (@VirtualMarketer) August 21, 2018
Love it. So true that it's the foundational framework not the tactical guide.
Great question, @ChristiJOlson, we keep our marketing fresh by allowing the questions and needs of our current customers and potential customers to lead what we curate, create, and share in each campaign. #VCBuzz

— pair Networks (@pairnetworks) August 21, 2018
Love the customer focus. 🙂
Q4 As a working leading mom, you know everything about being organized. Please share your tricks!
I wish I knew everything at being organized! I'm still figuring out how to maintain balance. It's a fake it till you make it scenario. Here are four things that I've found to help:
First MAXMIZE nap time! Seriously. It's nap time right now – that's how I'm participating in this chat while on vacation.
@ChristiJOlson I hear you! Naps is our everything! My baby naps almost every chat – and I am so grateful for that :))) #vcbuzz

— Sana Knightly (@SanaKnightly) August 21, 2018
@SanaKnightly I'm dreading the day when the mid-afternoon nap goes away. I get so much done in that 60-120 minutes. #vcbuzz

— Christi Olson (@ChristiJOlson) August 21, 2018
Second, it's been key to set boundaries and to stick to them. I strive (somewhat successfully) to be device free from when I leave work until after 8pm everyday. This gives me 3-4 hours to be present and distraction free. PRESENCE over PERFECTION. I don't want my son to feel like he is playing second fiddle to a cell phone… OR that my devices are more important than him.
True! Device free time is so important these days. For adults too, but with kids – even more so! #vcbuzz

— Sana Knightly (@SanaKnightly) August 21, 2018
Third, learn to say NO. Often. Frequently. Strategically.
I'm prioritizing work that has impact instead of busy work. I have finite time and I've worked myself sick by not saying NO and trying to be helpful. I've been learning to politely decline while suggesting where they can go for help/assistance.
Fourth, find your system that works for you to keep track of what you need to do and when. I live by my calendar and Cortana reminding me what I committed to with their associated deadlines. I'm a list person. I use Cortana and Siri to keep me honest and on track. I love that I can push a button and add a task or reminder for later.
Q5 What are your favorite digital marketing tools?
Too many tools to list! 🙂 I actually haven't used tools specific for roadmaps and planing. We tends to create the channel plans in either XLS or MSProject. Then we visualize them in PPT.
@ChristiJOlson Haven't used MSProject since college… I bet it has changed a lot since then )) #vcbuzz

— Sana Knightly (@SanaKnightly) August 21, 2018
Other favorite digital marketing tools? All of them! I run a gammit of programs, so I used tons of tools. For PPC, Excel is my life. I've used Optymzer, Adalysis, Wordstream.
For SEO Search Console and Bing Webmaster Tools are a must. Then I use supplemental tools like Screaming Frog, Deep Crawl, Moz, SEMRush, SpyFu., Magestic's backlink tracker.
Seriously I could go on and on and on. 🙂 We have so many amazing tools at our fingertips.
Our previous digital marketing planning chats: