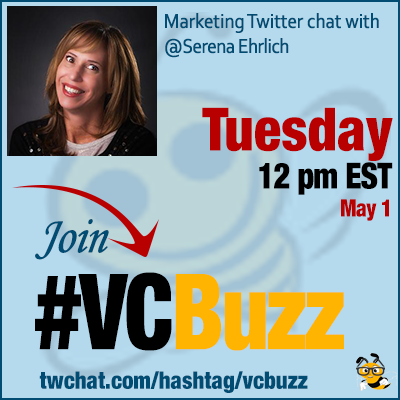 Digital PR is definitely not going there. Yes, it's evolving and integrating in many more marketing areas but it's still the most effective (and often the only) way to bring exposure to your online business.
Let's discuss how to create an effective public relations media plan today!
***Add #VCBuzz chats to your calendar here.
***Please sign in here to follow the chat -> twchat.com/hashtag/vcbuzz
About @Serena
Serena Ehrlich, Director of Social and Evolving Media at @BusinessWire, provides guidance for internal and external content creation and distribution services, ranging from PR programming to mobile marketing to social media updates
Connect to @Serena on LinkedIn
Questions we discussed
Q1 How did you become a digital marketer? Please share your career story!
I didn't get into marketing the traditional way. I studied propaganda in college and worked in advertising before joining @BusinessWire's sales team way back in the day.
My role at @BusinessWire put me in front of hundreds of PR, IR and marketing teams, allowing me to hear a decade's worth of strategies, goals and tactics.
@Serena Great way to perfect one's trade, eh?! 🙂 #vcbuzz

— Deborah (@socialwebcafe) May 1, 2018
When social media first emerged, @jspepper encouraged me to get a Twitter account. Once on Twitter, it became very clear that social was going to be a top marketing tool to connect brands and audiences.
I was lucky that @BusinessWire allowed me to learn a lot about social and digital PR while in-house, but I did soon to go client-side for 6 years. That was a terrific way to learn Digital PR – by doing it!
Q2 How has been digital PR changing over the years? What are the biggest trends you've recently seen?
Mobile! The three biggest change agents in digital PR are mobile devices, and visual fluency. Mobile devices gave humans on-demand access to content plus the option to share what they discover across their social channels.
A2 From my perspective (although I've never been into 100% PR), PR is more integrated these days. You need to reach more channels, use more communication media, not just email! #vcbuzz

— Ann Smarty (@seosmarty) May 1, 2018
This is spot on. More ways to connect, but also a new language – visuals and emojis are dominating discussions today, not words.
@seosmarty Even though I was doing PR back before "online," it is almost like that didn't exist. Online Digital PR has been life-changing. #vcbuzz

— Deborah (@socialwebcafe) May 1, 2018
Agreed! We used to have to let reporters take our news out to our audiences, we can now do that ourselves! Human to Human. (that said, reporters are still key, haha)
So is it more difficult today or vice versa easier? #vcbuzz

— Jessy Troy (@jessytroy) May 1, 2018
I wish I could frame this question! I don't think digital has made anyone's tactical work loads lighter but they have increased the impact of #PR work dramatically!
RE: Easier/more difficult Q.. My take: Definitely harder (more things to keep up with) + less ability to scale / automate but much more authentic, exciting and in many ways more varied! @Serena @jessytroy #vcbuzz

— Ann Smarty (@seosmarty) May 1, 2018
Visuals! One huge change in #digitalPR is the movement from verbal to visual communications. This change has been a challenge for many orgs who still focus on producing textual content. #Verbal fluency is dropping, while #visual fluency is skyrocketing.
A2B. Bloggers, podcasters, "influencers" and live streamers are more important because of niche audiences and public relations professionals need to build trust with them #VCbuzz

— Cheval John (@chevd80) May 1, 2018
Opportunity! The growth of digital platforms has directly increased the potential places a customer can discover your news. Today's PR pros must create a news amplification program in order to maximize these opportunities and increase their overall results.
@Serena Doesn't that seem so much more authentic? I remember the days of trying to get the reporters' attention… #vcbuzz

— Deborah (@socialwebcafe) May 1, 2018
Yes! It is more direct, and with a more loyal customer base, you can survive a crisis better, BUT BUT BUT – humans still trust reporters a hugely high rate so #mediarelations will never go away.
A2C. It is safe to say that twitter is the best platform to connect with journalists because 99% of them are here #VCbuzz

— Cheval John (@chevd80) May 1, 2018
Q3 Keeping all the changes in mind, how to set up a successful digital PR campaign these days?
What are the top discussion themes your audiences are talking about right now, what is your competitor talking about, what are your reporter audiences writing about? Once you have this data, you can position your news so it fits into their discussions!
Once you know your industry trends and discussion topics, you need to think about your tools – how are you going to reach your audiences?
Consider all of the tools at your fingertips! PR pitching, using @businesswire and extending the reach of your editorial coverage with advertising, social amplification and more.
You also have to be agile. News breaks all the time now, so you have to think about disruptions in your space or within your audience's lives and how you can work around them.
A3. You must know your audience and actually listen to them by consistently interacting with them #VCbuzz

— Cheval John (@chevd80) May 1, 2018
Dude, this is a huge, great tip! #vcbuzz RT @chevd80: @vcbuzz A3B. Participating in Twitter Chats is one way to know your audience and get ideas on what type of public relations campaigns can work.

— @Serena (@Serena) May 1, 2018
Yup, some of my best connections came from hosting and participating in Twitter chats! ?? #vcbuzz

— Ann Smarty (@seosmarty) May 1, 2018
Q4 How to develop a public relations media plan? Where does one begin and what needs to be included? Are there any templates and resources that could help?
Developing a #PR plan is fun! Google "how to develop a PR plan" for ideas, and don't forget to consider turning to groups like Public Relations Society of America – @prsa – they have templates, blog posts and on-demand webinars!
A4. A good #publicrelations #plan should ladder up to your company's business goals – such as overall revenue. Once you have your goal, you want to list your strategies and tactics to support your goal. #vcbuzz pic.twitter.com/f2CXFclvg6

— @Serena (@Serena) May 1, 2018
A good public relations plan identifies the publications that will move the needle towards your goal, the influencers in that space, your competitive set SOV and then the textual and visual content needed to achieve it.
A4. They should create a database of all the top media, blogs and who they want to connect with #VCbuzz

— Cheval John (@chevd80) May 1, 2018
This is key – you can start by listing out everyone who writes about you, or your competitors. And if possible, the granular themes they covered. A huge way to build a database of useful content.
The reason you need to know this, is so your PR pitches are contextually relevant to your reporters and your audiences. If everyone is talking about Green, now is not the time to talk about Yellow.
A4B. One crazy idea is to create a Twitter list of the top media journalists ranging from traditional media to new media like @cheddar. @MadalynSklar says this about Twitter lists #VCbuzz

— Cheval John (@chevd80) May 1, 2018
Yes, you can make your list in excel or even just create a Twitter list that you click on to see what your key journalists and influencers are discussing every day.
Hootsuite mostly but want to know more! RT @Serena: What #Digital #PR tools are you all using to create your communication plans? Chime in here on ! #vcbuzz

— Jessy Troy (@jessytroy) May 1, 2018
A4 Monitor negative sentiment around your competitor(s) and learn from their mistakes + create news showing where you are better #sneaky I use [competitor name :(] search in Twitter for that #vcbuzz

— Ann Smarty (@seosmarty) May 1, 2018
Q5 What are your favorite digital marketing tools you can recommend?
The keys to successful #digitaPR is in the ability to blend context and reach. So my top tools do this.
For driving context: For writing good headlines, I love @Google Trends! Using Google Trends for headlines, it increases the context and relevancy of your news to your audience. You can learn how to do this here.
For increasing ROI: Add UTM links (they are so easy to use!) to hyperlinks in your news releases, social posts and online ads will tie your inbound traffic into your existing web analytics, allowing you to track the impact of that news on your business goals.
A5 I use @Cyfe for monitoring Twitter, Tweetdeck for live desktop alerts of important mentions, Hootsuite for monitoring my lists… #vcbuzz

— Ann Smarty (@seosmarty) May 1, 2018
For increasing reach –@businesswire is a great way to get your news in front of all core audiences, media outlets, analysts, social and search engines.
Don't forget Viral Content Buzz! #vcbuzz

— Don Sturgill (@DonSturgill) May 1, 2018
For increasing reach Try using your editorial coverage as ad content for @facebook and @google pixel ad retargeting.
@Serena A much better tool for developing strategy including #PR plans is @Trello because it is very visual and easy to rearrange to create priorities, show completion, see what is pending, etc. #vcbuzz

— Gail Gardner (@GrowMap) May 1, 2018
I forgot to mention these kinds of tools – but yes, getting organized is key to a successful program. @trello is great for that.
I have an entire presentation you can download (very tactical) on the top tools #digitalPR pros can use to maximize success. #vcbuzz https://t.co/HU66lAL68n

— @Serena (@Serena) May 1, 2018
For visual monitoring: @GumGum was one of the first out there to do visual search but this is now a standard offering for measurement services like @agilityPRS and @trendkite. You can also use Google's free reverse image search tool!
Keyword Researcher Pro is indispensable. #vcbuzz

— Don Sturgill (@DonSturgill) May 1, 2018
Yes! And these tools can be used for news release pitching, blog post writing, and even advertising headline creation. Context is key!! #vcbuzz https://t.co/Q8VsnKejex

— @Serena (@Serena) May 1, 2018
@Buzzsumo is the best tool to discover what influencers are sharing content in your niche, both yours and your competitors
A5. My favorite is @BlueJeansNet because you can record podcasts via Facebook Live which can allow you to build a track record that might get you featured in the press #VCbuzz

— Cheval John (@chevd80) May 1, 2018
@Serena Do you have any tips for top freelance writers who may be interested in writing for #PR agencies? #vcbuzz

— Gail Gardner (@GrowMap) May 1, 2018
Many #PR firms are using freelancers to help round out their offerings. I think focusing on how you craft the content is almost more important than writing skills. Showcasing to PR firms that you take a data-based approach to your work is a win!
@Serena Most serious writers have portfolios on places like Contently. But they won't know where to position themselves to be found or how to pitch #PR agencies. #vcbuzz

— Gail Gardner (@GrowMap) May 1, 2018
And they all showcase their work and writing styles. I think PR firms would be impressed by knowing the creating written content comes from data.
I am both excited and nervous to check this tool out. That means it will be awesome. 🙂 #vcbuzz https://t.co/PIqD4Y0fQp

— @Serena (@Serena) May 1, 2018
Our previous public relations chats: