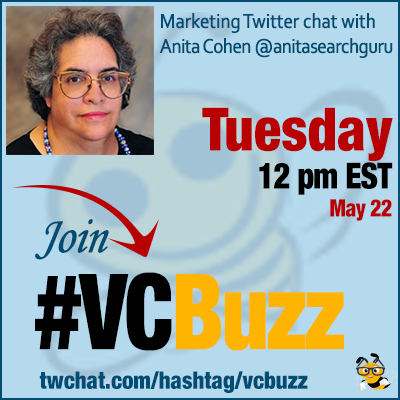 This debate is as old as "SEO is dead" and "Social media bubble is about to burst" ones. There's always someone comparing SEO with social media marketing and trying to identify which is best.
In reality, there's no marketing without either these days. So a better question is: How to combine the two?
***Add #VCBuzz chats to your calendar here.
***Please sign in here to follow the chat -> twchat.com/hashtag/vcbuzz
About Anita
Anita Cohen @anitasearchguru has been on the Internet since 1994 when she launched one of the first discussion lists for historical archaeology
She is now a social media consultant in addition to her work in organic SEO, and does ghost blogging for business owners who are too busy to do it themselves.
Questions we discussed
Q1 You started your first website long ago, but what prompted you to turn your Internet hobby into consulting career?
Actually, I started my website after I started my SEO business. At the time, websites were new, and no one really understood how to optimize them.
As a self-taught SEO (this was around 2000), I could help a lot of folks get their product/services visibile online.
I have continued to do SEO. While it is not "dead" it certainly has changed a lot.
Q2 How to effectively combine SEO and Social Media Marketing and what should be invested in / handled first?
Every business needs a website, and that website MUST have SEO on it. So SEO is first.
A2 Do not rely on Facebook as your website. Not everyone has access to FB. #vcbuzz

— Anita Cohen (@anitasearchguru) May 22, 2018
Once you have gotten all your meta data in place on the website (and I do include the keywords tag), and done the on page SEO work then you can start the social media marketing. The point of social media is to drive traffic to your website (something that a lot of people have forgotten).
@anitasearchguru Do you think people can use Medium for a website and still be effective with SEO? #vcbuzz

— Ileane Smith (@BasicBlogTips) May 22, 2018
Ileane, the content of a website is crucial for the search engines to know where to categorize it. So, yes, but only if the item is really on topic. I am not that familiar with Medium.
And it is not as good as using your own words. You need to be consistent on the social media platforms and your website.
You need to have your own voice in blogs, not someone else's. It is okay to use Medium for secondary articles.
@anitasearchguru A2 tangent – Anyone know if Medium has a canonical option to point back to an original version of an article/web page? #vcbuzz

— Brett Bumeter ll.m. (@brettbum) May 22, 2018
@brettbum last I checked they did (you could canonically point them to your site as the original). But I checked a couple of years ago #vcbuzz

— Ann Smarty (@seosmarty) May 22, 2018
I always try to point to the original article, but have it open in a new window.
I recommend checking the demographics of the social networks to see if they fit your product/services before joining them.
Q3 What are some SEO / Social media changes you've seen and were most excited about? Are there any you miss?
Google Authorship did not work very well with the web as a whole.
A3 One thing I miss is Google + Authorship! #vcbuzz

— Ileane Smith (@BasicBlogTips) May 22, 2018
The problem with Google Authorship was that Google – again – used signals which were easily manipulated #vcbuzz

— Ann Smarty (@seosmarty) May 22, 2018
Also (believe it or not) Google is not the whole enchilada. There are other engines and directories that are very useful.
Which directories do you find useful these days? #vcbuzz

— Anna Fox (@manifestcon) May 22, 2018
I look for specialized directories, but business ones are still useful. And since I use WordPress for my websites, Pingomatic is still useful.
I miss some of the specialized social media networks that have passed away. DMOZ was one of the best, but its usefulness is gone.
I do like the fact that many of the social media networks are tightening their privacy policies.
SEO is still pretty basic. I laughed when MOZ came out with Best Practices, and I have been doing them all along.
@anitasearchguru I think it's getting easier these days. e.g. using WordPress, you don't need to think much about the architecture. There are free tools to check and optimize… #vcbuzz

— Ann Smarty (@seosmarty) May 22, 2018
These days I use SubmitStart to submit my websites to as it is a basic list of the good ones. And, as you might have noticed, I prefer free directories.
Q4 For small businesses on a tight budget, how can they effectively utilize both SEO and social media?
SEO is the MOST important. It must be done and done correctly so that potential customers can find the website. Then, they can use social media to point people back to their website. But each network has pluses and minuses.
For instance, in rural Arizona, people live on the Facebook groups, so I encourage clients to post in the relevant groups as well as on the business page. And not everyone understands or uses Twitter, so you need to take that into account as well.
@anitasearchguru I'm figuring that better and more precise targeting in social media is the most important for small businesses. #vcbuzz

— Sana Knightly (@SanaKnightly) May 22, 2018
I completely agree, which is why I recommend using demographics. If you want to attract seniors, Instagram is NOT a good place to start.
Since Microsoft bought LinkedIn, it has actually improved a lot.
So, I recommend seeing who is where (demographics) first and then trying the networks out.  Unfortunately, LinkedIn still has difficulty figuring out geography.
A4 I'm glad that LinkedIn has native video uploads now! #vcbuzz

— Ileane Smith (@BasicBlogTips) May 22, 2018
It is much easier to see LI's groups, and to respond to recommendations. I no longer get infinite messages asking me to accept people into my network, just once a week.
Because my town (Prescott, AZ) has a number of different zipcodes, LinkedIn thinks half the town is in Phoenix (100 miles south).
LinkedIn's interface is easier to see and use.
Q5 What are your favorite digital marketing tools?
Hootsuite is an excellent tool to keep track of all your social media accounts, especially for clients. I have been a user since they began.
A5 for finding public domain photos and illustrations I use https://t.co/gI5sMkBCff. https://t.co/Vb62pJJauI, and https://t.co/yHZ9kqv5Y0 #vcbuzz

— Anita Cohen (@anitasearchguru) May 22, 2018
To edit photos, I use PicMonkey.com – much easier than Canva, and a membership gives you access to cool special effects.
A5 @Cyfe @mavsocial Tweetdeck (still!) @Serpstat @semrush … to name a few #vcbuzz

— Ann Smarty (@seosmarty) May 22, 2018
Woobox is excellent for sharing social media on Facebook.
A5 I use HootSuite, Buffer ViralTag and Tailwind #vcbuzz

— Ileane Smith (@BasicBlogTips) May 22, 2018
I have not heard of Tailwind.
And a old favorite of mine that is still going is StumbleUpon.
A5 When I'm on mobile I always share from Buffer versus sharing from the Twitter app. It handles the images and videos more effectively #vcbuzz

— Ileane Smith (@BasicBlogTips) May 22, 2018
I refuse to use the Facebook mobile app, and now I am even happier not to use it.
I still love StumbleUpon too! This is why we support it at Viral Content Bee RT @anitasearchguru: A5 and a old fav of mine that is still going is https://t.co/wVe80xJcjg #vcbuzz

— Ann Smarty (@seosmarty) May 22, 2018
How useful are people finding Pinterest these days?
Not much traffic from it these days 🙁 YOU? #vcbuzz

— Jessy Troy (@jessytroy) May 22, 2018
I am finding that a lot of the pins are dead links. Almost no traffic, but still a lot of followers on Pinterest.
I think PInterest is working great only for certain niches, like #food and #crafts – they seem to be more active there as well #vcbuzz

— Sana Knightly (@SanaKnightly) May 22, 2018
Our previous SEO and social media marketing chats: