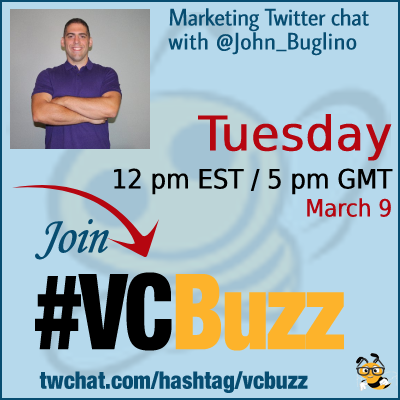 We talk a lot about important of a strong brand.
But do you know that a solid brand cannot exist without authenticity?
You cannot really fake it: You are either authentic or not, and your customers will always feel it.
These days brand authenticity is more important than ever. As Maxwell Hertan of Megaphone Marketing, puts it:
Some brands, dubbed Coronavirus Champions by Forbes, are emerging with leadership and demonstrating a genuine sense of care. How will yours fare?
Ho to nurture brand authenticity? Let's discuss!
***Add #VCBuzz chats to your calendar here.
***Please sign in here to follow the chat -> twchat.com/hashtag/vcbuzz
About @John_Buglino
@John_Buglino is Director of Marketing at Optessa Inc, an intelligent planning and scheduling software for enterprise manufacturers.
Questions we are going to discuss
Q1 How did you become a digital marketer? Please share your career story!
Went to college for marketing & advertising – landed my first role while in school as a scheduler for consumer focus groups in 2005 – then landed my first true role in marketing later in 2006 upon graduating from #SetonHall.
I did not pursue my MBA – I felt it would be best to learn by doing.
I've held a few roles in my career, starting as a marketing assistant, then manager, to now a director – each of them leveraging the skills I've learnt + allowing me opportunities to grow over that time.
I am currently the Director of Marketing for @OptessaInc – been in the role for a little over one year and have been on a mission to elevate the brand through various channels.
Q2 What is brand authenticity and why do we care?
It's your audience/consumer perception of you + your company! Individuals do business with, seek out, & stay loyal to brands they feel are genuine & real.
Having an authentic brand can be your edge over your competition.
Q3 Where to start? How to know if your brand lacks authenticity and how to start moving towards fixing it?
Discovery phase – start by looking at the materials utilized to promote & showcase your brand both internally & externally.
Are there consistencies with the message? Tone? Delivery methods? Do a self-assessment before putting in the fixes.
Fix-It Phase: 2 main areas to focus –
1st your customers &
2nd your digital footprint.
Get feedback from your customers – survey, review, phone call. Review what is online – your website, search results, and social media.
Q4 Are there any examples of authentic brands we could learn from?
Start with me! I work daily on my personal & professional brand and am always open to connect for a conversation.
There is no shortage of excellent brands – some of these have made headlines for all the right reasons amidst recent events #Amazon, #Walmart, #FedEx #UPS #Verizon, #TMobile, #ATT #Chase, #BankofAmerica, #TDBank #Disney are there when you need them.
Q5 What are your favorite digital marketing tools?
Aside from social media – I leverage #AdobeCreativeSuite, #ActiveCampaign, #Rebrandly, #SparkToro, #Paperli, #Canva, #AudioGram, #Wavve, #Streamyard, & #HARO
Our previous brand building chats: