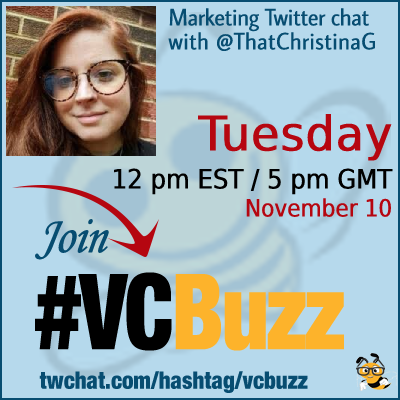 One big mistake any digital brand can make (and most do) is to rely on a single source of traffic (usually that's Google).
You need to always diversify.
But what you also need to always be doing is investing in something you can always rely on.
This is where a Brand Ambassador Program comes into play: It's a long-term asset that can save your business through any Google's update or crisis.
About Christina Garnett @ThatChristinaG
Christina Garnett @ThatChristinaG is digital marketing strategist, and social listening analyst.
Christina has been featured in @thestartup_, @BttrMarketing, @thenextweb, and @G2dotcom.
Follow Christina Garnett @ThatChristinaG on Medium.
Questions we are going to discuss
[Shortly after the chat we'll update this article with @ThatChristinaG's answers. Our awesome Buzzers are welcome to chime in with their own questions and answers!]
Q1 How did you become a digital marketer? Please share your career story!
I was working at an art museum and there wasn't a set person to do their social.
A colleague loved Instagram and wanted to take that on and I took Twitter and Facebook. I read everything I could get my hands on and started analyzing the channels.
I looked everywhere for sources where I could learn more and found @HubSpotAcademy.
That and a deep analysis of the platforms and their user culture focused my efforts. Some of the best SMMs I know learned from the platforms themselves.
Q2 Who is a brand ambassador and how do brand ambassadors help a brand?
A brand ambassador is a current customer/user who is a fan. They already love you and what you offer.
Finding them and showcasing that you see them and appreciate them transforms them into a brand ambassador — a super fan.
Instead of ads that talk about how great you are, brand ambassadors are real representatives of your customer audience that can speak to what you provide for them. It weaponizes word of mouth to amplify brand love.
Q3 Where to start? How to build a brand ambassador program?
Set up a hub. This could be your current site or a separate domain name.
Use social listening to see who is already a fan of your audience. Who is mentioning you and sharing your content?
You can ask them for reviews or have them showcase your content for special events. Let them be your messaging army.
By showcasing that you see these super fans, you are creating a deeper relationship. They feel even more invested in the brand.
They want to share your content and let others know what is so fantastic about you.
Q4 Are there some examples of a brand ambassador program set up well?
@NASA and @Adobe do this extremely well. The #NASASocial program brings fans from around the country to attend launches and other events.
Adobe Insiders is also a fantastic group of creative professionals and all of them share their experience.
Another great example is @fast. Through their public building and sharing of helmet profile images and their fans in Fast sweatshirts, you see a growing community that wants Fast, but for everything
Q5 What are your community building tools?
I use @Talkwalker for social listening as well as @sparktoro to learn more about where my audience lives online.
Both provide an insight into who is talking about you and who else those people listen to. Audience intelligence is crucial.
Our previous community building chats: