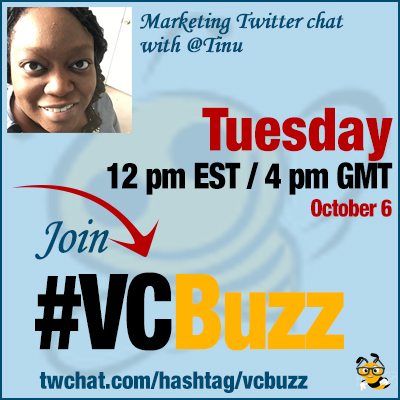 You can't just build something and hope they will come. It's never going to happen unless you go out and get your content discovered.
Viral Content Buzz is one great way to have your content seen by social media influencers and increase its chances to spread. But there are more!
That's the topic we are going to discuss today with social media extraordinaire @Tinu!
***Please sign in here to follow the chat -> twchat.com/hashtag/vcbuzz
***Important: Join this event on Google Plus to be notified of upcoming chats (It's easier with daytime savings and different time zones!)
About Tinu
@Tinu is a website promotion specialist and founder of Leveraged Promotion. She guides entrepreneurs and small business owners through the process of generating leads and sales.
You can connect to @Tinu through her flagship website, Free Traffic Tips, where she shares a free report called 366 Ways to Get Website Traffic.
Questions we discussed
Q1 How did you become an Internet marketer? What's your path into this wonderful world of tweets, shares and blogging? ?
It's a weird long story. The short version: I started out running the 3rd most popular poetry site in 98. Then I was just making an extra check a month off ads. I soon discovered the Warrior's Forum, still a proud member.
Followed Allen Says & Cory Rudl's advice, made affiliate sales then started helping sites with search.
Anyway that's the gist. ? I test things out on my sites and a few willing guinea pigs & in traffic challenges. Then I write about my results or sometimes carry them out for very small or enterprise companies. I ghostwrite too.
Q2 So what is a distribution channel? And why does one need one?
Put simply, a distribution channel is a conduit for your content. I have a creative background, & noticed something.
If you want to sell books, you need distribution. There's a system set up to connect readers with books. Same with recording artists. Record labels connect to video channels, radio stations, iTunes, etc etc.
If you're independent, then you need to find out what the channels are & build networks within those systems. @zaibatsu is AMAZING at this. Name a social media tool, he understands how the system works & gets results.
I got the idea to be Organized about this process from @ShellyKramer. And that's the key. To be organized. We have Twitter, FB, G+, but we need allies. Not blind retweeters or fluff or lots of followers. Real alliances.
A2 That's all a digital street team is. You can start w/ VCB, Triberr to find alliances, then go from there. #vcbuzz pic.twitter.com/Az4XUCQltb

— Tinu Abayomi-Paul (@Tinu) October 6, 2015
I have a couple of links to where I wrote about this for @AGBEAT. Give me a second to dig around.
Entrepreneurs & distribution channels
In the meantime… The fun of a digital street team is that you never have to feel icky about promoting yourself.
Q3 How to START building your "Digital Street Team"? What are your actionable tips to newbies?
So there are five quick steps to creating this team. Because I know you're like "duh, Tinu, ask people"
If it was that simple, we'd all be doing it, right? Not everyone you ask will say yes. And if you're new who to ask?
Q3 Step 1 – Find out who your allies are. Who genuinely loves your content? Who would your audience love? #vcbuzz pic.twitter.com/xaAFCc0Qof

— Tinu Abayomi-Paul (@Tinu) October 6, 2015
Q3 Step 2- Find a way to systemize private communication. Where will you always meet & when? FB? Text? #vcbuzz pic.twitter.com/X7f4LfxbPc

— Tinu Abayomi-Paul (@Tinu) October 6, 2015
Step 3: Introduce members and simple ground rules. Let folks meet each other. If there's only something in it for you there's nothing in it. That's a personal rule for me. Share your resources. You don't have to show all your cards, but share Some.
A3 Step 4. This is a weird one. Have a higher purpose. #vcbuzz pic.twitter.com/E02VQNj580

— Tinu Abayomi-Paul (@Tinu) October 6, 2015
Having a higher purpose makes the exercise more than about you or just about sharing links. What can you as a group make better about the world? I started Nonprofit Sundays with a group I'm in.
Seems like the underlying message is… make it a win-win, and you are likely to be more successful #vcbuzz

— Low Cost Auctions (@LowCostAuction) October 6, 2015
Not just more likely to be successful. But to feel good. & enjoy it. It doesn't have to be purely altruistic, as long as it adds value for your audience & provides focus.
A3 Step 5- Once you have the group, do a test run & measure the results. #vcbuzz pic.twitter.com/Kvd3J4iJDr

— Tinu Abayomi-Paul (@Tinu) October 6, 2015
Testing is my second religion. I test obsessively. Like that guy on The League. Do you guys watch that?
Q4 What are your own distribution network building techniques that work for you to promote your business? (I imagine the tactics are different from business to business!)
Yeah they are. I made a graphic of my top personal rules for my IM business.
Q4a By far the biggest one is build your alliances before you need them, not on game day. #vcbuzz pic.twitter.com/Qp9roOodXj

— Tinu Abayomi-Paul (@Tinu) October 6, 2015
We don't ask strangers to help us move or take us to the airport. We hire PR agencies for their relationships. So why don't we build those relationships before we go asking for stuff?
That's not say say we should build relationships for the sole purpose of getting ahead in business. Don't you know what you're being used? I think people can feel that.
@Tinu I know I can. And I've called a few people on it – especially on social media #vcbuzz

— Kari (@Think_In_Smiles) October 6, 2015
Instead, just make genuine friendships with people you vibe with- you can never waste time making a new acquaintance.
So that covers 1-3 on that list. One thing I didn't put on this list I'm saving for the productivity question. Anyway number 4 is never pitch blindly. I've never sent an email to someone that didn't have a 1st touch elsewhere.
If I sent you an email, I commented on your site, RT'ed you, you'll have seen my name before. The rest on that list is self explanatory, but feel free to ask me to expand. ?
Q5 You do so much! How do you manage? Please share your productivity secrets!
First of all. Tools. I use the F out of tools. I love My Blog Guest. MyBlogU looks amazing. I use Triberr, IFTTT. This time next year I'll probably start building tools I love them so much.
2nd, I learned to touch type early, & speed read instead of skim. I use voice recognition a lot due to a health issue. I plan my next day the night before. Then instead of just a TODO list I set appointments with myself. I treat appointments with myself on my calendar like real meetings. It helps that I talk to myself.
@Tinu what is your favorite IFTTT hack? can u suggest resources and tutorials for IFTTT? #vcbuzz

— Darren DeMatas (@DarrenDeMatas) October 6, 2015
Sure. I am an email failure. So when I'm working with someone, I have it text me when they call. I meant it texts me when they email me.
How do you learn speed reading? @Tinu #vcbuzz

— Ann Smarty (@seosmarty) October 6, 2015
There used to be a site online where you could learn free. I'll have to find it for you. I learned from a computer program when I was in middle school. It would flash words, phrases, then sentences. I learned how to see a chunk of text then kind of Absorb it, instead of sub-vocalizing in my head.
@seosmarty Thanks for having me. This is one of the best chats I've been honored to attend. & I like this tool. #vcbuzz

— Tinu Abayomi-Paul (@Tinu) October 6, 2015
I didn't get the twchat tool at first but now I understand. I truly admire everything you've accomplished and how much you share your platform. Kind AND Smart.
We spend so much time trying to GET attention. But Facilitating attention for others is the way to grow.
Our previous marketing chats: