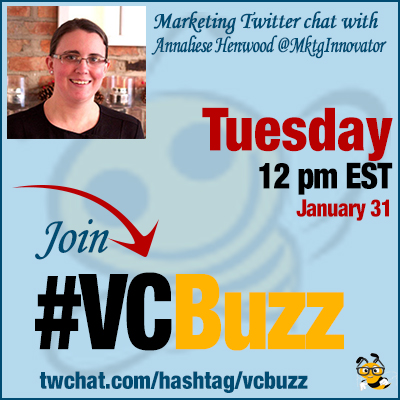 There's no use in traffic that never converts, so one of the first steps in making sure your site will convert is to take a look at the page where visitors land and make the most of it. Hence, today's topic is landing page optimization.
***Add #VCBuzz chats to your calendar here.
***Please sign in here to follow the chat -> twchat.com/hashtag/vcbuzz
About Annaliese
Annaliese Henwood @MktgInnovator is an independent blogger at Marketing Innovator. Annaliese published 3 eBooks in one year, with a 4th on the way.
@SanaKnightly I love to write, and eBooks are a great way to flesh out my ideas and knowledge about marketing subjects! It's fun! #vcbuzz

— Annaliese Henwood (@MktgInnovator) January 31, 2017
Connect to Annaliese on Linkedin.
Questions we discussed
Q1 I know you are telling your personal & career story on your blog, but just for the sake of this chat intro, how did you become a digital marketer?
A1: I started my marketing career volunteering for an animal shelter: @francisvalehome – I created 2 flyers for them. ?? #vcbuzz pic.twitter.com/FM5Mv0Tvc4

— Annaliese Henwood (@MktgInnovator) January 31, 2017
I've always loved to write. I've been blogging for 10+ years. My current blog: 3 years. It's fun, which is key.
I ❤️ the social aspect of social media: building connections with those with similar interests or people I know I can help.
You can learn more about my marketing background on my website.
Q2 What are the elements of a good landing page?
Have a gated offer that's worthy of their contact information. It should be industry-relevant & helpful to THEM before you.
Design should include an image/video of offer, bulleted benefits list, catchy heading, form fields, and a compelling CTA.
Add social proof to your landing page to further compel visitors to submit their information. Prove it's worth it.
Keep all your most important sections above the fold – Don't make visitors scroll down to submit their info.
Don't forget SEO. Make your headline, meta description, URL, alt text, etc optimized to be found in search.
A2: You can find more handy tips on optimizing landing pages in my eBook: https://t.co/4mlzjkrpUi – It includes everything. #vcbuzz

— Annaliese Henwood (@MktgInnovator) January 31, 2017
a3 Clear, Concise Message – accompanied by GREAT Offer, Eye Catching Graphics & Clear Call to Action. #Vcbuzz https://t.co/jqfIM4byVs

— Debi Norton (@BRAVOMedia1) January 31, 2017
Q3 What are your favorite examples of optimized landing pages?
@unbounce is one of the leaders in landing page optimization, so of course their landing pages are effective.
When I worked for Stuzo, I helped design their landing page for their mobile RFP white paper.
When looking for good landing page examples, I highly recommend referring to those from @unbounce and @HubSpot.
a3 Fav Examples of GREAT LP's – love the work that @tim_ash is doing w/ LP optimization.He won't hold back if "your baby is ugly" #vcbuzz https://t.co/kiwRuN0AD2

— Debi Norton (@BRAVOMedia1) January 31, 2017
Thanks for the tip! I'll have to look into Tim's ideas / advice!
Q4 How do you measure the success of a landing page?
Metrics depend on what your pre-established goals are. You should know what end result you want beforehand. The main purpose for landing pages is conversions. A landing page's success depends on that measurement.
Some of the most common metrics are: views, conversion rate, number of MQLs, number of resulting customers. It's not enough to simply count the number of conversions. You need to know how many are qualified leads.
Use @googleanalytics to measure your landing page activity. Some landing page builders help you measure success as well.
I've seen competitors putting generic testimonials (not sure if they are real) on their landing page. Is this beneficial? #vcbuzz

— 24 Hour Translation (@24hrtranslation) January 31, 2017
I've seen that too. Social proof should ideally be relevant to the offer, but generic brand testimonials can help. Any social proof that shows your brand has influence and demonstrates results can help with landing page conversions.
a4 By ENGAGEMENT with target audience which accomplishes the page goal. Ie.Conversions CTR, ETC. #VCbuzz https://t.co/29lwwzr0Sn

— Debi Norton (@BRAVOMedia1) January 31, 2017
Q5 How can you tweak and improve upon your landing page?
Stick to making one change at a time. If you make too many changes at once, you won't know which one was the fix.
Don't stop testing and refreshing your landing page. Use A/B tests and check your offer regularly.
Pay attention to your gated offer – Does it need an update? Is it still relevant to your business goals/your audience?
@MktgInnovator Which A/B testing software would you recommend? #vcbuzz

— Jessy Troy (@jessytroy) January 31, 2017
When you use a landing page builder, such as Unbounce or Leadpages, etc, they usually offer the capability to A/B test.
a5 A/B Testing the LP can be very helpful. #vcbuzz https://t.co/ZTu9TWeRuC

— Debi Norton (@BRAVOMedia1) January 31, 2017
@HubSpot has an article that helps non-techies test their landing pages.
Q6 What are your favorite landing page optimization tools?
I mentioned them earlier, but I like @unbounce. You can find more information about them here.
Another great landing page tool is @Instapage. Find more information about them here.
Last but not least: @Leadpages. Their website.
You can find more handy tools for landing page optimization via @neilpatel.
a6 I ❤ Heat Mapping! https://t.co/7G3QQnzXRM Always insightful. #vcbuzz https://t.co/8JrdmrdKaV

— Debi Norton (@BRAVOMedia1) January 31, 2017
Our previous conversion optimization chats:
User Experience & Its Effect on Rankings and Conversions w/ Mary Davies @Beanstalk #VCBuzz