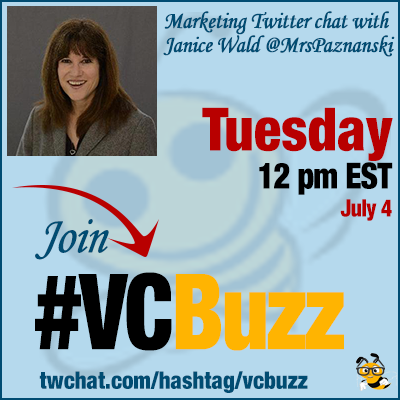 You cannot succeed without building connections, friendships and partnerships. But where to start? How to find solid connections in today's fast-paced Internet world? Let's talk about that!
***Add #VCBuzz chats to your calendar here.
***Please sign in here to follow the chat -> twchat.com/hashtag/vcbuzz
About Janice
Janice Wald is the blogging coach and author of AN INSIDER'S GUIDE TO BUILDING A SUCCESSFUL BLOG, available on Amazon.com.
Please connect to Janice on Goodreads.
Questions we discussed
Q1 How did you become a successful blogger and author? Please tell us your career story!
I always enjoyed writing. Receiving the education needed for my Masters Degree reignited my passion for writing.
After my children left for college, the timing was perfect to begin writing online, and my blog was born. I then combined my posts into an ebook.
Q2 You have at least two groups aiming at blogging marketing collaboration: Blogger collaboration group and StumbleUpon group. How do they work?
When I first heard about list building, I learned to offer people freebies, optins.
StumbleUpon has the potential to generate great blog traffic. I stumble people's links for them as an incentive to get on my list. The great part is the members stumble each other's links.
The Blogger Collaboration Group works the same way. People wishing social shares and comments leave their requests in the comment box. Again, it's a perk for my blog followers. It's one of my optins. They get on my list, and I make their wishes for social shares and comments come true.
Like with the StumbleUpon group, the Blogger Collaboration group has taken on a life of its own since they make each other's wishes come true.
So, I have these subcommunities inside the larger Mostly Blogging community.
Q3 Are there any other collaboration groups helping bloggers to succeed? Please link to as many as you want!
Oh yes, many. Facebook has a great many of them.  You can find them by typing the kind of group you're interested in into the Facebook search bar.
I have additional collaboration groups on my blog. For example, I have a Follow to Follow Directory.
Another one of my optins is a Community Pinterest board. Once they have access to the board, they can repin each other's pins.
If people want to network with bloggers in their own niche, I have bloggers grouped by niche.
Wow, Janice…. you've taken collaboration to a science. #vcbuzz

— Don Sturgill (@DonSturgill) July 4, 2017
People can network with like-minded bloggers here.
Again, these are all optins for getting on my email list.
By the way, I want to give a shout out to MyBlogU. It has wonderful resources for blogger collaboration.
A3: The people at MyBlogU help each other in many ways #vcbuzz

— Janice Wald (@MrsPaznanski) July 4, 2017
I have found participants for my expert interviews. I have also found expert interview opportunities at MyBlogU.  I definitely recommend MyBlogU for Blogger Collaboration.
A3: Ann knows, I'm such a fan of MyBlogU I'm planning to blog about it soon. #vcbuzz

— Janice Wald (@MrsPaznanski) July 4, 2017
Q4 Beyond joining groups, are there other ways for bloggers to help each other?
Yes, absolutely.
Bloggers can retweet each other's post links. It just takes a second but the amount of exposure can be tremendous.
I mentioned earlier bloggers can repin each other's pins to give them exposure on Pinterest.
Facebook is one of my main sources of social traffic. People share each other's posts on Facebook.  Also on Facebook, there are many groups in existence where you can go for help.
Merri Dennis has a group where you can get tech help.
On Facebook, there are groups which will help you with your theme, WordPress issues…  Groups exist on Facebook to help you with marketing questions.
Even now, bloggers can help by attending these Twitter chats and answering questions people may have.
Q5 What are your favorite blogging tools?
A5: I recently published an article describing 123 of my favorite blogging tools https://t.co/QNVdI6pwYR #vcbuzz

— Janice Wald (@MrsPaznanski) July 4, 2017
I will try to pick just a few.
I never publish without putting my headline into the CoSchedule headline analyzer and checking my score.
Daily I use the Buffer queue to promote my links on Twitter.
More and more I find myself needing Grammarly.
Even though I use many graphic-editing programs, I keep going back to Canva for my graphics.
Tools from today: CoSchedule, Buffer, Grammarly, Canva – all are great! #vcbuzz

— Viral Content Bee (@vcbuzz) July 4, 2017
Those are the tools I use the most consistently.  The best part– they all have free versions.
Our previous blogging chats: